Balancing bowling and books
Numerous Butler bowlers hope to continue sport in college
February 1, 2018 Other High School Sports
<![if !vml]>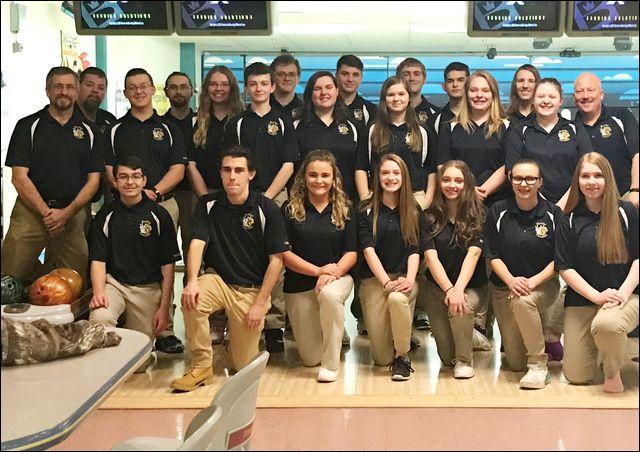 <![endif]>
The Butler High School boys and girls bowling teams are undefeated this season and carrying winning streaks of 27 and 20 matches, respectively. All five starters on the girls teams are looking to bowl in college.
SUBMITTED PHOTO
BUTLER TWP — Butler High School has seen members of its girls bowling team go on to compete in college before.
Megan Paul is enjoying a successful career at Lindenwood (Mo.) University, Autumn Hepler competed at Ursuline (Ohio), Brea Suchonic at Penn State-Altoona.
Heather Paul competed for a year at Penn State University.
But all five starters from one Golden Tornado team moving on? That's never happened.
It may with this year's team.
"There are a number of opportunities out there and these girls are interested," Butler coach Bob Cupp said. "College propgrams are always looking for bowlers."
Nicole Nebel, a Golden Tornado senior, has already verbally committed to Mount Aloysius in Cresson, Pa. She is carrying a 174 average.
Mercedes Belch, a senior, averages 173 and is looking at Saint Vincent College and Penn State-Altoona. Ashley McCue, a senior averaging 166, is considering CCAC.
Abby Kyle, a senior averaging 160, is also looking at Saint Vincent while junior Jordyn Graham is weighing a number of possibilities, including Mount Mercy in Iowa, Mount Aloysius and Saint Vincent. Graham is averaging 160 as well.
In all cases, of course, the college of choice would have to first fit academically.
"I would consider it a bonus to be able to bowl in college," said McCue, who may study occupational therapy. "If the school I attend has a team, I'll definitely do it."
McCue has been bowling since age 8. Her mother, Tracy, bowled on the Butler High School club team while in high school "and told me how much fun it was," McCue said.
McCue is also looking at Slippery Rock University, which does not offer a bowling team.
But a number of schools do.
"Just around here, Thiel and Youngstown State have established programs," Cupp said. "Saint Vincent and Duquesne's bowling teams are in their second year.
"Getting in on the ground floor and helping to build a program would be an exciting thing to do."
Kyle wants to study social work and recently learned Saint Vincent offers that field of study. She's been bowling for seven years.
"I bowl three times a week and I enjoy the competition," she said. "It would be fun to do it in college, if that was to work out."
Graham and Belch have been working part-time at Family Bowlaway for the past few months.
"I love being around it and I'll be bowling throughout my lifetime," Belch said. "Scholarship possibilities are definitely a factor for me.
"I may go into education and I'd like to become a bowling coach someday. If I continue to progress through college and turning pro becomes a possibility, I'd look at that, too."
Belch said her grandfather, Phil Heist, got her started in the sport and a few of her friends joined the high school team, leading her in that direction.
"I consider bowlers like Megan Paul and Brea Suchonic role models," Belch said. "If they can come through here and get scholarships, why not me?"
While Graham is only a junior, she is hopeful a busy July in Dallas, Texas, will open up bowling opportunities for herself.
She will go through the Turbo Tech college experience and compete in three tournaments in Dallas, including the heavily-scouted Junior Gold tourney.
"I'll be down there the entire month of July," Graham said. "Bowling has been part of my life since I was 4. I'm part of a bowling family."
Graham had an uncle, Jack Graham, who was once asked to turn pro. Her step-brother, Ben Hoffman, is a Butler graduate who bowled for the Tornado boys team.
Jake Cookson is the only Butler male bowler to date to attempt the sport in college. He bowled briefly at Lindenwood.
Jordan Reges, a junior, on the boys team, has interest in collegiate bowling and others may follow him. Reges is averaging 202 this season.
Shawn Marcellus was averaging 223 before a knee injury incurred during gym class ended his season. Chris Huff is averaging 192 and Cole Thrash 185.