Ready to Rule?
Butler bowlers look to extend winning tradition
December 5, 2018 Other High School Sports
<![if !vml]>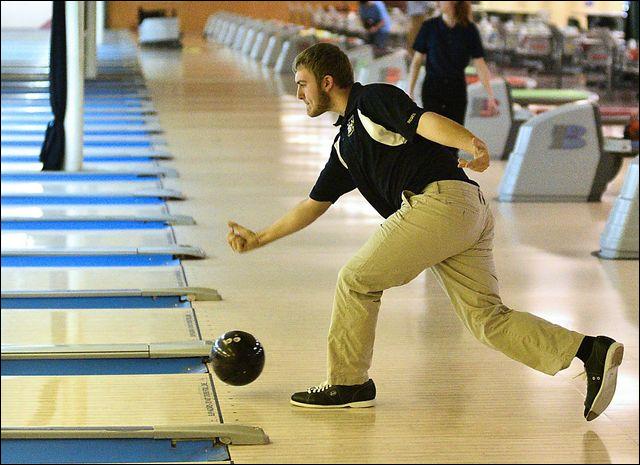 <![endif]>
Butler's Jordan Reges was second in the WPIBL's North section with a 203 average last season. He returns to anchor a strong Golden Tornado boys bowling lineup this season.
BUTLER EAGLE FILE PHOTO
BUTLER TWP — When it comes to high school bowling, Butler basically just reloads.
That theory holds true for the Golden Tornado boys, who return three WPIBL standouts in seniors Jordan Reges and Cole Thrash, along with junior Chris Huff.
But the girls side of things? Different story.
"During mine and (assistant) Kurt Huff's tenure, this is the first year we don't return a really strong base," Butler coach Bob Cupp said. "When we took over as coaches, we had a state champion in Megan Paul, a region champion in Mikayla White.
"Last year's team was filled with experienced bowlers who made their mark."
Butler's girls won the WPIBL and Western region championship last season and finished fourth in the state tourney. Nicole Nebel was section MVP and is now bowling at Mount Aloysius College.
Mercedes Belch and Abby Kyle are bowling at Saint Vincent College and Ashley McCue may soon be bowling for CCAC.
Jordyn Graham, who averaged 163 last year, is the only returning starter for the Tornado girls. She is a senior and is hoping to bowl for Youngstown State University next year.
"Jordyn averaged over 200 in tryouts this year," Cupp said. "She's looking to have a big season and we've got some younger girls coming together behind her."
They include sophomores Reegan Malis and Autumn Reges, who averaged 170 and 161, respectively, in tryouts. Other sophomores who may contribute are Lauren Bash and Rachael Blose.
Senior Deanna Fleeger, freshmen Katelyn Wolf and Harley Kriess are also in the mix.
"I'm confident our girls team will come together and make a run," Cupp said.
Butler's boys finished third in the WPIBL, second in the regional and ninth in the state meet. They are primed to improve those finishes this season.
Jordan Reges averaged 203 last year, second-best in the section. Huff averaged 197 and Thrash 189.
"It wouldn't shock me if all three of those guys averaged over 200 this season," Cupp said.
Tom Angelo, a senior who averaged 170 in the junior league, did not bowl for the high school squad a year ago. He has come back out this season.
"Tom could be the wild-card this year, somebody we weren't expecting who can make a difference," Cupp said.
Others on the boys roster are seniors Trey Barto and Brad Shirley, freshman Brock Hepler and junior Cole Facemire.
"We could have a pretty strong top five this year," Cupp said.
Joining the Tornado in the league's North section are Seneca Valley, Mars, North Allegheny and Shaler. NA figures to provide the stiffest competition.