Butler bowlers not sparing any opposition
Tornado boys, girls teams complete 10-0 regular seasons
February 10, 2020 Other High School Sports

<![if !supportLineBreakNewLine]>
<![endif]>
<![if !vml]>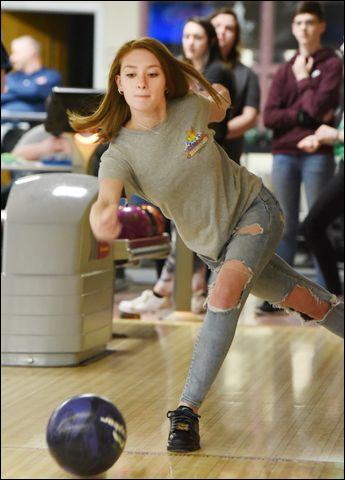 <![endif]>
Butler junior Reegan Malis lets loose with a shot during a recent Butler varsity bowling practice at Family Bowlaway. Malis leads the Golden Tornado girls with a 177 average this year. Butler's boys and girls teams finished the regular season 10-0.
HAROLD AUGHTON/BUTLER EAGLE
BUTLER TWP — The beat goes on for the Butler High School bowling program.
Both Golden Tornado teams finished 10-0 while winning section titles — the boys beating out North Allegheny (8-2), the girls beating out Shaler (8-2) — in gaining automatic berths into the team regional competition.
And both got there under different circumstances.
Chris Huff, a senior sporting a 195.7 average, was the only returning starter on Butler's boys team. The Tornado girls starting lineup does not have a senior.
"I had no idea what to expect from the boys this year and the girls didn't qualify for the state tournament for the first time last year," seventh-year Butler bowling coach Bob Cupp said.
"But we've had freshmen step up on the boys side and the girls were really motivated by what happened last year."
One of Butler's seniors, Blaine Hooks, only started bowling his sophomore year. He averaged 79 that season, upped his average to 135 last year and has bowled at a 175 clip this season.
Fellow senior Nathan Kriess is averaging 167. Freshman Rocco Rice is at 191 — including a 720 series this year — and sophomore Brock Hepler is at 176.
Three other freshmen — Alex Ekas (170), Marty Imhof (167) and Eric Devore (165) — pushed to get into the starting lineup all year.
"There's been times when our junior varsity's individual scores rival the varsity's," Cupp said. "The competition has been amazing. It's made everybody better."
Hooks' marked improvement has been the result of ... well, more marks.
"I think I picked up maybe 10 to 15 percent of my spares last season," Hooks said. "This year, I'm up around 90 to 95 percent. It's made all the difference.
"My coaches have worked with me. Coach Cupp, Kurt Huff, Tim Malis, Jim Hepler ... They deserve the credit."
Chris Huff admitted to skepticism as to how well the Tornado boys could do this year.
"I didn't know what was gonna happen this year," Huff said. "I wasn't real confident we could do well. The younger guys have totally proven me wrong.
"They've all been so dedicated. They've worked at their game and have turned this into a fun season."
While four Butler boys have qualified for the WPIBL Individual Championships — slated Feb. 19 at Sims Lanes — a team-record six girls have qualified for their individual championships Feb. 20 at Wildlife Lanes.
The WPIBL boys team championships are Wednesday at Nesbit Lanes, the girls Thursday at Princess Lanes.
A minimum average of 170 is required to qualify for the boys individual championships, a minimum 140 on the girls side.
"We've had to shuffle the lineup around a lot on the girls side because it takes a minimum of 21 games to be eligible for individuals," Cupp said. "We had a girl roll a 209 one game, then came out of the lineup so a teammate could get her games in.
"The girls have been selfless with each other that way and that's been nice to see."
Reegan Malis and Rachael Blose, a pair of juniors, vied for the second-highest average in the section this season. The top two averages in each section earn a bye into the individual regional tournament.
Malis wound up with a 177.43 average, Blose a 175.31.
"We've pushed each other all year," Malis said. "Obviously, you want to be the one who gets the bye, but if it wasn't me, I'd be happy that a teammate is getting it instead of someone from another team.
"We've got a young team and we support each other. Having depth is always a good thing."
Blose agreed.
"We tend to push each other," she said. "I'm happy for Reegan. I feel like we've made each other better. As a team, we wanted to work toward having a great season. The way we all compete with each other, even in practice, has been good for everyone."
Joining Malis and Blose in the WPIBL individual tourney are junior Lauren Bash (162), sophomores Harley Kriess and Madison Weiland, and freshman Natalie Coughenour. The latter three are averaging between 152 and 155.
"All of this competition has made both teams better," Cupp said. "You never know how things will go in the postseason, but our teams are set for this year and beyond.