Butler pitcher Bryan takes no-hitter into the 6th as Tornado down North Allegheny
April 14, 2018 High School Baseball

<![if !supportLineBreakNewLine]>
<![endif]>
<![if !vml]>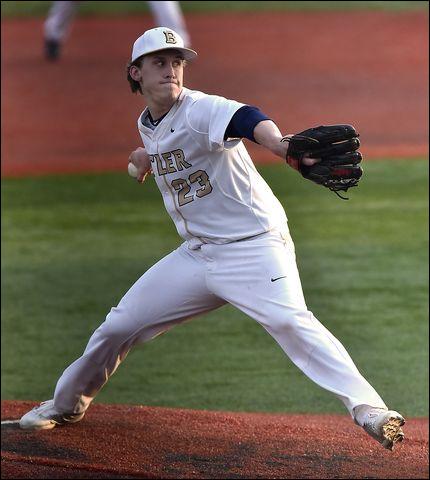 <![endif]>
Butler's Nash Bryan releases a pitch against North Allegheny Friday night at Kelly Automotive Park. Bryan took a no-hitter into the sixth inning on the way to a 4-1 win.
DAVE PRELOSKY/BUTLER EAGLE
The bases were loaded and Nash Bryan was tired.
Even though North Allegheny had the tying run at first base with two outs in the seventh, Bryan was staying on the mound.
"He earned it," Butler coach Cody Herald. "Honestly, it never crossed my mind to take him out."
Bryan took the Tigers out instead, inducing Turner White to ground into a force play on a 2-0 count to wrap up a 4-1 Golden Tornado section baseball victory.
The final out was recorded on Bryan's 99th pitch of the night.
"If he didn't get that hitter, he was going to have to come out on pitch count," Herald admitted. "But that's the only way he was coming out."
The senior right-hander pitched no-hit ball for 5 1/3 innings before Luke Trueman broke that up with a single to center. North Allegheny (4-2, 1-2) didn't get a runner to third base until the seventh.
Butler (6-0, 3-0) took a 4-0 lead into that final inning before things got a little edgy.
Caiden Wood greeted Bryan with a double to deep center. With two outs, pinch-hitter Ben Petschke singled to center to break up the shutout. Bryan then walked Anthony Hattrup and Jared Orwell, the No. 8 and 9 hitters in North Allegheny's lineup.
"This was the first game we played where it was hot out," Bryan said. "I know I was getting tired. It was classic fatigue.
"But I wanted to finish this. When it was 2-0 to that last batter, I knew I had to throw a strike. I'm just glad the grounder was at our shortstop and not into a gap."
Connor Ollio fielded the ball and flipped to second baseman Ryan Linn for the force at second, ending the game.
"Nash kept looking toward our dugout in that last inning, nodding at us that he was fine," Herald said. "Pitchers rarely do that in those situations. This was his game all the way."
North Allegheny coach Andy Heck credited Bryan's effort, but was frustrated by his hitters' approach at the plate.
"We got to him (Bryan) too late," Heck said. "That's what happens when you don't adjust at the plate. The kid was painting the outside corner all night. We never adjusted to that."
The Tornado used their running game to send runs across the plate.
With two outs in the second, Justin Stewart walked and stole second. Jacob Slomers singled to right, sending Stewart to third.
Slomers intentionally got himself in a rundown between first and second. Stewart broke for the plate. The throw home beat him, but was mishandled and Butler had a 1-0 lead.
Two more Tornado runs scored in the third. Nick Kibbie reached on an error, stole second and went to third on Ollio's infield single. Kibbie tried breaking for the plate and the throw had him beat, but got past the catcher. Ollio wound up scoring on Grant Metzger's ground ball.
"It all comes down to execution," Heck said. "We had the right calls, the right plays on for Butler's aggressive running. We just didn't execute and get the outs."
Kibbie reached first on a force play in Butler's fifth inning. He moved to second on a passed ball. When he was trying to steal third, Ryan Linn hit a sharp ground ball past the third baseman, who could not recover while moving to cover the bag. Kibbie scored on the play.
"Our guys are unselfish and are willing to produce runs any way they can," Herald said. "Our aggressive running has been forcing mistakes and putting pressure on other teams.
"This is a big win, but we emphasize to the team that every game represents a big win."
Ollio had a pair of singles for Butler, which managed only five hits on the night.
But Bryan allowed only three hits.
"I couldn't get my curve over, so I relied on my fastball," Bryan said. "Fortunately, I was able to spot it.
"I wanted that no-hitter. It was a little disappointing, not getting it or the shutout, but our team got the win. That's what's important."
North Allegheny 000 000 1 — 1 3 3
Butler 012 010 x — 4 5 0
W: Nash Bryan 7IP (4K, 4BB). L: Ryan Parttridge 5IP (2K, 1BB).
North Allegheny (4-2, 1-2): Luke Trueman 1B, Caiden Wood 2B, Ben Petschke 1B RBI
Butler (6-0, 3-0): Nick Kibbie 2-R, Ryan Linn 1B RBI, Connor Ollio 2-1B, Garet Banner 1B