Ollio may have options
Upcoming MLB draft can derail his arrival at UNC
May 26, 2018 High School Baseball
<![if !vml]>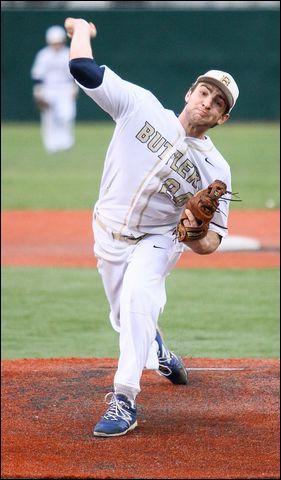 <![endif]>
Butler senior Connor Olio will report to the University of North Carolina June 19 to begin his baseball workouts there, unless he is selected in the June 4-6 Major League Baseball amateur draft and decides to sign.
FILE PHOTO
BUTLER TWP — The time has come for Butler senior Connor Ollio to turn the page on his baseball career.
He just doesn't know what that page is gonna look like just yet.
The Golden Tornado shortstop-pitcher is scheduled to report to the University of North Carolina June 19. The Tar Heels like him as a pitcher ... and a shortstop, maybe at another infield position.
"They've given me no indication," Ollio said as to where he will be playing on the diamond. "I guess there's a chance I'll pitch and play another position.
"I'll report, go through the workout program they have designed for me and get ready for fall ball."
Unless ...
Major League Baseball's amateur draft takes place June 4-6 and Ollio's name has been tossed about. He carries a 6-foot-3 frame, throws a number of pitches for strikes and hits for average and power.
"All it takes is for one team to like you," Butler basketball coach and former major league pitcher Matt Clement said of the MLB draft. "Connor brings a lot of tools to the table."
Ollio hit .370 for the Tornado this season with 10 extra-base hits. On the mound, he was 3-1 with a 2.05 earned run average, 53 strikeouts and 17 walks in 31.1 innings pitched.
"I haven't heard much about the draft," Ollio said. "A few scouts have talked to me, but as far as where I rank — or if I rank at all — I have no clue there.
"My dream since I was a little kid has been to play professional baseball. If I do get selected, I'd have to look at the situation and make a decision."
Noth Carolina is 37-18 this season and 883-378 overall under Mike Fox, who has coached the Tar Heels for 20 years. Fox has taken UNC to postseason play 16 times in the past 19 years.
The Tar Heels have been to the College World Series six times since 2006. They have only two seniors — a pitcher and infielder — on the roster this year.
"Obviously, my goal would be to go down there and earn some playing time as a freshman," Ollio said. "But it's such a highly talented program, that will be hard to do.
"If I have to wait my turn, that's what I'll do. I know I'll become a better player there."
Butler baseball coach Cody Herald says attitude and work ethic will set Ollio apart from the pack wherever he goes.
"I've said it before. Remember that name, Connor Ollio ... You'll be hearing it again," Herald said. "Connor won't go to UNC and be part of the crowd. He will lead. He will always lead. That's who he is.
"The talent he has — and other players have at that level — is God-given. But Connor goes beyond that. Most players rely on that talent. He works to improve his talent. Nobody will work harder than him."
Clement pointed out that an Atlantic Coast Conference baseball team likes him at multiple positions.
"We're talking ACC baseball here," Clement said. "He may pitch and play a position for them.
"Some scouts like Connor as a pitcher, others like him as a hitter. They all like his tools. When you're a baseball player, it's a plus to be good at more than one thing. He's very good at a lot of them."
Ollio said choosing between signing with a major league team and going to North Carolima "would be a very hard decision."
It's also a decision he wouldn't mind having to make.
"I don't know if they're interested or not," Ollio said of the pro scouts. "I know I'll never put this Butler uniform on again and that's hard for me.
"At the same time, I'm going to another level and I'm looking forward to the challenge."