Ollio sparkles as Butler advances
Pitcher fans 9, homers in playoff win vs. USC
May 16, 2018 High School Baseball

<![if !supportLineBreakNewLine]>
<![endif]>
<![if !vml]>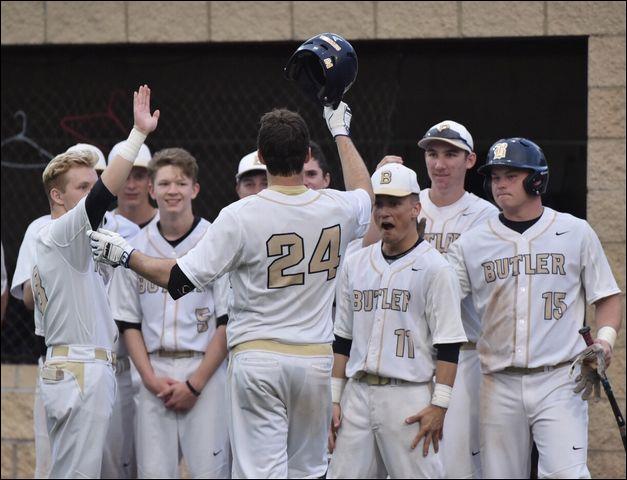 <![endif]>
Connor Ollio (24) is congratulated by teammates after belting a solo home run in Butler's 4-1 WPIAL Class 6A playoff win over Upper St. Clair.
JUSTIN GUIDO/ BUTLER EAGLE
WEXFORD — With his pitch count climbing and the threat of having to leave the game very real, Connor Ollio decided he wasn't going to mess around in the top of the seventh inning.
So the senior pitcher on the Butler baseball team attacked the strike zone with sizzling fastball after sizzling fastball.
After giving up a leadoff double, Ollio struck out the side and finished what he started — a 4-1 win over Upper St. Clair in the first round of the WPIAL 6A playoffs Tuesday night at North Allegheny High School.
"That first batter, I threw him a first-pitch ball and I was like, 'C'mon, man. You got to do better,'" Ollio said. "I wanted to attack that last inning because I was real close (to 100 pitches)."
It was a matter of pride for Ollio, who never wants to leave the mound once he takes it.
Ollio was masterful most of the time, striking out nine and mixing a curveball that he placed on the outside corner to right-handed hitters with precision with a lively fastball to cruise through most of the contest.
He did have a few rough spots.
Upper St. Clair (13-7) put a pair of runners on in the top of the third inning with one out, but Ollio got a tapper back to him and started a 1-6-3 double play to end the threat.
In the top of the fifth, he walked three straight batters with one out and then surrendered a RBI single to Ryan Ghise, but again got a 1-6-3 double play to get out of the jam.
"Connor almost thrives when things are going wrong," said Butler coach Cody Herald. "The thing with Connor is we never worry because he's such a competitor. He threw a great game. He's a true competitor.
Butler(12-6) got all the runs Ollio would need in the bottom of the second inning.
Isiah Lucas led off with a double and later scored on a RBI double by Grant Metzger. Ryan Lynn singled and Colby Anderson then delivered the biggest blow of the frame with a two-run hit to stake the Golden Tornado to an early 3-0 lead.
"We had a lot of success when we were hitting in the middle of the field," Herald said. "We had three in a row right up the middle (in the second inning). That's how we play. We're an up-the-middle, gap-hitting team. That's how we win."
Ollio put an exclamation point on the victory with a solo home run in the top of the sixth.
<![if !vml]>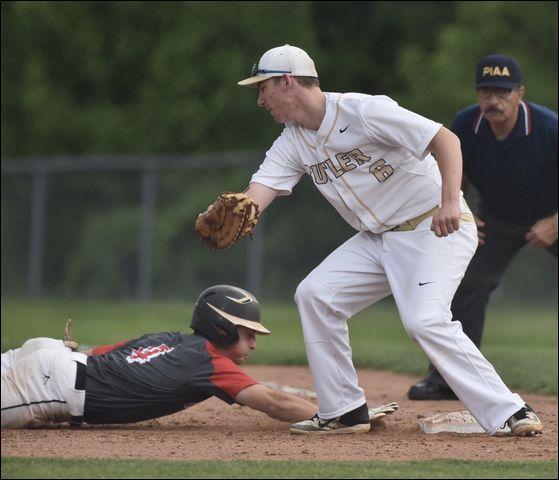 <![endif]>
Butler's Colby Anderson makes a swipe tag at an Upper St. Clair runner Tuesday night during the Golden Tornado's 4-1 victory.
JUSTIN GUIDO/ BUTLER EAGLE
Ollio hooked a curveball on the outside part of the plate over the left field wall.
"It felt good off the bat," Ollio said. "I had a feeling it was going, but I wasn't sure. It was a good swing. He made a good pitch, honestly."
Not good enough, it seemed.
It was the first playoff win for the 13 seniors on the roster and the first postseason victory for Butler since 2011.
"It was nice to finally get that monkey off our back and get that playoff win, you know," Ollio said. "Three years now never getting one. It's about time."
Butler will face a familiar foe Monday in the second round when it takes on Central Catholic at a site and time to be determined.
Central beat Butler twice during the regular season and edged the Tornado for the section crown.
Butler was determined to not look past Upper St. Clair with the Vikings' looming.
"We tell the guys you have to focus on the game you have," Herald said. "We say it in different ways. If you're going on a vacation and you're driving and you can't wait to get there and it's dark, you turn on the headlights and you focus on the 200 feet in front of you that you can see. Then the next 200 feet. It's 200 feet at a time."
Upper St. Clair 000 010 0 — 1 4 1
Butler 030 010 x — 4 8 0
W: Connor Ollio 7IP (9K, 5BB). L: Nate Hamel 6IP (1K, 0BB).
Upper St. Clair (13-7): Ryan Ghise 3-1B RBI, A.J. Palmieri 2B
Butler (12-6): Connor Ollio HR, Isiah Lucas 2B 1B, Jake Keene 1B, Grant Metzger 2B RBI, Ryan Lynn 1B 2B, Colby Anderson 1B RBI