Skid Snapped
Butler ends 4-game slide, tops Shaler, 6-3
April 26, 2018 High School Baseball
<![if !vml]>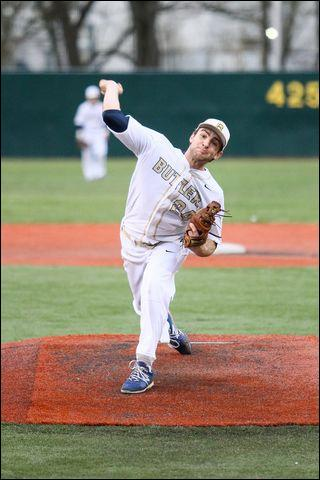 <![endif]>
Butler pitcher (24) Connor Olio delivers a pitch during his 12-strikeout performance against Shaler. Ollio Also doubled and tripled in tye Golden Tornado's 6-3 win at Kelly Automotive Park.
NATE BLACK/ SPECIAL TO THE EAGLE
Cody Herald insisted the wheels weren't falling off the Butler baseball bus.
"The bolts were loose and the wheels were wobbling a little bit," Herald said. "All we needed to do was tighten them a little bit."
Connor Ollio grabbed the lug wrench.
The Butler pitcher was scheduled to start Friday against North Allegheny, but on the quiet ride home after a loss to Pine-Richland Monday, the senior right-hander approached Herald and told the coach he wanted the ball Wednesday night against Shaler.
Ollio struck out 12 in 5 2/3 innings to help Butler get back on track with a 6-3 win over the Titans at Kelly Automotive Park.
"I knew we needed this game," Ollio said. "All day I was focused. I wasn't able to focus in school, which was a bad thing, but I wanted the ball and I was ready to come out and compete."
Ollio said he knew he had his top stuff early. He struck out the side in the first inning and five of the first six batters he faced.
"I felt really good in the bullpen," Ollio said. "I knew it was my night.
"Everyone was having fun," Ollio said. "That's the team we need to be."
After a 6-0 start, Butler (7-4, 4-3) lost four straight heading into the game against Shaler and was in danger of falling back in the crowded WPIAL Section 1-6A standings.
But the Golden Tornado went back to the things they did during their hot start. They were patient at the plate, banged out 11 hits and were aggressive on the base paths.
"We've been talking to them, especially after losses, about getting back to doing the things we've been successful at," Herald said. "After the Pine-Richland game, I think we talked to them for about an hour and a half in the outfield and we tried to tell them if you're not buying in to what everyone is trying to do — it takes just one person not buying in and it becomes a domino effect."
Butler showed its resolve by practicing on the football field at 5:30 a.m. Tuesday.
"We had kids showing up at 5:10," Herald said. "We got on the football field with the lights on and those kids showed up with the best attitude, wanting to get better, and they took everything from yesterday into today."
It showed in Butler's fast start.
The Golden Tornado led 2-0 after three innings and jumped out to a 5-0 lead after five.
Shaler, though, scratched back into the game, scoring three runs in the top of the sixth. Ollio had to leave the game because he reached his pitch-count limit (101 pitches).
"He didn't want to come out," Herald said. "But he had to."
Shaler (5-6, 3-3) was having pitching issues of its own.
On Monday the Titans and North Allegheny played 14 scoreless innings before the game was suspended due to curfew.
The two teams were scheduled to conclude the game Tuesday, but it was rained out.
Shaler had two of its top pitchers, Patrick Gumpto and Jake Bredl, each throw 100 pitches in that game and they are not permitted to throw again until Friday.
So Titans coach Brian Junker had to piece together his pitching plan against Butler. Shaler used five pitchers, Junker mindful not to throw any of his final four hurlers more than 25 pitches so they could return Thursday in the continuation of the North Allegheny game.
"We were really careful today," Junker said. "You just have to trust your gut — we had some guys cruising, but we needed some of those guys tomorrow. Monday's game made this more of a chess match."
Junker also thought his team would be facing someone other than Ollio, Butler's ace.
"We had our backs against the wall in this game," Junker said. "But I love the way our guys fight."
Grant Metzger survived a pair of walks after relieving Ollio in the sixth to get out of the inning with a strikeout.
He then pitched around a walk in the seventh for the save.
Butler will travel to North Allegheny — hoping the wheels on the bus have been secured.
"I don't believe any of the losses sit well with them," Herald said. "What happens when you start losing is you start thinking that you're desperate. All we had to do was go back to what we have been successful doing and the winning will come."
Shaler 000 003 0 — 3 5 1
Butler 101 031 x — 6 12 1
W: Connor Ollio 5.2IP (12K, 2BB). L: Hunter Boyan 2,1IP (1K, 1BB). SV: Grant Metzger 1.1IP (1K, 3BB)
Shaler (5-6, 3-3): Brian Colarusso 1B, Hunter Jamison 1B 2-RBI, Paul Perman 1B, Boyan 2-1B RBI
Butler (7-4, 4-3): Ryan Lynn 2B RBI, Garet Banner 2-1B RBI, Ollio 2B 3B, Metzger 1B RBI, Brandon Fleeger 2-1B, Jacob Keene 2-1B, Colby Anderson 1B, Justin Stewart 2B