Toughness times 3
Butler's Stewart grinds throughout the school year as soccer midfi elder, starting wrestler and baseball catcher
January 18, 2018 Other High School Sports
<![if !vml]>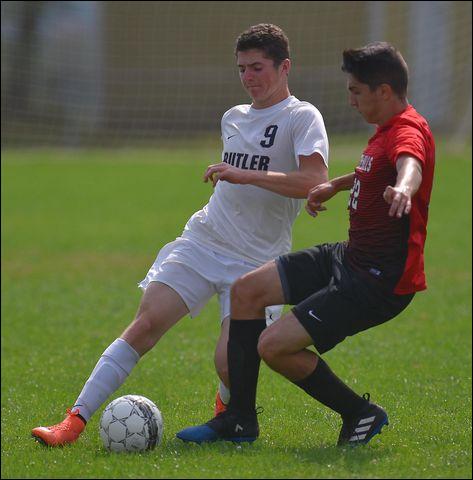 <![endif]>
Butler senior Justin Stewart (9), competing in soccer.
BUTLER EAGLE FILE PHOTO
BUTLER TWP — When it comes to sports, Justin Stewart never stops.
The Butler High School senior plays midfield for the Golden Tornado soccer team during the fall, wrestles at Butler during the winter and plays catcher for the Tornado baseball team in the spring.
He also catches for his summer baseball travel team.
And he's been doing them all for a long time.
"I love the competition. I love the different sports seasons," Stewart said. "I wouldn't have it any other way."
Stewart has been playing soccer since he was 4. He's been playing baseball since age 5 and has been a wrestler since he was 7.
He has already signed a letter of intent with California (Pa.) University to play baseball next year.
"To be honest, I wasn't sure Justin was coming back to wrestling this season," Butler wrestling coach Scott Stoner said. "Once he committed to baseball (for college), I thought he might sit out his senior wrestling season to get ready for that."
Stewart was 13-18 as a junior on the mats for the Golden Tornado last season and entered this year with an 18-25 career record.
The idea of leaving the sport wasn't on his radar.
"It never even crossed my mind," Stewart said.
He's off to a 9-2 start this year and "has improved remarkably," Stoner said.
Whatever the season, Justin Stewart is into that season.
He scored 15 goals in soccer last fall in helping Butler reach the WPIAL playoffs. He is one of six Tornado baseball players who have signed on to play college ball next year.
"It's hard getting a kid to play two sports in a school year these days, let alone three," Butler athletic director Bill Mylan said. "You see multiple sport athletes ay smaller high schools because they're needed to sustain a lot of those programs.
"At a school our size? Brett Brady (cross country, golf, hockey and track) is the only other kid I'm aware of involved in three sports."
Butler baseball coach Cody Herald said he encourages his players to participate in other sports in high school. He played baseball and basketball during his prep years at Butler.
<![if !vml]>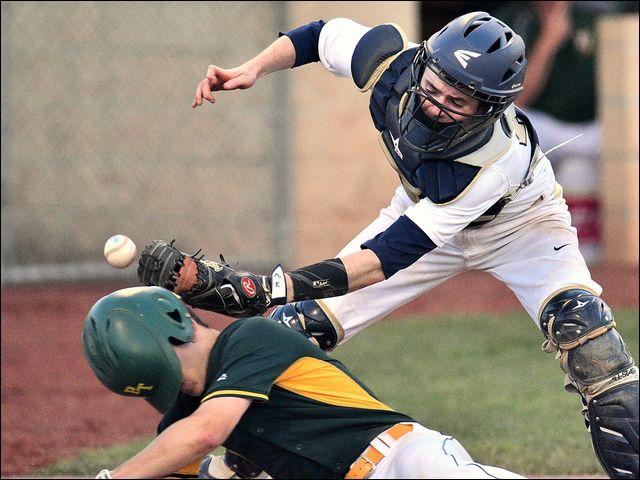 <![endif]>
Butler senior Justin Stewart as a catcher in baseball, is a rare three-sport athlete these days for the Golden Tornado. He is competing in wrestling this winter.
BUTLER EAGLE FILE PHOTO
"I know a lot of coaches want their athletes to concentrate on one sport alone these days," Herald said. "But, to me, that's the way it is in college.
"High school is the last time a kid can play multiple organized sports and he shouldn't be denied that opportunity."
Herald said he's impressed that Stewart competes in so many sports that require leg strength.
"He uses the lower body quite a bit," Herald said. "In soccer, you're always running. There's the leg drive in wrestling and they say the first thing to go on a catcher is his knees. But Justin is in tremendous shape.
"He's a true athlete who keeps himself fit enough to take on three grueling sports."
Stewart enjoys the common denominator of his three sports.
"I'm always in the middle of everything," he said. "It's awesome. It's fun. Wrestling is always that way, being on the mat alone. I'm in the middle of the field in soccer and as a catcher, I'm involved in every play."
Stewart's father, Craig Stewart, was a catcher at Clarion University.
"That's not why I became a catcher, though," Stewart said. "It was coincidence that I began playing that position. But once I did, my dad has been a tremendous help to me."
Stewart added that he never entertained the idea of dropping any of the three sports through the years.
"I never wanted to experience that void," he said. "One sport, one season, leads into the next. That's how I've led my life.
"Next year, playing only baseball, will definitely be different. But it will also be at another level and I'm looking forward to that challenge."