Winning Ugly
Deteriorating weather elements can't stop Butler
April 7, 2018 High School Baseball

<![if !supportLineBreakNewLine]>
<![endif]>
<![if !vml]>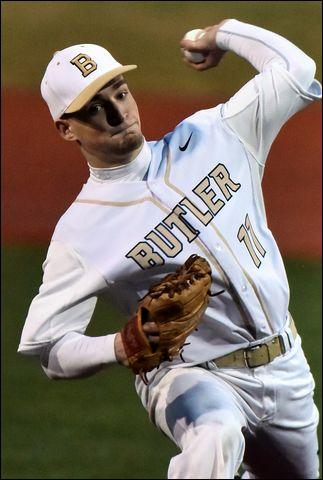 <![endif]>
Butler pitcher Garrett Banner delivers to the plate during the Golden Tornado's 7-4 win over Armstrong Fr9day night at Kelly Automotive Park.
DAVE PRELOSKY/BUTLER EAGLE
The Butler baseball team has seen just about every kind of weather in the last three days.
Wind. Cold. Rain. Sleet. Snow.
There's been one constant amid the rapidly changing weather conditions.
Winning.
Butler (4-0) withstood a driving wind and a cold rain against Armstrong on a soggy Kelly Automotive Park for a 7-4 win in a game shortened to five innings by the deteriorating elements.
"The ball was wet and their hands were wet," said Butler coach Cody Herald. "But I don't think they showed any frustration with it. Just like I said (Wednesday), you can't control the weather, but you can control what you do with it."
The weather made the baseball hard to control for the five pitchers used by both teams.
Butler and Armstrong combined to issue 18 walks. River Hawk pitchers Noah Cyphert, Josh Leighton and Jordan Dillard combined for 11 of those base on balls.
They also hit two batters and uncorked five wild pitches.
"We had control issues, but I contribute that to the weather," said Armstrong coach Ed Morris. "We're usually around the strike zone. It was just tough sledding out there. Real tough. I think it built character for our guys. We didn't die. We didn't give up or anything like that. Butler is a quality team. We know we can play in the elements now."
The elements also made for some quirky plays, like a 9-4-6 fielder's choice RBI by Nick Kibbie when his wind-blown fly ball dropped in front of Armstrong right fielder Justin Geidel, who then alertly recovered, hit relay man Eddie Morris, who then threw to Dawson Porter at second for a force out.
Isaiah Lucas scored on the play.
Butler was also aggressive on the base paths with six stolen bases, including a swipe of third by Connor Ollio, who arrived at the bag standing up.
"We talked earlier in the year — in past we were a team that really didn't run that much," said Herald, who is in his first year as the head coach. "Being a younger coach that just finished playing, the running game plays a big role. You get the defense moving around, holes open up and things happen."
Herald has distinct goals for his team in that department.
"I want to lead the WPIAL in stolen bases," Herald said. "And I also want to lead the WPIAL in hit-by-pitches. That's a free 90. That's a free base."
Kibbie took that approach to the extreme in the bottom of the fourth inning.
He stood motionless in the batter's box as a looping curveball struck him in the helmet.
"That's sacrificing your body," Herald said. "They're doing a great job with that."
Butler had a batter hit by a pitch Wednesday against Vincentian Academy.
The Golden Tornado stranded 10 runners on base and they managed just four hits. Connor Ollio had a two-run double in the fourth to break the game open and give Butler a 7-2 lead.
Butler starter Garet Banner pitched well in the tough conditions, striking out two and walking three in three innings.
Brandon Fleeger pitched the final two frames.
Butler opens the section season Monday night at The KAP against undefeated Pine-Richland.
"These games that we play early, we don't take lightly," Herald said. "Because if you do, what happens is you fall into a routine in how you play and then the next thing you know, you're like, 'Uh, oh,' and you realize you should have worked harder."
That's not been a problem for the Golden Tornado, which carried an intensity into the win against Armstrong.
"They've been doing a great job keeping their energy up," Herald said.
Armstrong 002 02x x — 4 3 2
Butler 304 0xx x — 7 4 1
W: Garrett Banner 3IP (2K, 3BB). L: Noah Cyphert 1IP (0K, 4BB).
Armstrong (1-1): Reise Matson 2-1B 3-RBI, Caleb Harriger RBI, Justin Geidel 1B
Butler (4-0): Nick Kibbie RBI, Connor Ollio 2B 2-RBI, Isaiah Lucas 1B, Jake Keene 1B 2-RBI, Justin Stewart 1B