Keeping Busy
Butler senior Herold to play football, baseball for Geneva College next year
February 26, 2019 High School Football
<![if !supportLineBreakNewLine]><![endif]>
<![if !vml]>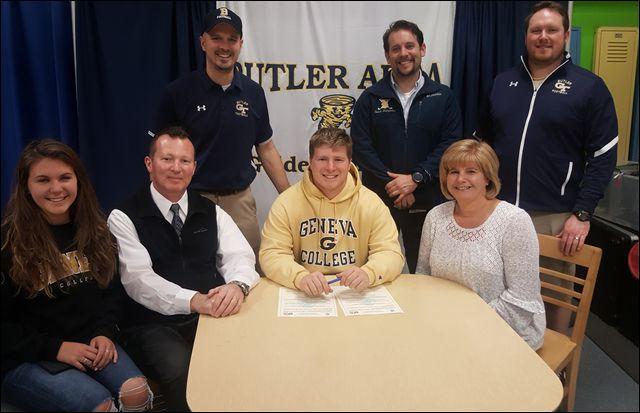 <![endif]>
Flanked by parents John and Beth Herold, Butler senior J.R. Herold signs a letter of intent to play football at Geneva College. Herold's sister, Emma, is seated at the far left. Standing, from left, are Butler football coach Eric Christy, assistant baseball coach Travis Shingleton and football defensive coordinator Bill Elliott.
JOHN ENRIETTO/ BUTLER EAGLE
BUTLER TWP — J.R. Herold knows how to keep himself busy.
That's not going to change in college.
The Butler senior linebacker recently signed a letter of intent to play football at Geneva College in the Presidents' Athletic Conference. He plans to play baseball there as well.
Herold is a first and third baseman on the diamond.
"My original intent was to just play football there," Herold said. "But while I was making my visit, the baseball coach approached me and asked if I wanted to play.
"The football coach has no problem with it, so I figure I'll give it a try."
Why not?
Besides playing football and baseball at Butler, Herold came out for the Golden Tornado's competitive cheering team. He helped the squad place seventh at the recent UCA Nationals in Florida.
"I'm glad I did that," he said of cheerleading. "The practices and workouts were intense. It definitely helped my upper body."
While staying busy on the athletic field, Herold has stayed successful in the classroom. He is carrying a 3.6 grade point average and plans to major in business aviation at Geneva.
Herold also considered Grove City, Wooster and Washington & Jefferson before deciding on Geneva.
"They have the aviation program, I'm looking for. It's a perfect fit for me academically," he said.
Butler football coach Eric Christy isn't surprised Herold opted for Geneva.
"He made an academic choice and he's going to a school of Christian faith. I know that means a lot to him, too," the coach said.
"J.R. will make an impact there. He has natural ability and a knack for finding the football."
He will also be playing for two longtime Geneva coaches in Gene DeMarco for football and Alan Sumner for baseball.
DeMarco has been the Golden Tornadoes football coach for 25 years. His record of 144-116 mark the most wins of any Geneva grid coach in history. The football team is coming off a 2-8 season and returns 16 linebackers on its roster.
The latter fact doesn't phase Herold at all.
"I'll have a chance to show what I can do. I'm hoping to get on the field as a freshman," he said.
Herold led Butler with 51 solo tackles last fall. The 6-foot-0, 225-pounder had three quarterback sacks, an interception and fumble recovery as well.
Sumner has been the baseball coach at Geneva for 31 years. His 628-604-4 record marks the most wins by any Golden Tornado coach in any sport.
Geneva is coming off a 19-14 season, its first winning campaign in seven years.
"I think baseball up there will offer a tremendous opportunity for J.R.," Butler assistant baseball coach Travis Shingleton said. "I know how happy he is to get a chance to keep playing in college.
"He's never been afraid of a challenge, about stepping out of his comfort zone. Playing two sports in college is another example of that."
Butler graduate Marshall Wheeler is a freshman pitcher-third baseman at Geneva.
"I can play first or third ... I'll play wherever they need me," Herold said of baseball.