Butler baseball blanks Knoch in opener
March 27, 2021 High School Round Up
<![if !vml]>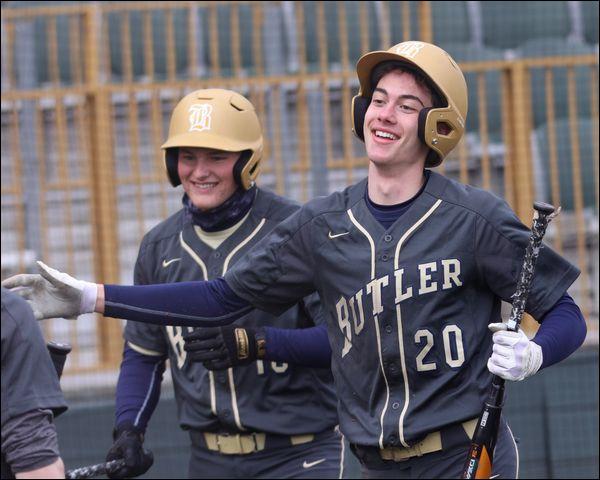 <![endif]>
Butler second baseman David Leslie (20) is all smiles as he celebrates his inside-the-park home run Friday in the Golden Tornado's season-opening 10-0 baseball win over Knoch.
SEB FOLTZ/BUTLER EAGLE
Josh Forbes waited nearly two years to make his head varsity baseball coaching debut at Butler.
It was worth it.
Cooper Baxter and Mac Schnur combined on a one-hit shutout and the Golden Tornado excelled offensively and in the field while defeating Knoch, 10-0, in a mutual season opener Friday at Michelle Krill Field at historic Pullman Park.
"That was a pretty clean game," Forbes said. "I certainly can't complain about that."
Baxter pitched four innings, threw 54 pitches and struck out five. He allowed only a leadoff walk to Isaac Roddy in the first and a leadoff single to Angelo DeLeonardis in the second.
Schnur struck out two in working a scoreless fifth. Butler ended the game early by scoring three times in the fifth to invoke the 10-run rule.
"It felt good just to get out there and play," Baxter said. "It's been a long time. This was a lot of fun.
"My defense really backed me up. Jack (Beneigh) made a great catch in right. That ball was hit hard. And that double play Lance Slater started was nice."
Afte the DeLeonardis single, Knoch's Dathan Gillis drilled a liner that was ticketed for left-center. Shortstop Slater made a leaping catch and fired to first to double off the runner.
Beneigh raced back and pulled in a deep drive off Eli Sutton's bat in the fourth.
"Hats off to Butler," Knoch coach Brad Bestic said. "They made a number of great plays today. That is a well-coached team."
Baxter delivered a run-scoring double to deep left in the first inning to get the Tornado on the board. Three Knoch errors helped Butler score four times in the third. David Leslie tripled to center to begin that inning.
Leslie added a two-run inside-the-park home run in the fourth to give the Tornado a 7-0 lead. Madden Clement went 3-for-3 with a double and two singles.
"I've hit a couple of in-the-park homers at other fields," Leslie said. "This was my first one here. To do it in front of my parents was kinda nice."
Colin Patterson's two-out RBI single down the left field line in the fifth ended the game.
"You want to put up zeroes when you're in the field," Forbes said. "Putting up zeroes in the error column can translate into putting up zeroes in the run column."
Knoch had no such luck. The Knights committed a fourth error in the fifth, contributing to Butler's game-ending rally.
Like Forbes, Bestic was making his head-coaching debut.
"We're better than that," he said of the errors. "You don't want to lose your first game 10-0, but we'll learn from this and get better.
"A loss like this can serve as a catalyst moving forward."
Knoch 000 00x x — 0 1 4
Butler 104 23x x — 10 9 0
W: Cooper Baxter 4IP (5K, 1BB). L: Brayden Hageter 3IP (5K, 1BB).
Knoch (0-1): Isaac Roddy BB, Angelo DeLeonardis 1B
Butler (1-0): Mattix Clement 3-BB 3-R, David Leslie 3B HR 2-RBI 2-R, Cooper Baxter 2B 1B 2-RBI, Colin Patterson 2B 1B RBI, Brady Gavula RBI, Madden Clement 2B 2-1B