Rallying Cry
Butler spots Armstrong 3 runs, cruises to win
April 17, 2021 High School Baseball
<![if !supportLineBreakNewLine]>
<![endif]>
<![if !vml]>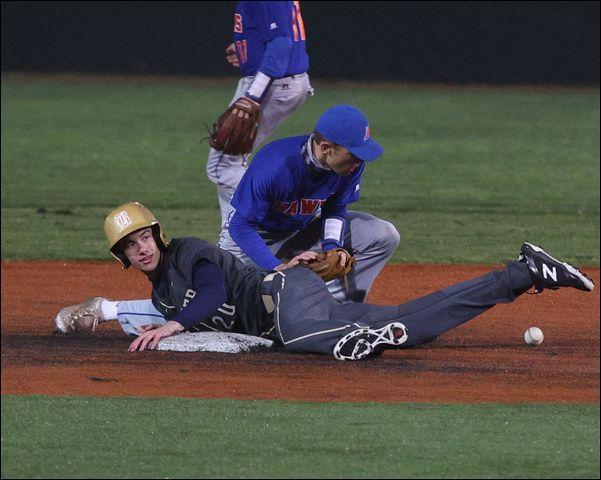 <![endif]>
Butler's David Leslie (20) looks back to the dugout after stealing second and beating a throw to Armstrong shortstop Eli Wiles (3). Leslie scored three runs in the Golden Tornado's 13-3 victory.
SEB FOLTZ/BUTLER EAGLE
Butler needed to get a grip.
After falling behind 3-0 in the first inning to Armstrong, the Golden Tornado answered with two runs in the bottom of the first, keyed by a triple by senior David Leslie.
It was an interesting night for Leslie, who went 2-for-2, was hit by a pitch and helicoptered two bats into the stands at Michelle Krill Field to help the Golden Tornado to a 13-3, six-inning win over the River Hawks on a cold and wet Friday night.
"I need a new bat grip," Leslie deadpanned. "I'm probably going to go get one (Saturday)."
The rest of the lineup and Colin Patterson made sure Butler regained a firm grasp on the game.
Patterson relieved starter Mattix Clement — a senior who lobbied to be the "opener" for Butler — and went four strong innings for the win.
"Mattix has been bugging me, saying, 'I have one inning in me to throw,'" said Butler coach Josh Forbes, grinning. "So, I threw him a bone."
Butler wasn't phased by the early hole.
The Tornado (6-3) took the lead for good in the bottom of the third with two more runs aided by two hit batsmen and a pair of RBI from Cooper Baxter and Patterson.
Butler tacked on two more in the fourth, two more in the fifth and triggered the mercy rule with five runs, all with no one out, in the bottom of the sixth inning.
Leslie keyed three of those rallies.
"I'm just happy I'm playing and out there with my friends," Leslie said. "I'm just so happy my family can be here to see me. That relaxes me and helps me go out and have fun and do what I can."
Forbes was happy his team wasn't rattled.
"That's an awesome sign," Forbes said. "That's a good response to put up two (in the bottom of the first). Obviously, everyone wants to put up a crooked number right away and tie them to go even, but the guys did a very good job. No panic."
Brady Gavula also had a big night at the plate for Butler with three singles and three RBI.
Armstrong (2-6) managed only three singles. The River Hawks have been scuffling as late. The 10-run loss was their third consecutive mercy-rule defeat.
Junior Jack Benigh closed out the game for Butler.
The tall, lanky right-hander showed off some electric stuff in his scoreless inning of work.
"It's definitely in there," Forbes said. "He did a really good job. The scary part is I don't think he even knows he's not throwing as hard as he can. Everything is so effortless with him, but he can add five to six mph in that body.
"He has a second-level to his ball," Forbes added. "It really jumps on hitters. We definitely have high hopes for Jack."
Butler, which is 3-1 in the section, faces a big test early next week with a conference home-and-home with Pine-Richland.
Forbes hopes his pitching, which was young and untested coming into the season, continues to hold up.
"Just overall our pitching has been very, very solid through the first half of the year," Forbes said. "Our pitching is young. None of these guys have had varsity experience yet. So it's awesome to see what we've done."
Armstrong 300 000 0 — 3 3 2
Butler 202 225 x — 13 8 0
W: Colin Patterson 4IP (2K, 1BB). L: Lucas Gaulinski 3IP (0K, 1BB).
Armstrong (2-6): Jesse Hepler 1B, Zach Streightif1B RBI, Ethan Prugh 1B
Butler (6-3): David Leslie 3B 1B 3-R, Cooper Baxter 2B 3-RBI, Colin Patterson RBI, Brady Gavula 3-1B 3-RBI, Madden Clement 3B 2-RBI, Ethan Trettel 2B