Walk-off win for Tornado
Baxter sacrifice fly topples Kiski, 4-3
March 30, 2021 High School Baseball
<![if !supportLineBreakNewLine]>
<![endif]>
<![if !vml]>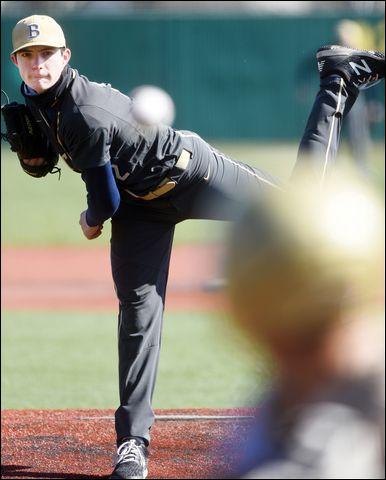 <![endif]>
Butler's Madden Clement delivers a pitch during the Golden Tornado's 4-3 win over Kiski Area at Pullman Park.
HAROLD AUGHTON/BUTLER EAGLE
Logan McGarry felt very confident in his control late in a baseball game at Pullman Park.
With his team tied with Butler in the bottom of the seventh inning, Kiski Area's pitcher was facing the bases loaded with no outs — largely not his fault due to a fielding error and a fielder's choice that backfired.
Butler's Cooper Baxter stepped to the plate knowing that the game could be won in a number of ways, including a walk or a wild pitch.
What does McGarry offer up in his first pitch to Baxter? A curveball ... for a called strike.
"I usually look for a fastball on first pitch because it's easier to adjust if a curveball is thrown," Baxter said. "The second pitch was another curve in the exact same spot."
This time Baxter went for it and made solid contact on a fly ball to left field. The catch was made, but courtesy runner Lance Slater tagged up from third base and scored easily to earn a 4-3 victory for the Golden Tornado.
Since giving up an RBI-single to Conner McTighe that gave Butler a temporary 3-2 lead in the bottom of the fourth frame, McGarry had retired eight straight batters entering the seventh.
But McTighe started the inning by getting hit by a pitch. Mattix Clement then hit a groundball headed toward the second base bag. Shortstop Kyle Poremski fielded the ball in front of the base, then attempted to dive back to make the tag on Slater, who had entered the game, but Poremski was too late.
David Leslie loaded the bases when he reached on a fielding error, which brought Baxter to the plate.
"We weren't planning on Logan pitching the whole game," said Kiski Area coach Aaron Albert. "We had a couple of other guys lined up, but he was throwing strikes and kept getting outs."
Jack Beneigh, the fourth and final pitcher for Butler, got the win after working two perfect innings of relief with four strikeouts.
"I'm ecstatic about Jack's effort," exclaimed Butler coach Josh Forbes. "We feel he can step into a role this year, as a starter or reliever, however we need him."
The Cavaliers (0-1) were the first to score. Butler starting pitcher Madden Clement struck out six in his three innings, but also walked four batters. Two of them scored on Frank DiNinno's single in the top of the third.
Butler (2-0) quickly evened the score in the bottom of the inning. Singles from Mattix Clement and Leslie were followed by a walk to Baxter to load the bases. Colin Patterson's sacrifice fly plated one run and designated hitter Brady Gavula's single brought home another.
The Golden Tornado totaled five hits in the game.
"We got into numerous hitter's counts today, but wasted them on swinging at bad pitches," said Forbes. "They were pitches that (McGarry) wanted us to swing at."
Logan Koegler and Colin Casteel followed Madden Clement on the mound. The Cavaliers tied the game at 3 in the top of the fifth, during which Koegler left the mound with the bases loaded and one out. He was charged with a run when Carson Craig hit a sacrifice fly off Casteel, who escaped the frame with no further damage by stranding two base runners.
The quartet of Butler pitchers combined to strike out 13, walk seven and surrendered just three hits.
"Butler's a good team," Albert said. "This was also a non-section game and we weren't as aggressive on the bases because we wanted to see what our guys could do at the plate. If it were a section game, we would've been more active."
Kiski Area 002 010 0 — 3 3 3
Butler 002 100 1 — 4 5 1
W: Jack Beneigh 2 IP (4K, 0BB). L: Logan McGarry 6.1 IP (3K, 2BB).
Kiski Area (0-1): Frank DiNinno 1B 2RBI
Butler (2-0): Mattix Clement 1B R, David Leslie 1B R, Brady Gavula 1B RBI, Ethan Trettel 1B R, Conner McTighe 1B RBI