Zero tolerance
Butler's Baxter escapes trouble while blanking Seneca Valley
May 4, 2021 High School Baseball
<![if !vml]>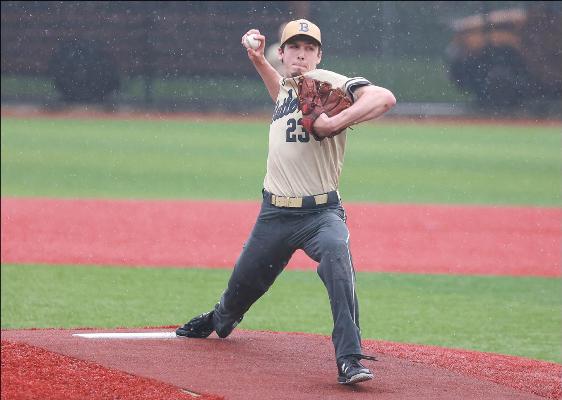 <![endif]>
Butler's Cooper Baxter delivers a pitch against Seneca Valley at Seneca Valley High School on Friday, May 3, 2021. Baxter went the distance in a 2-0 win.
NATE BLACK/SPECIAL TO THE EAGLE
JACKSON TWP — Getting into a jam can rattle a pitcher and there was ample opportunity for Butler's Cooper Baxter to become flustered and lose his focus in Monday's section baseball clash at Seneca Valley.
The Raiders had two runners on and either one or no outs in each of the final three innings.
But Baxter, a junior, kept his cool and found a way to escape all three situations unscathed in Butler's 2-0 victory at Raider Field.
"That was all about the maturity and confidence that Cooper has in himself," said Golden Tornado coach Josh Forbes. "He didn't let the game speed up on him and continued to attack hitters."
Tornado designated hitter David Leslie provided Baxter all the support he needed. His two-out double just inside the left-field line in the top of the fifth inning drove in courtesy runner Jack Beneigh and Mattix Clement.
Butler catcher Conner McTighe had reached on a two-out single and Clement followed with an infield hit to set the table for Leslie.
After failing to break through with any runs despite threatening in the fifth and sixth inning, SV (10-5-1, 5-4) again put Baxter on the hot seat in the seventh.
Dustin Horn drew a leadoff walk and Andrew Tkatch singled to put runners at first and second without any outs.
Baxter struck out Ethan Edkins and got Conor Carney to fly out.
<![if !vml]>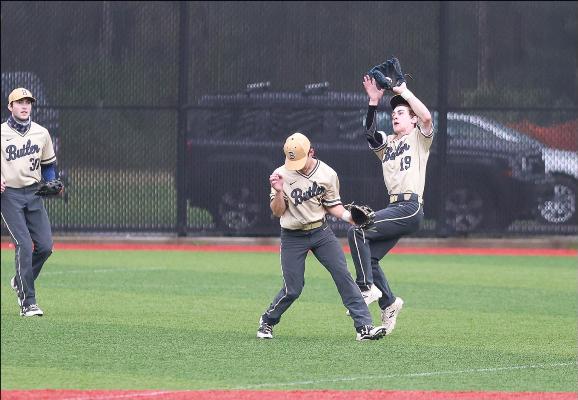 <![endif]>
Butler right fielder (19) Ethan Trettel catches a fly ball in front of teammate Kyle Yost at Seneca Valley High School on Friday, May 3, 2021. Butler won, 2-0.
NATE BLACK/SPECIAL TO THE EAGLE
With Quinn Burke at the plate, Baxter threw a wild pitch that allowed the runners to advance to second and third.
But Burke, SV's leading hitter, hit another fly ball that was caught by center fielder Mattix Clement to end the game.
"If I make my pitches, I know I can get anybody in the WPIAL out," Baxter said. "Seneca Valley is a good team and it means a lot to get this shutout."
Baxter had even more incentive to pitch well after his last outing. He allowed eight runs in three innings in last Tuesday's 11-0, five-inning loss to North Allegheny.
"That was a rough game for everybody," he said of his team's last game before meeting SV.
Butler (10-5, 6-3) also lost an 8-1 decision to the Tigers last Monday. The win over the Raiders helped Butler officially turn the page.
"North Allegheny is behind us," said Forbes. "Starting today, we need to play our best baseball of the season."
Like the Tornado, SV has already clinched a WPIAL Class 6A playoff spot. But the Raiders had something else in common with Butler — their previous two section games, against Central Catholic, ended in defeat.
SV coach Eric Semega was frustrated at his team's performance at the plate, particularly in the last few innings when an inability to put a sacrifice bunt down contributed to the shutout.
"Butler got the one big hit and we couldn't execute," he said. "We couldn't do what we needed to do to win the game."
Baxter, who struck out six and walked four, worked out of a jam in the fifth that featured runners at first and third with one out. Coner Carney then hit into a 6-3 double play, with shortstop Lance Slater making a fine play and first baseman Madden Clement stretching to keep his foot on first base to complete the effort.
In the sixth, Baxter walked Burke and gave up a single to Ethan Baer, then retired three straight to keep the Raiders off the board.
"Having that defense behind you helps a ton, knowing there are eight guys out there who have your back," Baxter said.
"When we play good defense, we win," said Forbes. "That didn't happen against North Allegheny."
SV's Carter Beneigh shouldered the loss, allowing just the two runs on six hits while striking out two and walking five.
"You allow just two runs, that should give you a chance to win the game," said Semega, who has watched his team fail to score a run in back-to-back section contests, "but we need to figure things out offensively. We have guys who aren't in the game mentally."
Both teams will cap their section schedules when they meet each other at 7:30 p.m. Tuesday at Pullman Park.
Butler 000 020 0 — 2 6 2
Seneca Valley 000 000 0 — 0 6 0
W: Cooper Baxter 7 IP (6K, 4BB). L: Carter Beneigh 7 IP (2K, 5BB)
Butler (10-5, 6-3): Mattix Clement 1B R, David Leslie 2B 2RBI
Seneca Valley (10-5-1, 5-4): Ethan Baer 2-1B, Dustin Horn 2B