BUTLER SECURES POSTSEASON BERTH
Tornado's Clement shuts down SV
Brendan Howe Eagle Staff Writer
May 05, 2022 Last Updated: May 05, 2022 03:55 PM High School
<![if !vml]>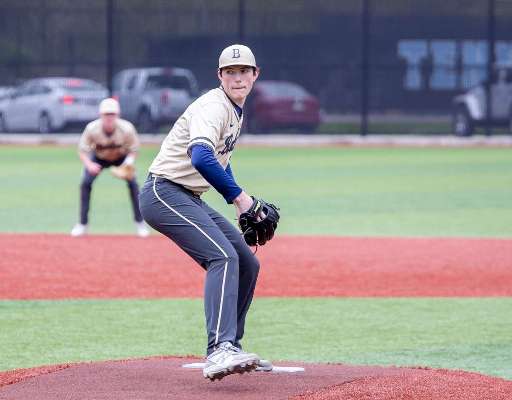 <![endif]>
Butler pitcher Madden Clement prepares to deliver to the plate during the Golden Tornado's 3-1 win Wednesday at Seneca Valley. Clement allowed one hit in 6.1 innings as Butler qualified for the WPIAL playoffs. Chris Border/Special to the Eagle
JACKSON TWP — After trudging through what had turned into a desert filled with zeroes, Butler at last found an oasis Wednesday afternoon.
The Golden Tornado coupled an offensive rediscovery with Madden Clement's phenomenal start on the bump, grabbing a playoff spot with a 3-1 baseball victory over host Seneca Valley.
Butler (10-5, 5-5) couldn't have made good at a better time. It didn't wait long, either.
Ethan Trettel sent the game's second pitch through the middle and Clement followed with a single of his own.
"Look who came up (with runners) on first and second and no one out," Butler coach Josh Forbes said. "Cooper Baxter just said, 'I'm doing the job.' Monday, he was in the same situation in the bottom of the seventh."
He struck out looking then. He brought the lead-off hitter across this time, ending the Golden Tornado's four-game scoreless drought.
"Everybody could breathe in the dugout," Forbes said. "We weren't just sitting there, holding our breaths (and) waiting for that first run ... We finally scored a run. So we can take that monkey off our back."
<![if !vml]>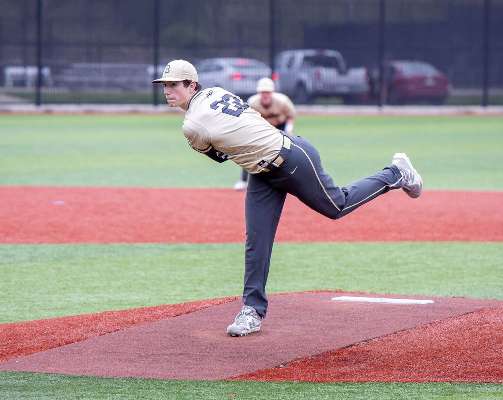 <![endif]>
Madden Clement #22 Photo by: Chris Border/Butler Eagle
Brady Gavula beat out the throw on a dribbler to third two at-bats later. Colin Patterson added another run with an RBI sacrifice fly. In that initial frame, the Golden Tornado eclipsed their hit total from the first leg of the teams' two-game Section 1-6A bill.
SV (12-5, 5-5) couldn't figure Clement out. He sat down their first seven batters and struck out the side in the second inning.
With two away in the visitors' fourth, Butler's Patterson held off on a pair of offerings out of the zone before smashing a solo homer over the right-center field fence.
"It was a really good job of leaving a fastball at the belly — usually he swings through that — leaving that one up, then spitting on the breaking ball, and getting his fastball in the zone for the next pitch," Forbes said. "He can run it out of any ballpark if he's on time.
"It was gone off the bat and he didn't know it because he got his head down running for three. I threw my hands up because I knew it was gone."
Forbes estimated that the blast carried 390 feet.
Meanwhile, Clement brought a no-hitter into the final inning.
"Obviously, he had us off-balance and we weren't putting good swings — or swinging at all — and they did what they needed to do that first inning," Raiders coach Eric Semega said.
He stayed calm and collected throughout, casting the fact that his team was up against the wall out of his mind.
"I never thought about it the entire game," Clement said. "Because I knew that was going to get me all tensed up. If I just do what I do and do it best, we're going to get the best outcome, because I got a great defense behind me.
"I can just put it there and give them something every time."
He entered the seventh having thrown 86 pitches. He rung up SV's Creed Erdos to get the first out.
"I didn't even think about it up until the sixth inning," Clement said. "That's when I was like, "Oh, that's going to sit in the back of my head the rest of the time ... I wish I wouldn't have thought about it."
He then gave Pat O'Toole a free pass and allowed the Raiders their first knock on his 100th delivery of the game. Colin Casteel took over on the rubber with the bases full after Clement walked Nick Merola.
SV scored a run when Casteel got Brock White to ground out to Clement — then playing first base — on his first pitch. The reliever struck A.J. Capizzi out to slam the door shut.
Forbes hopes now that his crew has found its bats, that it will be able to combine them with its pitching and defense going forward.
"We're just going to focus on playing our best baseball and we'll let the outcome handle it at the end of the day," Forbes said. "When we play our best baseball game, we're going to be a really hard team to beat."
The Raiders could have stomped out their rivals' plans of playing past the regular season. In failing to do so, they've left the chance for another meeting — this time with even more on the line.
"We could've improved our stock in the playoff picture by winning today," Semega said. "But now our stock has declined and now you come in the picture of who's going to play in the play-in game ... If we would've won today, we wouldn't (have) had to worry about that."