Butler baseball rallies past Pine-Richland
John Enrietto Eagle Sports Editor
April 05, 2023 Last Updated: April 04, 2023 10:53 PM Sports
McElroy sacrifice fly defeats Rams in 9th inning at Pullman Park
<![if !vml]><![endif]>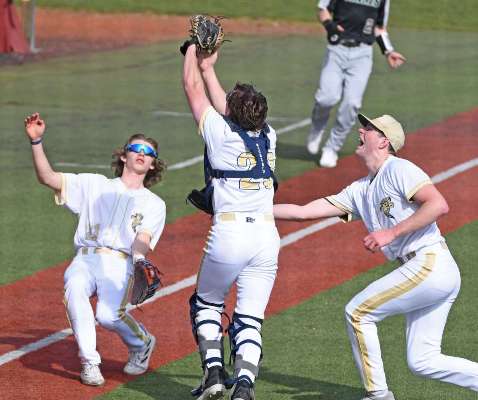 Butler catcher Conner McTighe (29) makes the grab on a pop fly between third baseman Boden Lenyk and pitcher Madden Clement during the Gklden Tornado's 5-4, nine-inning section baseball win over Pine-Richland on Tuesday at Pullman Park. Justin Guido/Butler Eagle 04/01/23
It was a golden chance to tie the game — and Liam McElroy knew it.
Butler's left fielder and clean-up hitter stepped to the plate with runners on first and second, no one out, in the fifth inning, his team trailing Pine-Richland 4-3 Tuesday evening at Michelle Krill Memorial Field at Historic Pullman Park.
He grounded into a double play and the Rams escaped any damage that inning.
"That at-bat bothered me ... a lot," McElroy said.
He more than made up for it.
McElroy stepped to the plate in the bottom of the seventh inning, again with runners at first and second, no one out, his team trailing, 4-3. This time he lined a game-tying single to left. He ended the game with a sacrifice fly to right in the ninth inning. plating Lance Slater from third and giving Butler a critical 5-4 Section 1-6A victory.
"I gave him the bunt sign at first," Butler coach Josh Forbes said of McElroy's seventh-inning pate appearance. "Then I took it off. I have faith in Liam. I wanted to give him a chance."
<![if !vml]>
"I was pretty happy when I saw him take that bunt sign off," McElroy said. "It showed me he had confidence in me. That means a lot."
The Golden Tornado (3-3, 1-1) nearly won the game in the bottom of the seventh, but had a runner tagged out trying to score from second while the Rams (6-2, 1-1) failed to turn a double play.
But the game turned into a day of frustration for Pine-Richland, which lost a 4-1 lead, stranded 12 runners on base and made a couple of critical fielding errors. The Rams stranded the bases loaded in the first and sixth innings.
"It never should have come to that," Pine-Richland coach Kurt Wolfe said of extra innings. "We missed chances to put this game away, made too many mistakes. It was a credit to our guys they hung in there the way they did.
"But when you leave it up to the baseball gods, anything can happen."
No. 9 hitter Boden Lenyk delivered a two-out RBI single for the Tornado in the first inning. Noah Collins and Mac Schnur started the Butler fourth with singles, both eventually scoring on a wild pitch and infield error to pull the Tornado within 4-3.
Slater started Butler's ninth with a single up the middle. He stole second with one out. Conner McTighe hit a chopper that elded leaping pitcher Noah Mackie, putting runners at first and third.
"Our pitcher was the tallest guy on the field and the ball caromed high enough to get over him," Wolfe said.
McElroy came to the plate with runners on the corners.
"All I wanted to do there was hit a fly ball to the outfield. We were gonna score," he said.
And they did.
Nolan Stefanik pitched the ninth inning and got the win. Colin Casteel pitched six innings of relief, throwing 92 pitches, and allowed only two runs. Madden Clement started on the mound for the Tornado, but struggled. He struck out three, but walked six and threw 68 pitches in two innings.
"Colin came in and did an unbelievable job for us," Forbes said. "He probably could have gone a little bit longer. He held us in this game."
The Rams managed only five hits on the day. Tanner Cunningham had a double, single, scored two runs and reached base four times.
"This is a huge win for us," Forbes said. "Now we have a chance to go to their place on Thursday and win a series."
Pine-Richland 200 200 000 — 4 5 2
Butler 010 200 101 — 5 10 1
2 outs when winning run scored
WP: Nolan Stefanik 1IP (1k, 1bb). LP: Noah Mackie 3.2IP (5k,1bb)
Pine-Richland (6-2, 1-1): Tanner Cunningham 2B 1B RBI 2-R, Owen Henne 1B RBI, Jacob McGuire 1B RBI, Peyton Ford 1B
Butler (3-3, 1-1): Lance Slater 2-1B, Madden Clement 1B, Connor McTighe 2B 1B, Liam McElroy 1B 2-RBI, Noah Collins 1B, Mac Schnur 1B, James Desmnd 2B, Boden Lenyk 1B RBI.