MADDEN-ING!
Butler senior left-hander Clement returns to form in shutting down NA
John Enrietto Eagle Sports Editor
April 15, 2023 Last Updated: April 14, 2023 11:11 PM Sports
<![if !vml]>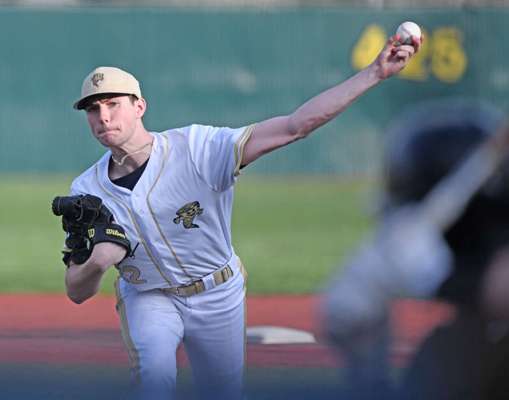 <![endif]>
Butler left-hander Madden Clement delivers a pitch during the Golden Tornado's 5-2 section baseball win against North Allegheny at Pullman Park. Clement struck out seven in six innings. Justin Guido/ Butler Eagle 04/12/23
The words in Butler baseball coach Josh Forbes' pregame notes said it all.
"Madden back?"
Answer that in the affirmative.
Butler senior lefthander Madden Clement threw 76 pitches in six innings, striking out seven and scattering four hits in defeating North Allegheny, 5-2, in a critical Section 1-6A game for the Golden Tornado at Michelle Krill Memorial Field at Historic Pullman Park.
A Virginia Tech recruit, Clement had struggled to regain his pitching form since suffering a broken leg during basketball practice on Jan. 18.
"His first two outings were two innings, 60-plus pitches," Forbes said. "He didn't have his command. This was a different Madden Clement we saw tonight.
"Throwing 76 pitches in six innings is outstanding. He hasn't been stretched out enough yet, that's why we didn't send him out there for the seventh.
James Desmond allowed an unearned run in the seventh, but closed the door on the Tornado victory.
"I felt like I was back when I was in the dugout before the game," Clement said. "I felt locked in. I knew this was gonna be the night I'd be back to pitching like I can.
"It has been frustrating, waiting for this. I wanted to come back so soon ... The coaches did a great job of holding me back."
Clement struck out the side in the first inning after allowing a lead-off bunt single to Andrew Dougherty. He fanned five of the first seven batters he faced.
"He came out throwing all three of his pitches for strikes," North Allegheny coach Andrew Heck said of Clement. "He was in total control. From the start, I knew we'd have to keep this a low-scoring game and Butler did a good job of scratching out some runs early.
"This was Madden's game. We just couldn't do much with him."
North Allegheny (5-2, 2-1) won the first two games of this three-game section series, 13-0 and 3-2. The Tornado scored twice in the second inning Friday when Lance Slater and Clement drew consecutive bases-loaded walks. Tiger starting pitcher Andrew Hart threw 38 pitches in the second frame and was lifted after the third inning.
Liam McElroy tripled into the right-center gap to lead off the Tornado third and scored on Noah Collins' ground-out. Butler added a run in the fourth when Mavrik Clement doubled to deep left to begin the inning and scored on Lance Slater's single to left.
Colin Casteel walked and scored on a Mavrik Clement single to center in the sixth.
Mavrik, a freshman second baseman batting in the No. 8 spot, had two of Butler's six hits and scored a pair of runs.
"It's tough for a freshman to adjust to 6A baseball, especially starting and playing the whole game like Mavrik's been doing," Forbes said. "He puts together good at-bats. He's fourth on our team in that category.
"He looked like a different hitter tonight."
Mavrik admitted: "I was pressing early (in the season). Now I just try to put the bat on the ball, help the team score runs when I can.
"The big thing for me this season is being able to play ball with my brother. Madden was more locked in tonight than I've seen him in a while."
Defense helped Madden Clement escape potential damage twice. He walked No. 9 hitter Ian Zahorcak with one out in the third, but Dougherty's grounder up the middle was snagged by shortstop Slater, who stepped on second and fired to first for an inning-ending double play.
With runners at first and second and two outs in the sixth — the Tigers having the tying run at the plate — Clement wheeled around and picked Spencer Barnett off second to end the threat.
"Huge play," Forbes said. "They had a chance to get back in the game and put pressure on us there."
"I saw the runner jumping around and he was off pretty far," Madden said. "I knew I could get him. My biggest fear was turning my ankle when I spun around."
Butler does not compete in section play next week. The Tornado host Penn-Trafford for Senior Night at 5:30 p.m. at Pullman Park.
N. Allegheny 000 010 1 — 2 5 1
Butler 021 101 x — 5 6 3
WP: Madden Clement 61P (7K, 1BB). LP: Andrew Hart 3IP (2K, 3BB).
North Allegheny (5-2, 2-1): Andrew Dougherty 1B, Spencer Barnett 2B, August Maslo 2B, Anthony Varlotta 1B, Brett McSparran RBI, Ian Zahorcak 1B.
Butler (5-5, 3-3): Lance Slater 1B 2-RBI, Madden Clement RBI, Cooper McTighe 1B, Liam McElroy 3B, Noah Collins RBI, Colin Casteel 1B 2-R, Mavrik Clement 2B 1B RBI 2-R.