Far from a 1-shot wonder
Miracle basketball shot doesn't define Taoufik
March 22, 2018 High School Basketball
<![if !vml]>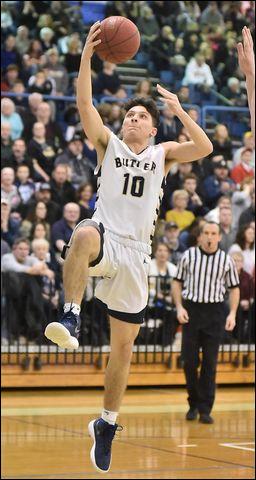 <![endif]>
Butler High School senior Tarik Taoufik has been far more than a three-sport athlete for the Golden Tornado.
BUTLER EAGLE FILE PHOTO
BUTLER TWP — From three-quarters of the court away, Tarik Taoufik slung the ball toward the hoop.
The ball sailed through the net on a line drive, a successful buzzer-beating shot before halftime in Butler's final home boys basketball game of the season.
The shot showed up on television newscasts.
It was almost a shame.
Taoufik could have been recognized for a lot more than one last-ditch heave at the basket.
"He's a pretty unique kid," Golden Tornado basketball coach Matt Clement said.
That may be an understatement.
Consider the following:
Taoufik is ranked No. 1 in his class, carrying a 4.62 grade point average.
He was a member of the varsity golf team, averaging 43 for nine holes.
He averaged 10 points per game — Butler's second-leading scorer — as a first-time starter in basketball his senior year. He shot 60 percent from the field.
He competes in the triple jump, long jump and high jump for the Tornado track team and will compete in track and field at Carnegie Mellon University while studying to become a doctor.
He is a goodwill ambassador at Butler High School, welcoming new students and foreign exchange students to the school, showing them around and introducing them to classmates.
He tutors fellow students in different subjects.
He spends a couple of hours each weekend walking with a Syrian professor suffering from dementia in Treesdale, helping the man keep his mind sharp.
"My father works in landscaping and did a job for the professor's son," Taoufik said. "He told me they were looking for someone to walk with the man and engage in conversation with him.
"My dad asked me if I wanted to do it. I was happy to do it. I'll do anything to help another person. And it's been a rewarding experience for me. The man is fascinating."
So it goes with Taoufik. That's why he does tutoring. That's why he's a goodwill ambassador.
"I do a lot of my tutoring during study hall," he said. "If I can help someone improve their grades, well ... That's what I should be doing."
Taoufik helps his athletic teams as well. In addition to the jump events in track this spring, he may pitch in on the 4x400 meter relay, 4 x 100 and the javelin.
"Whatever they need me to do, that's where I'll go," he said.
Butler track coach John Williams anticipates Taoufik having a big senior season.
"That's just who he is," Williams said. "Whatever sport is in season, he's doing it — and he gives his all to it.
"His schedule is ridiculously busy. But Tarik has never gotten fazed by that kind of stuff."
In fact, he's learned to get by on little sleep.
"I'm taking six or seven honors classes and they require an hour or two of work outside of the class for every two hours in the classroom," Taoufik said.
"When we get back from basketball road games, I usually stay up until 3 or 4 a.m. studying or getting caught up. I've learned to function on three or four hours of sleep a night."
Taoufiik became a key member of Butler's starting lineup in basketball this season after playing strictly junior varsity during his other high school years.
"Tarik never quit working at his game all that time," Clement said. "There wasn't even a guarantee he'd start his senior year. He earned that role and was a big contributor to our success.
"It's unbelievable how mature this kid is for his age. He understands how life works. He gets it already. A lot of people never get it."
Williams described Taoufik as "an unassuming kid who is well prepared to get a great education and set up a great life."
Taoufik looked at Lehigh, Seton Hall and Bucknell before deciding on Carnegie Mellon. While he will definitely enter the field of medicine, he is leaning toward becoming an orthopedic surgeon.
"Being so involved in sports all my life, I'd love to be able to help athletes heal and make them physically stronger to compete," he said.
There's that "help" theme again.
"Life's a lot easier with that type of attitude," Taoufik said.
"He gets it," Clement said. "The kid just gets it."