Storm Warning
Whirlwind start for Butler blows North Hills away
December 16, 2017 High School Basketball
<![if !vml]>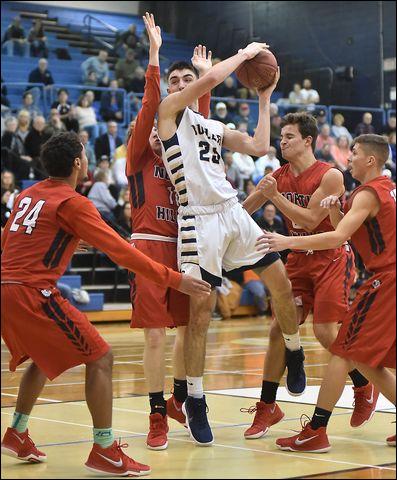 <![endif]>
Butler point guard Ethan Morton (25) is surrounded by North Hills players during the Golden Tornado's 78-66 home win. Morton scored 35 points for Butler in the section opener.
DAVE PRELOSKY/ BUTLER EAGLE
BUTLER TWP — North Hills made a couple of runs. Butler answered with bigger ones.
The Golden Tornado (5-0, 1-0) remained unbeaten as a result, holding off the Indians (0-4, 0-1) for a 78-66 mutual boys basketball section opener in the Butler gym.
"It's hard to come back. It's harder to come all the way back," North Hills coach Buzz Gabos said. "We didn't do the latter."
Butler began the game by hitting 12 of its first 18 shots from the field, including seven 3-pointers, for a 32-12 lead with 7:11 left in the first half. North Hills steadily closed the gap from there, pulling within four points at 47-43 on a pair of Garret Barto free throws with 4:08 left in the third quarter.
"We were playing at a quick pace. When you do that, you can give up a lot of points quickly, if that makes any sense," Butler coach Matt Clement said.
The Tornado went on a 12-0 run to stretch the lead back out to 16 at 59-43 late in the period. Mason Montag and Luke Patten came off the bench to put back offensive rebounds during the run.
Again, the Indians fought back. A 3-pointer by Kameron Taylor — who led all scorers with 29 points — pulled North Hills within 64-60 with 4;44 left to play. Butler freshman Mattix Clement answered with his second of three fourth-quarter treys.
Leading 67-63 with 2:56 left, Butler sealed the win by putting together a 10-0 run. Ethan Morton scored seven of those points — five on free throws — and Clement drained his third trey
Morton tallied 35 points, eight rebounds and five assists on the night. Patten had 11 points and five rebounds, Tarik Taoufik 10 points and six boards, Luke Michalek seven points, nine rebounds and seven assists.
"When Luke Patten gets points, it's like a bonus because of everything else he does on the floor," Coach Clement said. "That kid is only a sophomore and he's gonna score a lot of points at this school.
"Mattix came in and hit three big shots for us in key situations. He wasn't afraid to take those shots and he was confident he'd make them. As his coach, I'm proud of him for that."
Morton was 12 of 14 from the foul line and the Tornado sank 17 of 19 free throws.
"Ethan dropped 35 on us, but the 35 didn't kill us," Gabos said. "It's all the other stuff he does that beats you. He makes everyone else on that team better and there's so few players that can do that."
Morton said he didn't try to take the game over after North Hills made its two runs.
"I just let the game come to me," he said. "If other guys are open, I'm getting them the ball for open looks. That's how we're gonna win.
"For Mattix to do what he did, sink three treys, all at critical times as a freshman ... That was special. That's something I never did last year.
"Luke Patten gives us so much when he's in the game. He gets the big rebounds, plays good defense. He's definitely a big reason why we won this game," Morton added.
Barto had 20 points, 14 rebounds and three steals for North Hills. John Albright had 10 points, Alex Brown five assists and five rebounds.
"Kam Taylor always plays well against us and Barto had a big game," Clement said. "Those are their two top players back from last year and they gave us trouble."
But not enough trouble.
"We competed tonight and that was the big thing for us," Gabos said. "Butler hit 11 three's tonight on those kick-outs after penetration. Mattix Clement took four shots from out there and hit three of them.
"If he misses all four, maybe it's a different game. But he didn't."
Butler has yet to trail on the scoreboard at any point in a game this season. The Tornado head to Shaler Tuesday night.
"We showed we're resilient tonight," Morton said. "We didn't play our best game, our defense wasn't very good, but we found a way."
NORTH HILLS 66
Alex Brown 1-6 0-0 3, Jordan Albright 4-12 1-1 10, Joe Ryan 1-1 1-2 4, Kameron Taylor 11-22 4-8 29, Garret Barto 8-13 4-4 20, Daniel Ritchey 0-2 0-0 0, Alex Glatz 0-0 0-0 0, Wyatt Mays 0-0 0-0 0, Tyler Brennan 0-1 0-0 0. Totals: 25-57 10-15 66.
BUTLER 78
Luke Michalek 3-9 0-0 7, John Michalek 1-3 0-0 3, Mattix Clement 3-4 0-0 9, Tarik Taoufik 3-9 4-5 10, Luke Patten 4-7 0-0 11, Mason Montag 1-3 0-0 2, Ethan Morton 10-21 12-14 35, Dom Schmidt 0-0 0-0 0, Isaiah Scribner 0-1 0-0 0, Nick Stazer 0-1 0-0 0, Kevin King 0-0 1-2 1 . Totals: 25-60 17-19 78.
North Hills 10 18 21 17 — 66
Butler29 13 17 19 — 78
3-point goals: Brown, Albright, Ryan, Taylor 3; L.Michalek, J.Michalek, Clement 3, Patten 3, Morton 3
JV: Butler, 67-53 (NH: Ben Gambou 11; B: Anthony Malloy 20, Bryan Presco 10)