Weathering the storm
Morton scores 35 as Butler holds off Highlands, 75-65
December 9, 2017 High School Basketball
<![if !vml]>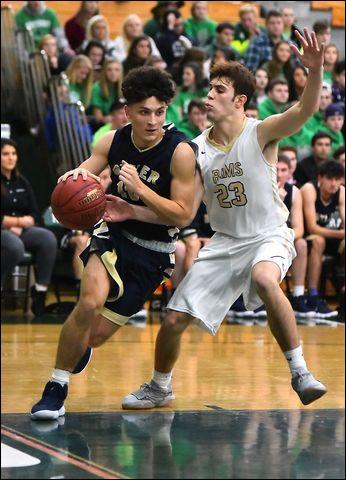 <![endif]>
Butler's Tarik Taoufik (10) drives past Highlands defender Luke Cochran to get to the basket during the Golden Tornado's season-opening 75-65 victory Friday night in the Pine-Richland Tip-Off Tournament.
DAVE PRELOSKY/ BUTLER EAGLE
PINE TWP — From certain defeat to stirring victory?
For Highlands, almost ... until Ethan Morton and his Butler teammates said no Friday night in the first round of the Pine-Richland Tip-Off Tournament.
The Golden Tornado watched a 20-point lead early in the third quarter evaporate to a one-point advantage with 4:16 to play. Butler righted the ship and came away with a 75-65 boys basketball victory.
"We bent, but we didn't break," Butler coach Matt Clement said. "Was this a perfect game by us? No. But it was a learning experience against a very hard-nosed team.
"That first win is always a tough one to get. But we got it."
The Tornado never trailed in the game and had a 39-19 lead after a Tarik Taoufik lay-up seconds into the third period.
The rout appeared to be on. Highlands turned it on instead.
The Golden Rams sank seven of 28 shots in the first half. They hit 11 of 17 during a 28-point third quarter.
"We came out and played timid in the first half," Highlands coach Tyler Stoczynski said. "That's why we were missing all of those shots.
"In the second half, we came out and played like we practice. We were aggressive and got back in the game."
A 3-pointer by Luke Cochran — his sixth of the game — pulled the Rams within 59-58 midway through the final quarter. Highlands regained possession of the ball with a chance to take the kead.
Morton stole the ball, drove to the hoop and scored with 3:25 left. He added two free throws with 3:05 to play for a five-point Butler lead.
A pair of lay-ups by Taoufik — off assists from Morton — were followed by two Morton free throws, That completed a 10-0 run and gave Butler a 69-58 lead with 1:43 to play.
"Those lay-ups by Tarik off feeds from Ethan are what salted away this win," Clement said. "Tarik was 6 of 6 from the field and that's we need.
"When defenses double up on Ethan ... Passing is what he does best and we have to make teams pay that way."
Morton wound up with 35 points, 10 rebounds, seven assists and four steals. Taoufik had 12 points, Luke Michalek nine points, eight assists and five rebounds.
"Not only do we need Ethan to make big shots in key situations, he wants the ball during those times. And he's disappointed if he doesn't make it," Clement said.
Stoczynski said that "I thought we did some things in the second half to disrupt him, but that kid is a great player. You can see how hard he work on his game. Nothing seems to get to him."
Cochran led Highlands with 25 points. Shawn Ercek contributed 14 points and eight rebounds, Johnny Crise 13 points and 11 boards. The Rams out-rebounded Butler 38-29 as a team.
"They went to the WPIAL finals a couple of years ago and some of those kids were around those guys," Clement said. "They have hard-working kids. This was a good test for us."
Crise is the only returning starter for Highlands. The Rams were 13-12 a year ago.
Michalek and Morton are returning starters for Butler.
"I haven't seen a guard tandem like this in high school basketball," Clement said. "This game was faster than our summer games were and our kids will have to learn to finish plays Luke and Ethan will set them up for.
"We'll get better as we go. This was a good start for us."
The Tornado play Summit Academy — an 81-26 loser to Pine-Richland Friday night — at 11:30 a.m. Saturday to conclude the tournament.
HIGHLANDS 65
Daniel Thimons 1-1 0-0 2, Christian Tanilli 1-4 1-2 3, Ryan Signorella 3-7 2-4 8, Korry Myers 0-3 0-0 0, Shawn Erceg 6-11 2-4 14, Johnny Crise 6-10 1-2 13, Luke Cochran 8-23 3-7 25. Totals: 25-59 9-17 65.
BUTLER 75
Luke Michalek 4-7 0-0 9, John Michalek 2-4 0-0 6, Doug Kostelansky 0-0 0-0 0, Tarik Taoufik 6-6 0-0 12, Luke Patten 1-3 2-2 5, Mason Montag 0-1 0-0 0, Ethan Morton 11-20 10-14 35, Dom Schmidt 0-0 0-0 0, Isaiah Scribner 1-2 0-2 2, Colby Anderson 0-0 0-0 0, Nick Stazer 3-3 0-0 6. Totals: 28-46 18-26 75.
Highlands 10 9 28 18 — 65
Butler20 17 16 22 — 75
3-point goals: Cochran 6; L.Michalek, J.Michalek 2, Patten, Morton 3