Butler's Morton strikes for 48
Tornado junior breaks school's single-game record in win
December 17, 2018 High School Basketball
<![if !vml]>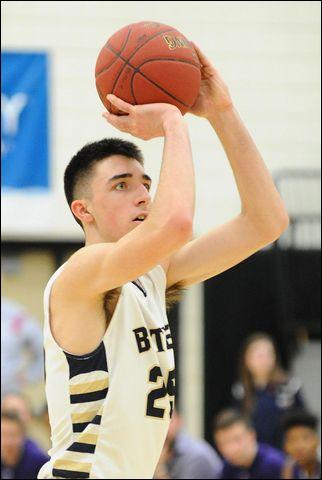 <![endif]>
Ethan Morton 48-point performance Saturday set Butler single-game record
NEW CASTLE — Ethan Morton felt more like sleeping than talking.
But his performance was worth chatting about.
Butler's junior guard scored a school-record 48 points Saturday night, adding 12 rebounds, seven assists and seven steals in the Golden Tornado's 80-69 boys basketball win over Canfield (Ohio) as part of "The Clash" hoop showcase at New Castle High School.
Morton sank 12 field goals and canned 24 of 28 free throws. He hit 15 of 17 from the foul line in the fourth quarter alone.
"It was just the way the game was going," Butler coach Matt Clement said. "The game was close and we want the ball in Ethan's hands in those situations.
"He kept going to the hoop and getting fouled ... and he doesn't miss many free throws."
Morton snapped the Tornado single-game mark of 47 points, set by Shawn Bellis in a 1993 game against Freeport. Morton's 48 points also set a New Castle Fieldhouse record, surpassing the previous mark of 44.
Morton scored 32 points in Butler's home win over McDowell Friday night. Both games were physical.
"I'm feeling pretty worn out," Morton admitted. "We knew this would be a tough one and as a team, we challenged each other to gut it out."
Butler (5-0) built a 41-29 lead with 1:10 left in the first half. But with 1:14 left in the third period, Canfield (2-3) grabbed a 54-52 lead. A Morton jumper sent the teams into the final quarter tied at 54.
"I could see our legs starting to go in the third quarter when they made the run at us," Clement said. "I sat Mattix (Clement) and Luke (Patten) to give them some time, but I had to leave Ethan out there."
Morton scored 21 of his team's 26 points in the final period. He did not sink a 3-point field goal in the game.
"We kind of expected something like this coming in here," Canfield coach Todd Muckleroy said. "We were excited to go up against one of the top Division I recruits in the country.
"We also knew he'd be tough to defend. We were physical and tried to deny him the ball, fronting him in the backcourt, and boxing him in, but he's so tall and athletic. He just reaches up high and pulls the ball in."
The game was tied on seven occasions, the last at 65 with 4:46 remaining. Morton completed a three-point play to pull Butler into that tie.
A Morton layup and nine of his free throws gave the Tornado a 76-67 edge with 1:09 to play, salting away the win.
"Nothing he does surprises any of us," Patten said. "Ethan gets everybody involved in the game, but sometimes he gets the bug and just goes."
Patten had 11 points, three assists and three steals for Butler and Mattix Clement drained three treys.
But this night was all about No. 25.
"I probably kept my head down too much tonight, didn't look around," Morton said. "But I felt like our best chance to win was to take it to the basket and force their (Canfield's) hand.
"I respect getting the record because Shawn Bellis was such a great player. I never saw him play, of course, but I have seen Nate Snodgrass, Bobby (Swartwout) and others ... They were all great and that makes this record meaningful to me."
Bellis himself referred to Morton as "the total package" Sunday when talking about his 25-year-old record falling.
"He does everything. He's an amazing player," Bellis said. "If he wasn't so unselfish, he could probably do what he did in a lot of other games."
Morton struggled to keep his eyes open and his voice was hoarse as he spoke. But he managed a smile at the same time.
"Our team got the win. That's what this is about," he said.
The Cardinals, an Ohio Division II team and the equivalent of a 5A school in Pennsylvania, placed four players in double figures. Conor Crogan had 18 points, five assists and four steals to lead Canfield.
Joe Bruno scored 13 points, Kyle Gamble 12 and Aydin Hanousek came off the bench to produce 11 points and six rebounds. Hanousek is 6-foot-6, Gamble 6-5 and Bruno 6-4.
"They were big ... and our zone wasn't as quick as it was last (Friday) night," Clement said.
But Morton played bigger.
"He's a physically gifted player, but his mind is his biggest asset," Muckleroy said of Morton. "He is such a smart player. He knows what he's doing out there.
"We gave everything we had, threw everything at him ... We couldn't stop him."
CANFIELD 69
Aydin Hanousek 4-17 2-2 11, Brent Herrmann 1-1 0-0 2, Brayden Beck 0-0 2-2 2, Jake Kowal 0-1 2-2 2, Joe Bruno 6-10 0-0 13, Conor Crogan 7-9 1-2 18, Brenden Bova 3-4 0-1 6, Kyle Gamble 5-11 2-2 12, Luke Pallante 1-1 1-2 3, Trey Dye 0-0 0-0 0. Totals: 27-54 10-16 69.
BUTLER 80
Devin Carney 2-7 0-0 4, Mattix Clement 3-7 0-0 9, Dom McCowan 1-1 0-0 2, Luke Patten 4-6 1-1 11, Charles Kreinbucher 0-1 2-2 2, Mason Montag 1-2 0-0 2, Ethan Morton 12-19 24-28 48, Colby Anderson 0-1 0-0 0, Isiah Scribner 1-2 0-0 2. Totals: 24-45 27-32 80.
Canfield 17 16 21 15 — 69
Butler20 21 13 26 — 80
3-point goals: Hanousek, Bruno, Crogan 3; Clement 3, Patten 2