Dunk and Run
Butler sprints away from North Hills, 72-59
January 26, 2019 High School Basketball
<![if !vml]>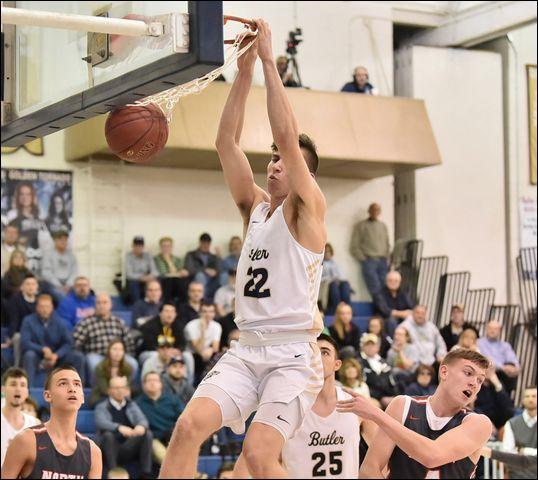 <![endif]>
Butler's Charlie Kreinbucher dunks against North Hills during the Golden Tornado's 72-59 section win Friday night. Kreinbucher was one of three Butler players with dunks in the victory.
JUSTIN GUIDO/ BUTLER EAGLE
BUTLER TWP — An 8-0 run got North Hills back into the game early.
It turned out to be an illusion, as Butler raced out to a 43-25 lead by halftime en route to a 72-59 Section 1-6A boys basketball victory Friday night in the Golden Tornado gym.
The 8-0 Indian run occurred after Butler (13-3, 6-1) jumped out to a 9-0 lead with the game barely a minute old.
"That's just what we didn't want to have happen," North Hills coach Buzz Gabos said. "You don't want to have to play from behind against anybody, especially that team.
"Even after we got within one, you figure they will go on another spurt and they did."
Leading 13-11 with 2:27 left in the first quarter, the Tornado closed the period with a 10-0 run. Their lead never left double digits from there.
"I don't think we played our best game tonight," Butler coach Matt Clement said. "They kept coming back at us. We may have slacked off (leading by 18 at the half), they might have come on, it was probably a combination of both.
"They are a well-coached team and that's what well-coached teams do. They don't quit."
Ethan Morton led Butler with 30 points, 11 assists, five rebounds and four steals. Mattix Clement struck for 17 points, sinking five treys, and had three steals.
Freshman guard Devin Carney did not play after suffering a foot injury Tuesday night at North Allegheny.
"Carney can hit the three, but he's also a slasher who gets to the bucket," Gabos said. "We didn't even have to deal with him and they were still a load to handle.
"They have the man (Morton), of course, but they have a lot of good support players around him and they use them well. Butler has a very good team."
Luke Patten had 11 points and five rebounds for the Tornado, who had a slight 29-25 edge on the boards. Charlie Kreinbucher and Mason Montag came off the bench to combine for nine rebounds.
"Mason was really active tonight and Charlie was hitting the boards hard," Clement said. "As a team, we hit the glass pretty good."
Morton, Kreinbucher and Isaiah Scribner all dunked the ball for Butler in the contest.
Jordan Albright led North Hills (5-11, 1-6) with 35 points. Jake Stuckert had nine points and five assists, Logan Marshalek 10 rebounds.
"Jordan does a lot of things for us," Gabos said. "He's averaging 26 a game, but he sets up a lot of good looks for other players, too."
Clement said Albright "is much improved over last year. To have a game like he had tonight is a credit to how hard that kid works at it."
North Hills lost for the seventh time in eight games. Butler won its fourth straight and sixth in its past seven.
The Tornado host section leader Pine-Richland Tuesday night.
"If we want to win the section, it's a must win. We might as well say that," Clement said. "Pine-Richland is the hottest team in the WPIAL and they're in our section.
"We played them tough last time and hopefully, we can do it again."
NORTH HILLS 59
Alex Smith 1-3 3-5 6, Jordan Albright 12-20 9-9 35, Logan Marshalek 2-10 0-0 4, Wyatt Mays 1-2 0-0 3, Brandon Manning 1-2 0-0 2, Jake Stockert 3-6 1-1 9. Totals: 20-43 13-15 59.
BUTLER 72
Colby Anderson 0-3 0-0 0, Kevin King 0-1 0-0 0, Mattix Clement 6-14 0-2 17, Anthony Malloy 0-0 0-0 0, Luke Patten 4-5 2-3 11, Charlie Kreinbucher 2-2 1-3 5, Mason Montag 2-8 1-2 7, Ethan Morton 11-19 7-8 30, Isaiah Scribner 1-1 0-0 2. Totals: 26-54 11-18 72x.
North Hills 11 14 20 14 — 59
Butler23 20 14 15 — 72
3-point goals: Smith, Albright 2, Mays, Stuxckert 2; Clement 5, Patten, Montag 2, Morton
JV: Butler, 66-51 (NH: Matt Seidl 14, Devin Burgess 13; B: Raine Gratzmiller 29, Anthony Malloy 15)