Early Energy
Butler boys cruise to 76-57 victory vs. Central Catholic
January 12, 2019 High School Basketball

<![if !vml]>
<![endif]>
<![if !vml]>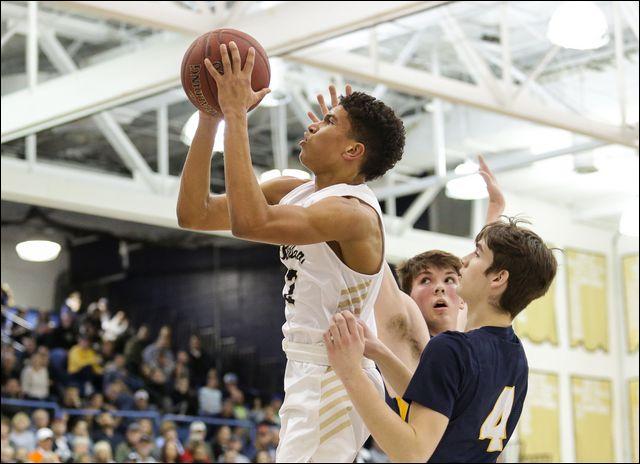 <![endif]>
Butler guard Devin Carney (2) powers to the hoop in the first quarter of the Golden Tornado's 76-57 boys basketball win over Central Catholic Friday night in the Butler gym.
NATE BLACK/ SPECIAL TO THE EAGLE
BUTLER TWP — Butler lit the fire early and everybody helped to keep it burning.
The Golden Tornado fired out to a 9-0 lead in the first four minutes and were never threatened at home Friday night in rolling to a 76-57 Section 1-6A boys basketball win over Central Catholic.
"Anytime you're coming off a loss, you want to respond with a quick start the next game," Tornado junior guard Ethan Morton said. "To everybody's credit, we were able to do that tonight."
Morton wound up with a rare high school triple-double, producing 27 points, 15 rebounds and 10 assists. He scored only two points in the first quarter, but had nine rebounds by halftime.
"A high school game is only 32 minutes and Ethan didn't play for the last three or four minutes," Butler coach Matt Clement said. "And he does this with all of the attention that he gets on the floor.
"It's a credit to him that he's able to do that."
Morton was quick to deflect that credit to his teammates.
"I have all of them to thank for it," he said of the triple-double. "Guys were finishing and I was getting a lot of my rebounds from everyone else boxing out and clearing space."
The Tornado (10-3, 3-1) had a 33-22 edge on the boards and forced the Vikings (3-9, 1-3) into 18 turnovers despite much of the game being played at a slower pace.
Central Catholic lost for the sixth time in seven games.
"We're a young team and our inexperience is showing," Vikings coach Chuck Crummie said. "We only have one starter back (Maurice Shipman) from last year and he struggled with his shooting tonight.
"There's only three seniors on the team, period, so there's not a lot of leadership there. Definitely, we're going through growing pains."
Shipman sank just two of seven shots from the floor and scored seven points. Ben Sarson led the Vikings with 15 points and added six rebounds.
"We couldn't hit any shots early and we haven't been playing very good defense," Crummie said. "That enabled them to jump out early."
Clement was pleased with his team's defense.
"We've been a much better defensive team since we worked on it hard over Christmas," Clement said. "We dug in and defended well all night."
Butler's lead topped out at 22 points (76-54) when Anthony Malloy sank his second trey of the contest with 2:05 to play.
Colby Anderson also hit a trey in the final period and Kevin King got playing time at guard in the first half.
"Those guys all practice with us every day and they've come through this system ... I'm not afraid to play them," Clement said. "Luke (Patten) rarely leaves the floor and Mattix (Clement) was looking a little tired, so we went to some different guys early."
Patten picked up two fouls in the first quarter and sat for the second period. He still scored 10 points, grabbed four rebounds and had three assists.
Mattix Clement drained four treys for 12 points and collected four rebounds. Devin Carney had three assists while Charlie Kreinbucher came off the bench to produce eight points and four rebounds.
<![if !vml]>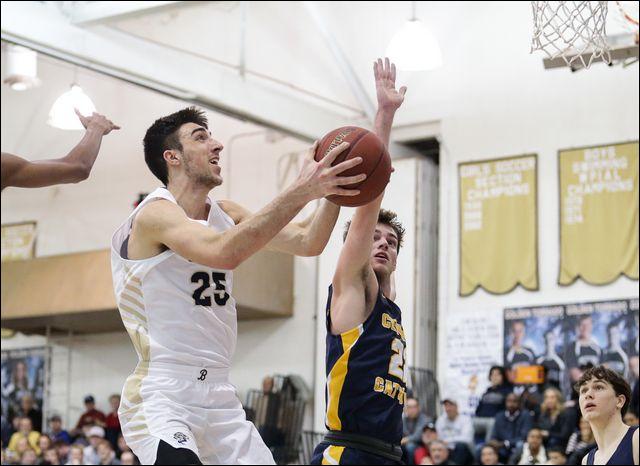 <![endif]>
Ethan Morton (25) produced 27 points, 15 rebounds and 10 assists in Butler's win Friday night.
NATE BLACK/ SPECIAL TO THE EAGLE
"We're into the heart of the season now and we had a lot of guys play valuable minutes in this game. That was fun," Morton said.
The Tornado travel to Seneca Valley on Tuesday night.
"There are no easy games in this section," Clement said. "Seneca Valley has been playing very well lately. We have to re-focus and be ready to go again."
CENTRAL CATHOLIC 57
Maurice Shipman 2-9 1-2 7, Brett Palmer 4-6 0-0 8, Brian Dzuban 1-6 0-0 2, Ben Sarson 5-8 5-7 15, Jack Catanzarite 2-5 0-0 5, Elijah Blackburn 1-2 0-0 2, Anderson Cynkar 2-2 1-2 6, Collin O'Toole 2-6 1-2 7, Noah Jackson 1-2 0-0 2, Jack Cherkos 0-1 0-0 0, David Dean 1-1 0-0 3. Totals: 21-48 8-14 57.
BUTLER 76
Devin Carney 2-8 2-2 7, Colby Anderson 1-1 0-0 3, Kevin King 0-1 0-0 0, Mattix Clement 4-10 0-0 12, Luke Patten 5-6 0-1 10, Charlie Kreinbucher 2-4 4-4 8, Mason Montag 0-4 2-2 2, Ethan Morton 10-16 7-9 27, Isaiah Scribner 0-0 1-2 1, Anthony Malloy 2-2 0-0 6 . Totals: 26-53 16-189 76.
Central Catholic 9 12 16 20 — 57
Butler16 20 18 19 — 76
3-point goals: Shipman 2, Catanzarite, Cynkar, O'Toole 2, Dean; Carney, Anderson, Clement 4, Malloy 2
JV: Central Catholic, 51-48 (CC: Anderson Cynkar 18, Collin O'Toole 11; B: Raine Gratzmiller 22)