Flying High
Mattix Clement, Morton lead Butler past SV
January 16, 2019 High School Basketball
<![if !vml]>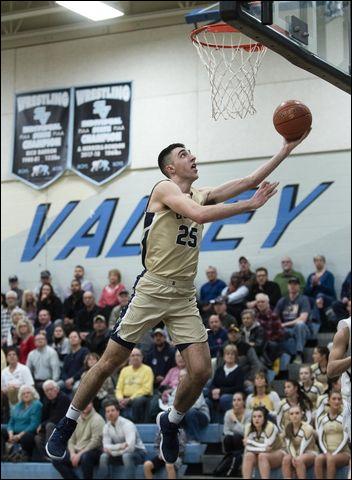 <![endif]>
Butler point guard Ethan Morton goes up for a layup against Seneca Valley Tuesday night. Morton recorded another triple-double as the Golden Tornado toppled the Raiders.
NATE BLACK/ SPECIAL TO THE EAGLE
JACKSON TWP — Matt Clement was a proud father Tuesday night — and a grateful coach.
The Butler boys basketball coach watched his son — sophomore guard Mattix Clement — sink five treys in the third quarter as the Golden Tornado built a big lead in defeating Seneca Valley, 82-67, on the Raiders' floor.
Seneca Valley (7-5, 2-3) shaved a 12-point deficit to five in the final two minutes of the first half. The Raiders trailed only 33-28 at the intermission.
Mattix Clement sank only one of seven shots in the first half. He hit seven treys on the night.
"To watch him come out and do what he did in the third quarter after going one of seven ... I really appreciated that," Coach Clement said.
Mattix scored 17 of the Golden Tornado's 25 points in the third period. His final trey of the period gave Butler (11-3, 4-1) a 58-40 lead with 1:55 left in the quarter.
Seneca Valley never got that deficit out of double digits.
"He just found his shot really quickly there and knocked down a flurry of them," Clement said of his son. "Ethan (Morton) was finding him, Luke (Patten) found him ... It was something to see."
Mattix gave the Tornado the double-digit lead they never lost when he stole an in-bound pass after a Butler bucket and laid it in between two Raider defenders.
"I had a reach advantage there and I think it surprised them a little," Mattix said. "I was happy I was able to make that play.
"My shot just started falling in the third quarter. I know I can hit the three. You just have to keep shooting."
Seneca Valley knew he could hit the three as well.
"We lost track of him in the third quarter," SV coach Kevin Trost said. "We were in a zone and we wanted to lean on him when the ball came his way.
"He did a good job of getting those shots off. Some looked like they were from 35 feet. You can't do much about that.
"Our kids played hard. Butler has so many weapons. They're tough to defend. There's a reason why they're averaging 75 points per game," Trost added.
Seneca Valley's last lead was at 11-8 midway through the first quarter. Consecutive layups by Mason Montag late in the period gave the Tornado a 14-11 lead — a lead they never lost.
Butler's biggest lead was 82-63 with less than two minutes remaining.
Clement had 23 points and four steals to pace four Butler players in double figures. Morton posted his second consecutive triple-double, producing 19 points, 19 rebounds and 12 assists.
"Ethan's going to go after our rebounding record before he's done," Coach Clement said. "He's always going to get his 10 or 12 a game. He's getting more now because we're boxing out better."
Luke Patten scored 17 points, grabbed nine rebounds, had three assists and three steals. Devin Carney had 14 points, hitting four treys.
"Ethan is 1A and Luke is our 1B," Coach Clement said. "Luke is often overlooked by people, but he doesn't come off the floor for us. He's the X factor for us this year that Luke Michalek was last year."
Mason Bush led the Raiders with a game-high 30 points. He canned six treys and added nine rebounds. Gabe Lawson had 13 points and three assists.
Marcus Might led Seneca Valley with nine rebounds before fouling out with 4:44 to play.
"Bush has been an outstanding player for us," Trost said.
Neither team returns to section play until next week. Seneca Valley plays at Highlands in non-section Friday before hosting Pine-Richland next Tuesday.
Butler is off until next Tuesday, when it travels to North Allegheny.
"That will be our 12th road game out of our 15 games," Coach Clement said. "I like to think we're battle-tested."
Tuesday's win kept the Tornado alone in second place in Section 1-6A.
"This win gives us momentum going into the second half of section play," Mattix said.
BUTLER 82
Devin Carney 5-11 0-0 14, Mattix Clement 8-16 0-1 23, Luke Patten 6-11 5-6 17, Ethan Morton 4-13 11-15 19, Isaiah Scribner 0-0 0-0 0, Colby Anderson 0-0 0-0 0, Kevin King 0-0 0-0 0, Anthony Malloy 0-0 0-0 0, Charlie Kreinbucher 1-2 0-0 2, Mason Montag 3-4 0-0 7, Zach Slomers 0-0 0-0 0. Totals: 27-57 16-22 82.
SENECA VALLEY 67
Gabe Lawson 3-6 7-8 13, Trey Berringer 3-8 0-0 7, Marcus Might 2-4 0-0 4, Mason Bush 9-23 6-10 30, Zac Zajacs 3-11 1-2 8, Tre Rosell 1-1 0-0 2, Connor Lyczek 1-1 0-0 2, Cole Brooks 0-1 1-2 1. Totals: 22-55 15-23 67.
Butler 19 14 25 24 — 82
Seneca Valley14 14 18 21 — 67
3-point goals: Carney 4, Clement 7, Montag; Berringer, Bush 6, Zajacs
JV: Seneca Valley, 63-40 (B: Raine Gratzmiller 11, Charlie Kreinbucher 9; SV: Connor Lyczek 14, Cole Brooks 10)
Friday: Seneca Valley at Highlands