Future is Now
Butler freshmen impressive in Tornado's 60-21 wrestling victory over New Castle
January 19, 2019 High School Wrestling

<![if !supportLineBreakNewLine]>
<![endif]>
<![if !vml]>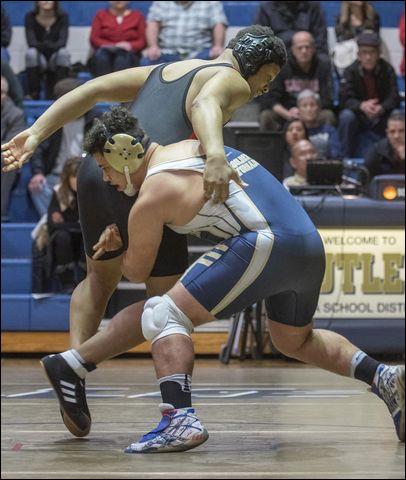 <![endif]>
Butler's Shawndell Zapata tries to take down New Castle´s Josh Stewart during their 195-pound match Friday night. Zapata pinned Stewart at 1:45 of the first period.
STEVEN DALTON/ SPECIAL TO THE EAGLE
BUTLER TWP — Sporting a 10-2 record in duals, the present looks promising for Butler wrestling.
The future doesn't look too bad, either.
Four Golden Tornado freshmen — all with winning records — picked up victories Friday night in Butler's 60-21 triumph over New Castle. Three of those freshmen won by pins. The other, Cooper Baxter, won by forfeit.
"It's good when you have freshmen doing what those guys are doing," Butler coach Scott Stoner said. "There is a lot of promise there."
Domenic Vivirito improved to 8-7 with a pin in 3:56 against the Red Hurricane's Dante Mangerie. Vovirito had a 3-2 lead after the first period.
All eight of Vivirito's wins this season have come via pinfall.
"He is a one-trick pony, in a way," Stoner said. "All of those pins come on the same move. But Dom is improving all the time.
"He only started wrestling in seventh grade and cut 12 pounds for me this year. He's very disciplined, a hard worker."
Jake Pomykata (7-5) earned his fifth pin of the year by putting Noah Shields' shoulders to the mat with 19 seconds left in their 182-pound match. Baxter moved to 18-4 with his forfeit win at 170. He has seven pins on the year.
Shawndell Zapata, in just his third year of wrestling, secured his ninth pin of the year at 195. Zapata is 13-4 on the season.
He went 26-2 in eighth grfade aftter a mediocre 10-13 season as a seventh grader.
"I wanted to win, I wanted to improve," Zapata said. "It was important to me to go to states in eighth grade. My goal is to win a section title and go to states this year.
"I know I have a lot to learn, but I love the challenge of this sport."
Stoner described Zapata as a guy "who has raw ability, but lacks discipline at times.
"Shawndell needs to go through the maturity process, keep on top of things. He has time to do that. There is a lot of potential there."
Sophomore 145-pounder Steven Green and senior 160-pounder Jack Codispot also picked up pins for Butler. Codispot (18-3) picked up his 10th pin of the year, tying him with Nate McMaster for the team lead.
"Jack has come a long way this year in terms of technique on the mat," Stoner said.
New Castle (3-7) is in its second season as a varsity wrestling program. Richard Fierros won by pin at heavyweight for the Red Hurricane and Jonah Miller (18-5) won the closest match of the night.
Miller took down McMaster with 46 seconds left for a 5-3 decision at 132 pounds.
"We know we have a long way to go, but most of these kids are underclassmen and they will get better," New Castle coach Mark DeMonaco said. "Our heavyweight is 5-1 now and he's showing promise."
Stone Miller (19-5) won by forfeit at 113 pounds for New Castle.
"I give their parents and administration credit for getting the program started over there," Stoner said of New Castle. "They've approached us about doing some clinics and they've been inquisitive about what we're doing over here. I hope they stay with it."
DeMonaco said New Castle has 40 to 50 kids in the city's youth wrestling program.
"The interest is definitely there," DeMonaco said.
Butler resumes action Wednesday at the section team championships. Seneca Valley hosts the four-team event. The Raiders face Hampton at 6 p.m. while Butler takes on North Allegheny. The winning teams wrestle for the title, the losing teams for third place immediately afterward.
"We will be wrestling against solid programs with solid wrestlers," Stoner said. "Make mistakes against them, they will make you pay.
"We want to stay competitive against those teams and I think we can be. Overall, I'm pleased with how far this team has come."
Butler 60, New Castle 21
(Match started at 120 pounds)
106-Nick Schaukowitsch (B) by forfeit; 113-Stone Miller (NC) by forfeit; 120-Clayton Dressler (B) by forfeit; 126-Domenic Vivirito (B) pinned Dante Mangerie, 3:56; 132-Jonah Miller (NC) dec. Nate McMaster, 5-3; 138-Cameron Boyce (NC) by forfeit; 145-Stegven Green (B) pinned Issac King, 1:12; 152-Nate McDonald (B) by forfeit; 160-Jack Codispot (B) pinned Gavin Joyce, 2:12; 170-Cooper Baxter (B) by forfeit; 182-Jake Pomykata (B) pinned Noah Shields, 5:41; 195-Shawndell Zapta (B) pinned Josh Stewart, 1:45; 220-Caleb Hartung (B) by forfeit; Hwt.-Richard Fierros (NC) pinned Nate Cornibe, 3:25