Slight of Hand
Butler passes test with win over Tigers
December 22, 2018 High School Basketball
<![if !vml]>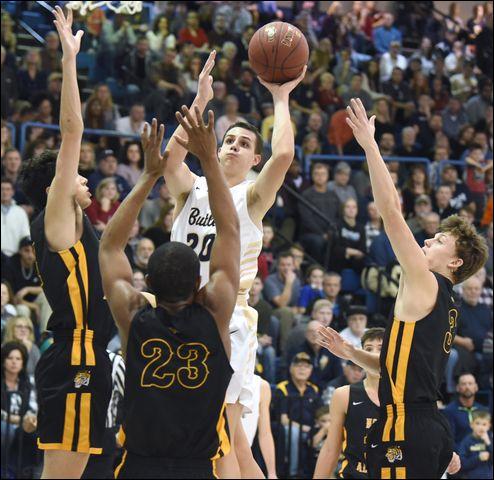 <![endif]>
Butler's Luke Patten shoots the ball over three North Allegheny defenders during the Golden Tornado's win over the Tigers Friday night. Patten scored seven points and added eight assists in the section victory.
JUSTIN GUIDO/ BUTLER EAGLE
BUTLER TWP — Now you see the ball. Now you don't — until it goes through the net.
Butler used plenty of quick movement with the basketball Friday night, setting up 11 3-pointers along the way in defeating North Allegheny, 72-65, in a mutual Section 1-6A boys basketball opener in a packed Golden Tornado gym.
"I thought we did a lot of standing around with the ball Tuesday night (87-60 loss at Mt. Lebanon)," Butler coach Matt Clement said. "Tonight was the complete opposite."
The Tornado (6-1, 1-0) trailed 18-10 early in the second quarter. Mattix Clement drained one of his five treys and Ethan Morton delivered a thunderous dunk following a steal to cut that deficit to three. Those points were also part of a 13-0 Butler run that gave the Tornado a lead they never lost.
"I think we learned from that Mt. Lebanon game." Morton said. "We saw the way they broke our zone, making the extra pass, getting open looks.
"We did a lot of that tonight."
Butler opened up a 57-43 lead with 5:38 remaining. The Tigers (3-3, 0-1) pulled within 66-61 with 1:28 remaining.
"We're a young team and we have to learn how to handle adversity," Clement said. "I thought we closed the game out pretty well from that point."
Mason Montag sank a layup off an assist from Luke Patten and Isaiah Scribner slammed home a dunk off a pass from Morton to give Butler a 70-61 edge with 40 seconds left.
Morton paced the Tornado with 33 points, seven rebounds, seven assists and four steals. Mattix Clement had 15 points and five rebounds, Montag 10 points and three boards.
Patten had seven points, eight assists and three rebounds for Butler. Scribner contributed three assists as well.
"Everybody collapses on Ethan and we've learned to work the ball around and take advantage of that," Patten said. "It's all part of the nice chemistry we're developing on this team."
Morton sank three treys for Butler, taking advantage of that ball movement.
"Once Ethan gives it up and winds up getting it back ... He usually hits those shots," Coach Clement said.
Morton did not attempt a shot in the first quarter. He only had seven points in the first half, yet Butler took a four-point lead into intermission.
<![if !vml]>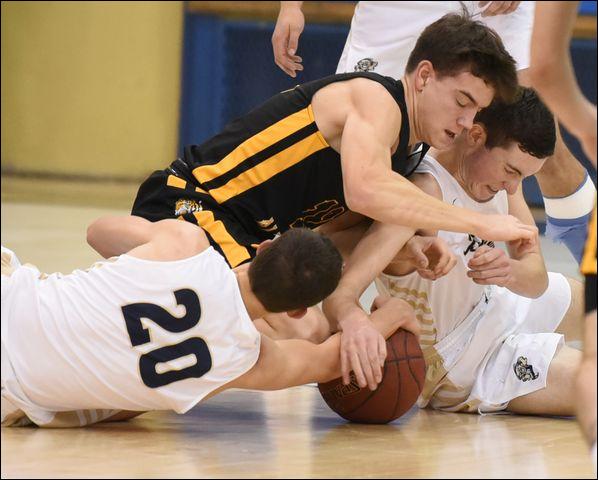 <![endif]>
Butler's Mattix Clement and Luke Patten (20) fight for a loose ball with North Allegheny's Justin Altmeyer Friday night. The Golden Tornado won, 72-65.
JUSTIN GUIDO/ BUTLER EAGLE
"I coached college basketball for 19 years and that kid can play anywhere in the country," North Allegheny coach Keith Noftz said. "He's not a very good player, he's a great player.
"Without Morton on the floor, Butler is an average team. With him on the floor, they can beat anybody. He makes that much of a difference."
The Tigers had three defenders on Morton at times, who found open teammates regardless. When he wasn't handling and distributing the ball, Patten did so.
"Luke is a unique player," Coach Clement said. "He's a 6-foot-5 guard who grew up playing the point. He can do a lot of things."
Noftz conceded Butler's outside shooting ability — to a degree.
"Those guys can hit shots, but they wouldn't have those open looks if everybody wasn't so concerned with Morton," the North Allegheny coach said.
Mike Egnaczyk led the Tigers with 17 points. Nico Ermias added 14 points, five rebounds and three assists, Stephen Humphries nine points, Walker Davidson six assists.
Butler defeated the Tigers for the sixth consecutive time, dating back to the 2015-16 season.
NORTH ALLEGHENY 65
Mike Egnaczyk 8-12 0-1 17, Luke Colella 0-0 0-0 0, Mike Iuzzolino 0-6 0-0 0, Walker Davidson 2-3 1-1 6, Nico Erimias 6-9 2-2 14, Justin Altmeyer 1-2 0-2 3, Stephen Humphries 4-7 1-2 9, Anthony Hattrup 3-4 0-0 6, Khalil Dinkins 4-4 2-3 10. Totals: 28-47 6-13 65.
BUTLER 72
Devin Carney 1-4 0-0 3, Mattix Clement 5-12 0-0 15, Dom McCowan 1-2 0-0 2, Luke Patten 2-8 3-4 7, Charles Kreinbucher 0-0 0-0 0, Mason Montag 4-7 0-0 10, Ethan Morton 8-9 14-16 33, Isaiah Scribner 1-2 0-0 2. Totals: 22-44 17-20 72.
North Allegheny 13 11 16 25 — 65
Butler7 21 18 26— 72
3-point goals: Egnaczyk, Davidson, Altmeyer; Carney, Clement 5, Montag 2, Morton 3
JV: North Allegheny, 67-48 (NA: Elias Bishop 16, Nate Campbell 16; B: Anthony Malloy 18, Raine Gratzmiller 17)