Slow and Steady
Tornado win in grind-it-out style over NA
January 23, 2019 High School Basketball
<![if !vml]>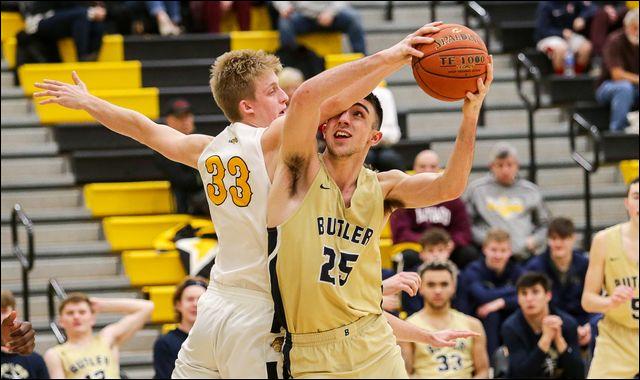 <![endif]>
Butler point guard Ethan Morton is fouled by North Allegheny's Anthony Hattrup in the fourth quarter of theGolden Tornado's 59-44 win at North Allegheny Tuesday. Morton scored 29 points to go with 12 rebounds and seven assists for Butler.
NATE BLACK/ SPECIAL TO THE EAGLE
WEXFORD — Butler wasn't able to run much Tuesday night.
No worries. The Golden Tornado were in no hurry.
Butler (12-3, 5-1) took the lead for good late in the first quarter and never lost its double-figure lead once it got one in rolling to a 59-44 Section 1-6A boys basketball victory Tuesday night at North Allegheny.
"We just had to grind this one out," Butler coach Matt Clement said. "I told the kids leading into this game. I don't care if it's 30-20 or 90-80, I want this win. It's a big one."
The Golden Tornado opened up a two-game lead over the Tigers (9-5, 3-3) for second place in the section while staying a game behind leader Pine-Richland. The win also snapped NA's four-game winning streak.
"They've bneen playing realy well. We knew this wouldn't be easy," Clement said.
The Tornado just made it look that way.
A Luke Patten layup gave Butler a 21-11 lead midway through the second quarter. North Allegheny managed only 13 points in the first half.
"Our defense was fine. Offensively, we were atrocious," NA coach Keith Noftz said. "We missed some open outside shots, but that happens.
"We had to miss seven or eight layups tonight. There's no excuse for that. Butler had 24 points at the half and 59 at the end of the game. Give me those numbers before the game and I'd have felt good aout them."
But the Tornado kept building on their lead. An Ethan Morton trey upped the count to 33-15 with 5:15 left in the third quarter. An 8-0 run — fueled by a pair of Mattix Clement treys — gave Butler its largest lead of the night at 53-34 with 4:15 remaining in the contest.
Butler lost freshman guard Devin Carney to a foot injury in the first half.He did not return, though the injury dies not appear to be serious.
"Isaiah Scribner, Charlie (Kreinbucher), Colby Anderson and Mason (Montag) really gave us quality minutes after that," Clement said.
Butler entered the game averaging 75 points per gme. The 59 points marked its lowest output of the season. North Allegheny's 44 points — the Tigers average 64 per game — marked their season low as well.
"I think this game shows have much we've grown as a team," Morton said. "If we were forced into a half-court game like this early in the season, it would have been ugly."
Patten agreed.
"The coaches had us prepared for a game like this. We thought it might be like this," Patten said. "We had to be patient."
Morton led the Tornado with 29 points, 12 rebounds and seven assists. Mattix Clement had 12 points and three rebounds, scoring nine consecutive Tornado points during a 41-second in the fourth quarter.
"His second trey of that quarter was probably the shot that took them out it it," Coach Clement said. "Mattix does a lot of chasing out there. Sometimes I figure he tires late, but he hit some big shots in that last quarter."
Patten contributed 11 points, four assists and three rebounds for Butler.
The Tornado defeated the Tigers for the seventh consecutive time.
"We had to work for everything we got," Coach Clemednt said. "North Allegheny plays man defense as well as anybody. There wasn't much room out there.
"They had to be patient against our 3-2 zone. We're long and lanky and they had to use a lot of passes before getting their shots."
Mike Iuzzolino led the Tigers with 22 points and seven rebounds. No other North Allegheny player reached double digits.
Justin Altmeyer had six assists and four rebounds for NA, which turned the ball over 11 times in the first half despite the game's slow pace.
"Our execution wasn't there," Noftz said. "This is our toughest week. We had Butler tonight and we play Pine-Richland Friday. Those teams are better than us.
"The rest of the way, we should be on even terms against whoever we play. I still like where we're at."
Butler has won five of its last six. The Tornado host North Hills at 8 p.m. Friday, following the 6:30 p.m. Pine-Richland-Butler girls game.
BUTLER 59
Devin Carney 0-2 0-0 0, Colby Anderson 0-0 0-0 0, Kevin King 0-0 0-0 0, Mattix Clement 3-11 3-3 12, Luke Patten 4-7 1-2 11, Charlie Kreinbucher 1-2 0-0 2, Mason Montag 1-3 0-0 3, Ethan Morton 11-21 5-6 29, Isaiah Scribner 1-1 0-1 2, Zach Slomers 0-0 0-0 0, Alec Andrews 0-0 0-0 0. Totals: 21-47 9-14 59.
NORTH ALLEGHENY 44
Mike Egnaczyk 1-4 0-0 2, Mike Iuzzolino 7-21 5-5 22, Nico Erimias 4-6 0-0 9, Justin Altmeyer 0-4 2-2 2, Stephen Humphries 0-0 0-0 0, Khalil Dinkins 1-3 0-0 2, Anthony Hattrup 3-6 1-2 7. Totals: 16-44 8-9 44.
Butler 14 10 14 21 — 59
North Allegheny9 4 13 18 — 44
3-point goals: Clement 3, Patten 2, Montag, Morton 2; Iuzzolino 3, Erimias
JV: North Allegheny, 60-43 (B: Anthony Malloy 11; NA: Elias Bishop 17, Grant Timmerson 14, Greg Habib 11)