Showing Mettle
Butler rallies past McDowell for 75-72 victory
December 15, 2018 High School Basketball
<![if !vml]>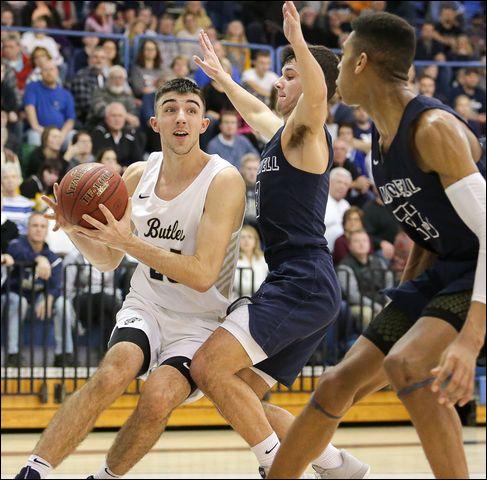 <![endif]>
Butler point guard Ethan Morton tries to power to the basket during the Golden Tornado's 75-72 win over McDowell Friday night. Morton scored 32 points in the win.
NATE BLACK/ SPECIAL TO THE EAGLE
BUTLER TWP — When Ethan Morton sank a layup with 1:33 left in the third quarter, Butler had a 12-point lead.
It didn't seem to matter.
"We knew they weren't going to go away," Butler coach Matt Clement said of visiting McDowell. "That's a darn good team."
The Trojans rallied to take a 67-64 lead with 2:45 to play before succumbing to Morton and the Golden Tornado, 75-72, in a non-section boys basketball thriller before a packed Butler gym Friday night.
"Great high school game, I loved it," McDowell coach Kevin O'Connor said. "This is the kind of atmosphere we expect to play in every night.
"The outcome stunk, but the effort was certainly there. Butler is outstanding amd Morton is a phenomenal player."
Morton scored the Tornado's final eight points — all at the foul line — and wound up with 32 points, eight assists and seven rebounds.
"I trust my teammates to make shots and they trust me to take care of the ball," Morton said of the closing stretch. "And I know they're there for me if I need to give the ball up."
Before closing out the win at the foul line, Morton did give the ball up. He found Mattix Clement behind the arc and watched the sophomore guard drain a quick-release trey to knot the game at 67 with 2:33 to play.
"I work on my set and release. I know I have to get my shot up quick," Clement said.
Morton gave Butler the lead for good with 2:07 left, sinking a free throw. He continued to sink free throws as McDowell (2-2) was fighting to stay in the game.
Jonah Bock drained a 3-pointer with 11.7 seconds on the clock to pull the Trojans within 73-72. Morton hit two free throws with 9.1 seconds left.
Jack Gallagher got off a contested 3-point shot at the buzzer, with two players defending him. The shot caromed off the backboard and side of the rim.
"Ethan is going to find a way to get the ball, even with two or three guys on him," Coach Clement said. "He's gonna get his hands on the ball regardless."
Butler (4-0) won the game despite being outrebounded 40-21 and McDowell hitting all 17 of its free throws.
"The rebounding is a product of having two freshmen and a sophomore on the floor for long stretches," Coach Clement said. "They're just not physically strong enough yet, maybe, but they still competed hard.
"This team has heart and we're developing some nice chemistry."
Mattix Clement drained six treys and scored 20 points for Butler. Luke Patten had seven points, four rebounds and three steals while freshman Charles Kreinbucher scored seven points coming off the bench.
"My first home game as a freshman wasn't in an atmosphere like this," Morton said. "Charlie's effort was special tonight."
Coach Clement agreed.
"We were kind of on life support with our three big guys all having four fouls," he said. "Charlie gave us quality minutes."
William Jeffress, McDowell's 6-foot-7 guard who, like Morton, is a national Division I recruit, scored 23 points and grabbed 16 rebounds before fouling out with 37 seconds left. Starting forward Mason Beck fouled out with 5:45 left and had nine points.
Max Paris scored 15 points, Bock came off the bench to hit four treys and Gallagher tallied 10 points, nine assists and eight rebounds.
"It's tough seeing either one of us (himself or Jefferess) foul out of a game like this," Morton said. "He is so much better than I was as a sophomore. I've gotten to know Will at some basketball camps. He's a great kid."
McDOWELL 72
Mason Beck 2-9 4-4 9, Jack Gallagher 3-10 4-4 10, Jared Krahe 1-3 0-0 3, Max Paris 6-8 1-1 15, William Jeffress 7-16 8-8 23, Skyler Carr 0-0 0-0 0, Jonah Bock 4-7 0-0 12. Totals: 23-52 17-17 72.
BUTLER 75
Devin Carney 2-11 1-2 6, Colby Anderson 1-3 0-0 3, Mattix Clement 7-11 0-0 20, Luke Patten 3-5 0-0 7, Charles Kreinbucher 2-3 3-4 7, Mason Montag 0-0 0-0 0, Ethan Morton 8-14 15-18 32, Isiah Scribner 0-1 0-2 0, Kevin King 0-0 0-0 0. Totals: 23-49 19-26 75.
McDowell 13 16 16 27 — 72
Butler5 25 22 23 — 75
3-point goals: Beck, Paris 2, Jeffress, Bock 4, Krahe; Carney, Anderson, Clemwent 6, Patten, Morton
JV: Butler, 55-45 (M: Horton 15, Nick Grimm 13; B: Raine Gratzmiller 19, Charles Kreinbucher 14, Anthony Malloy 11