Butler's Morton reaches scoring milestone
January 25, 2020 Local News

<![if !vml]>
<![endif]>
<![if !vml]>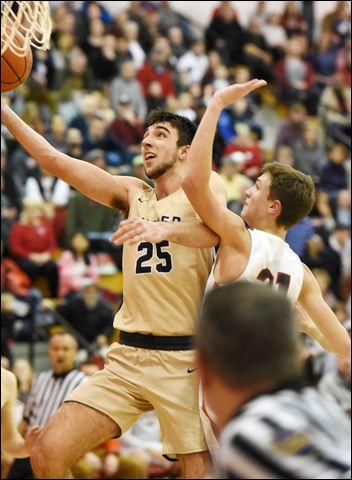 <![endif]>
Butler's Ethan Morton laysup his 2001 point in the second quarter against North Hills.
HAROLD AUGHTON/BUTLER EAGLE
With the final seconds ticking away in the first half and his team trailing by six, Butler senior point guard Ethan Morton stole the ball in the backcourt. He quickly drove the other way, deftly laying the ball in the hoop with one second showing on the clock at North Hills. Career points No.'s 2,000 and 2,001. "It was a big play in this game," Butler boys basketball coach Matt Clement said. "That means a lot for him to hit a milestone on that type of play." The Golden Tornado still trailed, 29-25, at the half. Butler fans filled the visitors' side of the gym and erupted in applause and cheers at halftime as the North Hills public address announcer acknowledged Morton's accomplishment. Butler rallied in the second half for a 70-50 win. Morton wound up with 19 points, 17 rebounds, 12 assists and six steals on the night.