ADVERTISEMENT
<![if !vml]><![endif]>
5
MORE
WPIAL 6A semifinals: Butler wins in OT, Mt. Lebanon defeats Central Catholic
<![if !vml]>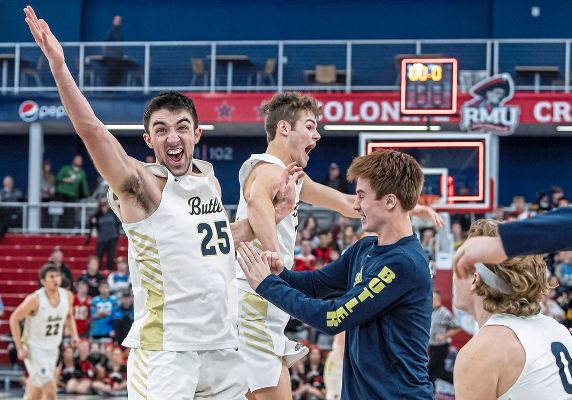 <![endif]>
MIKE WHITE
Pittsburgh Post-Gazette
FEB 26, 2020
11:06 PM
It didn't take a buzzer-beating shot from Ethan Morton this time, but it took another improbable comeback. And Morton hit another big shot late.
In the WPIAL Class 6A semifinals Wednesday night, Butler trailed Upper St. Clair by five points with less than 40 seconds remaining in regulation.
Huh. This was nothing.
Butler came back from five points down with less time left to win a double-overtime game in the quarterfinals. This time, Butler (19-4) forced overtime and needed only one extra period to knock off Upper St. Clair, 83-78, in a marvelous game at Robert Morris University's UPMC Events Center.
I caught myself for just a half second thinking, 'Crap, we're down five with not much time left,'" Morton said. "But knew better. We were just able to find a way."
Morton led the way. Upper St. Clair (21-3) took a 76-71 lead with 43.4 seconds left on junior guard David Pantelis' free throw. But Morton, Butler's terrific 6-6 senior point guard, made two free throws with 36.8 second left.
After Upper St. Clair's Ethan Dahlem missed a one-and-one free throw, Butler's Devin Carney missed a 3-pointer to tie. But Butler's Mason Montag rebounded and passed behind him to Morton, who scooped in a shot and was fouled with 26.2 seconds left. Morton made the tying free throw and Dahlem missed a 3-pointer from the right corner to win it.
Morton made a last-second basket at the end of the first overtime Saturday against Peters Township to tie the game and send it to a second overtime. Besides his three-point play to tie it against Upper St. Clair, Morton also made the biggest two plays in overtime.
He tipped a pass and stole the ball in overtime and his driving shot with 1:23 left gave Butler a 78-76 lead. After an Upper St. Clair miss, Carney hit a foul-line shot to put Butler ahead, 80-76.
Trailing 81-78, Upper St. Clair's Luke Gensler missed a 3-pointer to tie and Morton made two free throws late to ice it.
"I'm not amazed after Saturday [against Peters Township]," Morton said.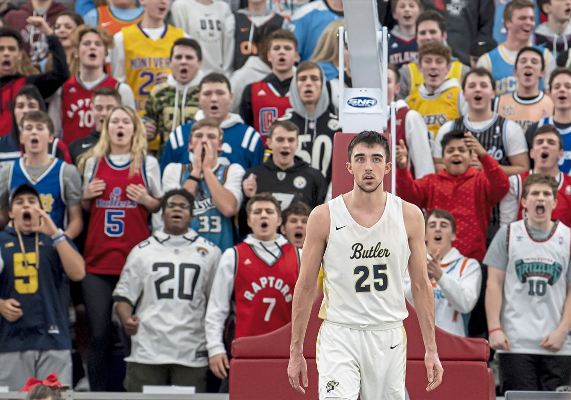 Pittsburgh Post-Gazette
Morton was part of a two-man wrecking crew for Butler as he and Carney combined for 67 points. A Purdue recruit with more than 2,000 career points, Morton finished with 32 points and 15 rebounds. Carney, a sophomore guard, had 35 points, including 21 in the first half.
"It's so much about the team with Ethan. He brings the team with him when he does this stuff," Butler coach Matt Clement said. "That's one of the unique things you can say about him when it's all said and done. There are a lot of individual things he's done, but he brings the team with him.
"He brought everyone with him in this game, but it was also guys throwing their bodies all over that court."
Upper St. Clair had four players in double figures, led by Pantelis' 22 points. But a key to the contest was Pantelis fouled out late in regulation and Landon Rauch also fouled out. Rauch had 14 points.
Upper St. Clair relied on a load of 3-point shots against Butler's zone defenses. The Panthers attempted 41 3-pointers and made 10. But they were 1 for 10 from 3-point range in the fourth quarter and overtime.