Butler outlasts Mt. Lebanon for home win
December 18, 2019 High School Basketball

<![if !supportLineBreakNewLine]>
<![endif]>
<![if !vml]>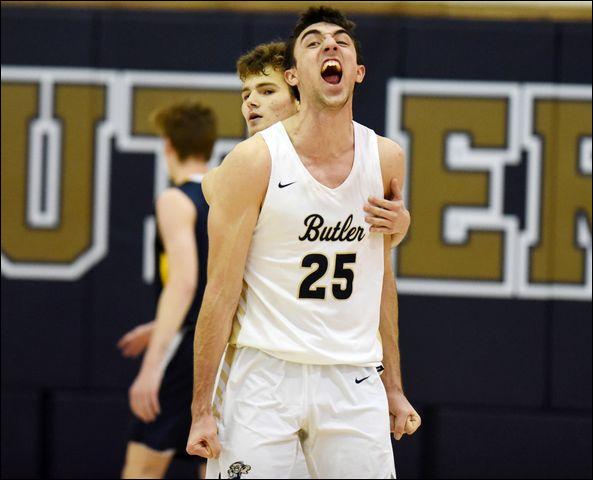 <![endif]>
Butler senior guard Ethan Morton reacts after the final buzzer sounds on Butler's 75-71 victory over Mt. Lebanon Tuesday night. Morton scored 28 points and also had 15 rebounds and seven assists in the tight win.
HAROLD AUGHTON/BUTLER EAGLE
BUTLER TWP — Consecutive layups by Ethan Morton early in the second quarter gave Butler the lead.
The Golden Tornado hung on to it — literally.
Butler held off a furious Mt. Lebanon rally late in coming away with a 75-71 non-section boys basketball victory Tuesday night in a rematch of last year's WPIAL Class 6A championship game.
Two Morton free throws gave the Tornado (4-1) a 73-61 lead with 2:38 to play. With 23 seconds left, that lead was 75-71.
"Nine is nothing," Mt. Lebanon coach Joey David said. "That's our theory. You can erase a nine-point deficit just like that."
Morton missed the front end of a one-and-one with 16 seconds to play and the Blue Devils had the ball again. But senior point guard Blaine Gartley missed the front end of a one-and-one himself with 10 seconds left and Butler held on.
"Good win against a good team," Tornado coach Matt Clement said. "I thought all of our role players stepped up and played well tonight.
"That's what it takes to beat a team like Mt. Lebanon. They are so well-coached offensively and defensively. That coach wins every year and they'll be up there again this year."
Morton scored 20 of his game-high 28 points in the second half. He added 15 rebounds and six assists.
He did commit a few turnovers and missed a pair of free throws.
"Ethan never does those things," Clement said. "But he did a good job of knifing his way to the basket. Mt. Lebanon takes a lot of charges. He was able to avoid those.
"I'm glad he did that (missed two free throws). He may not miss another one the rest of the year. That's the way he's wired."
David said Morton was able to "hop and turn away from the direct contact. He's a tremendous player who knows how to use the talent around him."
A pair of sophomores — guard Raine Gratzmiller and forward Charlie Kreinbucher — were some of the talent that came up big for Butler.
Gratzmiller, making his first varsity start, responded with 15 points, seven rebounds and a pair of steals. Kreinbucher came off the bench to score eight points and grab eight rebounds.
The Tornado wound up with a 39-31 edge in rebounding.
"No. 22 (Kreinbucher) really hurt us. We couldn't keep them off the boards," David said.
Gratzmiller admitted to being surprised when Clement told him he'd be starting the game.
"A little bit," he said. "But I was ready. They Blue Devils) come at you hard defensively. But shots were going to be there and we had to make them.
"I feel like I grew up a lot as a player in this game. It felt good to contribute."
Even when this season started, Clement "knew I'd be starting Raine in this game."
Devin Carney and Mattix Clement — Butler's top two 3-point shooters — were limited to one trey each. Carney scored 10 points after scoring more than 20 in each of Butler's first four games.
"Mattix gave us some great defense tonight," Coach Clement said. "He didn't worry about missing shots. He was excited about his defensive effort. He's growing as a player."
The Blue Devils (4-1) return two starters — Gartley and senior forward Jake Hoffman — from last year's WPIAL title team. Gartley had 18 points, nine rebounds, seven assists and four steals.
Hoffman scored 13 points, sinking just six of 19 shots.
"Ethan did a good job defending Jake," David said. "That's what great players do. They play both ends of the floor."
Jake Reinke came off the bench to score 16 points and collect three steals for Mt. Lebanon. Butler had 20 turnovers to the Blue Devils' eight.
"We attack the ball on defense and wanted Morton to give it up," David said. "Three-point shooters are going to be open against us. If they hit their shots, they're probably gonna beat us.
"We had three starters experiencing this kind of atmosphere for the first time. It was good for us, win or lose."
Clement felt the same way.
"You know they're going to keep coming with that quickness and they're so aggressive in everything they do," Clement said. "We stood up to it. This was a nice win."
MT. LEBANON 71
Blaine Gartley 6-17 4-6 18, Danny Simboro 4-6 0-0 8, Joey King 3-5 2-2 8, Andy Sapp 3-6 0-0 8, Jake Hoffman 6-19 1-2 13, Jake Reinke 7-14 0-0 16. Totals: 29-68 7-11 71.
BUTLER 75
Raine Gratzmiller 6-10 0-0 15, Devin Carney 5-9 0-1 10, Mattix Clement 2-9 1-1 6, Charlie Kreinbucher 4-4 0-1 8, Mason Montag 2-4 0-1 5, Ethan Morton 12-17 3-4 28, Madden Clement 1-3 0-0 3. Totals: 32-56 4-8 75.
Mt. Lebanon 16 15 19 21 — 71
Butler15 17 25 18 — 75
3-point goals: Gartley 2, Sapp 2, Rinke 2; Gratzmiller 3, Mat. Clement, Montag, Morton, Mad.Clement
JV: Mt. Lebanon, 73-52 (ML: Jack Smith 12, Zach D'Alesandro 11, Michael Beiersdoef 11; B: Kaleb Proudfoot 13, David Leslie 9, Madden Clement 9)