Butler pulls away
Clement comes up big down stretch for Tornado
January 22, 2020 High School Basketball

<![if !supportLineBreakNewLine]>
<![endif]>
<![if !vml]>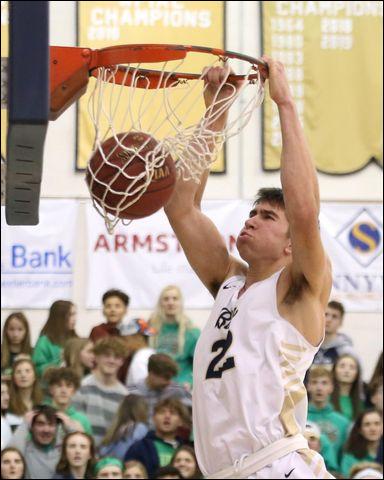 <![endif]>
Butler sophomore Charlie Kreinbucher throws down a dunk on a fast break at home against North Allegheny. Butler topped the Tigers 72-57.
SEB FOLTZ/ BUTLER EAGLE
BUTLER TWP — Through 22 minutes, the score was tied six times and the lead changed hands on eight occasions.
North Allegheny or Butler needed a game-changer.
Enter Mattix Clement.
Butler's junior guard scored 18 of his game-high 21 points in the second half and triggered a number of takeaways defensively as the Golden Tornado pulled away from North Allegheny, 72-57, for a Section 1-6A boys basketball win at home.
"Mattix hasn't been shooting as well this year as he has in the past," Butler coach Matt Clement said. "We were waiting for him to have one of his breakout games. We all know he's capable of it."
Mattix Clement sank four of his five treys in the second half. A Charlie Kreinbucher free throw gave the Tornado (12-4, 6-0) the lead for good at 42-41 with 2:38 left in the third quarter. Ethan Morton scored on a fast-break layup after Clement knocked the ball away at the other end.
A layup and trey by Mattix upped the lead to six. He drained consecutive treys early in the third to hike the Butler lead to 12 points.
"I don't think we lost him (defensively)," North Allegheny coach Keith Noftz said. "Ethan Morton is a great passer and he's gonna set his teammates up for open shots.
"We didn't play well enough to win this game. We had too many unforced errors and you can't do that against a team like this."
Butler won its seventh consecutive game overall and defeated the Tigers for the ninth straight time. The Tornado fell one point shy of putting five players in double figures.
Besides Clement's 21, Morton had 18 points, nine assists and nine rebounds. He needs 10 points Friday at North Hills to reach 2,000 in his high school career.
Devin Carney had 12 points and five assists, Mason Montag 12 points and six rebounds. Montag scored seven of his points in the first quarter.
"We always look for a player to step up at key times," Coach Clement said. "Mason did it early and Mattix did it late."
North Allegheny had 17 turnovers. Mattix Clement had three steals and forced a few others.
"He tips and deflects a lot of balls that don't show up on stat sheets," Coach Clement said. "We were lethargic on defense early, so we switched to a 1-3-1 and Mattix was singlehandedly disrupting things at the top of that zone."
Offensively, he found his stroke at the right time.
"Ethan finds me when I'm open and I was fortunate enough to hit some shots," Mattix said. "We moved the ball well tonight.
"I'm grown a lot physically and mentally over the past year or so. I think that's improved my game."
He had four rebounds and two assists to go with the point production. Charlie Kreinbucher had nine points and nine rebounds.
"We didn't have our point guard (Zach Andrekovich) tonight because of an ankle (injury)," Noftz said. "The guy who took his spot just came back from a concussion.
"Butler did a good job on Timmerson tonight. We missed his offense."
Khalil Dinkins paced the Tigers (8-8, 3-3) with 20 points and six rebounds. Robby Jones scored 11 points while Nate Campbell contributed eight points, five rebounds and four assists.
Timmerson managed just five points — hitting one of seven shots — to go with six rebounds and four assists.
"We're still in the hunt for a playoff spot," Noftz said.
And Morton is still lined up to reach 2,000 points.
"We're going down to North Hills looking for a win," Coach Clement said, his team seeking its first section title since 1992. "But 2,000 points is a tremendous accomplishment, especially in 6A.
"We will celebrate and recognize that accordingly."
NORTH ALLEGHENY 57
Luke Colella 2-3 0-0 4, Grant Timmerson 1-7 2-4 5, Nate Campbell 3-7 0-0 8, Khalil Dinkins 9-12 2-4 20, Ethan Lake 4-8 0-0 9, Robby Jones 4-12 0-0 11. Totals: 23-49 4-9 57.
BUTLER 72
Zach Slomers 0-0 0-0, Raine Gratzmiller 0-3 0-0 0, Devin Carney 4-10 2-4 12, Mattix Clement 8-16 0-0 21, Charlie Kreinbucher 4-7 1-2 9, Mason Montag 4-8 3-4 12, Ethan Morton 6-13 6-7 18, Madden Clement 0-1 0-0 0, Austin Rodgers 0-0 0-0 0. Totals: 26-58 12-17 72.
North Allegheny 14 15 17 11 — 57
Butler17 12 22 21 — 72
3-point goals: Timmerson, Campbell 2, Lake, Jones 3; Carney 2, Mat.Clement 5, Montag
JV: North Allegheny, 73-57 (NA: Greg Philips 14, Jared Black 14, Randall Clement 12, Cam Cervone 11; B: Hayden Thompson 11, David Leslie 10)