Butler rallies in overtime to win first round of PIAA playoffs
March 7, 2020 High School Basketball

<![if !supportLineBreakNewLine]>
<![endif]>
<![if !vml]><![endif]>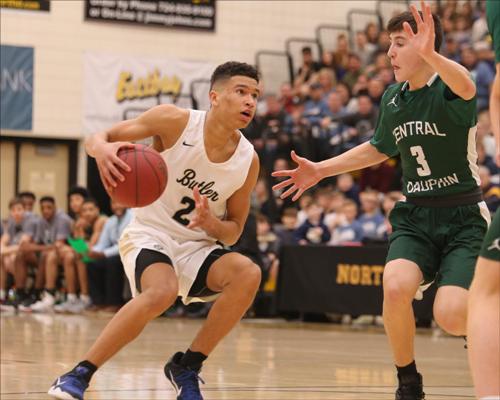 Butler's Devin Carney driving to the hoop against Central Dauphin's Andrew Renaldi in Butler's first-round PIAA playoff win.
SEB FOLTZ/BUTLER EAGLE
WEXFORD - A cat has nine lives.
Butler is getting there.
The Golden Tornado trailed Central Dauphin by nine points with 2:50 left in regulation at North Allegheny before rallying for a 93-90 overtime victory in their first-round PIAA Class 6A boys basketball tournament game.
Butler (21-4) won its 16th straight game, including its third postseason game in overtime despite trailing by five points with less than a minute to play in each.
The Tornado won this time despite standout point guard Ethan Morton playing much of the fourth quarter and overtime with four fouls and a sprained ankle.
"I couldn't do much," Morton said. "I have to thank my teammates. They were incredible. They got us through this and on to the next game."
Butler had a 5-2 lead less than three minutes into the game. Central Dauphin (22-7) went on an 8-0 run at that point and did not trail again until the overtime period.
But the Rams could not put Butler away despite leading by 11 points early in the fourth quarter.
"We just don't want this season to end," Butler senior forward Mason Montag said. "That's all it is. We're doing what we have to do to win."
Devin Carney led Butler with 39 points, including a trey that pulled his team within 68-62 with 2:30 left. Two free throws by Central's Rance Russo gave the Rams a 79-74 edge with 34 seconds left.
With Morton hobbling, Carney and Mattix Clement drove the lane and dished off to Montag in the right corner for two critical treys. The first one pulled Butler within 79-77 with 22 seconds left. The second resulted in an 82-81 Butler lead with 2:45 left in overtime.
The Tornado never lost that lead, its first since the opening quarter.
"Give Mason credit for hitting those shots," Butler coach Matt Clement said. "But without those passes from Devin and Mattix, those shots don't happen and we don't win.
"Those guys stepped up in roles they're not used to playing "
Butler needed more than that to win.
Raine Gratzmiller took a charge with seconds remaining in regulation to give Butler possession, trailing by two. Mattix Clement drained two free throws with 8.5 seconds left to force overtime.
Carney sank six free throws in overtime to help secure the win.
"I was forcing my shot too much early in the game," Carney said. "I had to let the game come to me offensively. But it took our whole team making clutch plays for us to win."
"Devin carried us for a long time today. He can do that," Morton said
Mattix Clement had 15 points and five rebounds, Montag 12 points and 10 rebounds, Morton 13 points, 16 rebounds and 10 assists.
Ryan Smith had 35 points and nine rebounds, Rance Russo 30 points and eight boards for Central Dauphin. They average 15 and 13, respectively.
"Tell me those two would score that many points and I'd say we win by 20," Rams coach Wayne Fletcher said. "We had not lost in overtime all year. Neither has Butler.
"They made the plays at the end to win."
CENTRAL DAUPHIN 90
De'von Higgins 5-9 2-2 12, Andrew Renal di 0-1 0-0 0, Tyrese Fuller 2-5 0-1 4, Ryan Smith 15-23 0-2 35, Rance Russo 10-19 9-15 30, Keenan Roberts Jr. 4-6 0-2 9, Justice Easter 0-1 0-0 0, Darrien Berrios 0-0 0-0 0. Totals 36-63 12-17 90.
BUTLER 93
Raine Gratzmiller 2-5 0-0 5, Devin Carney 10-25 13-14 39, Mattix Clement 5-10 4-5 15, Charlie Kreinbucher 2-4 2-4 6, Mason Montag 4-7 0-2 12, Ethan Morton 2-10 8-13 13, Madden Clement 1-2 0-0 3. Totals 26-59 28-38 93.
Central Dauphin 14 20 20 25 11 - 90
Butler 12 14 21 32 14 - 93
3-point goals: Central 7 (Smith 5, Russo, Roberts), Butler 13 (Gratzmiller, Carney 6, Mat.Clement, Montag 4, Mad.Clement)