Carney coming up big
Butler guard has become major scoring threat
January 2, 2020 High School Basketball

<![if !supportLineBreakNewLine]>
<![endif]>
<![if !vml]>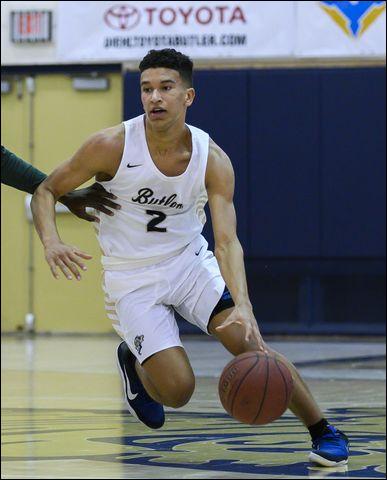 <![endif]>
Butler sophomore guard Devin Carney is averaging 21.3 points per game this season for the Golden Tornado and has already hit 29 3-pointers.
STEVEN DALTON/SPECIAL TO THE EAGLE
BUTLER TWP — He's listed at 5-foot-11 on the roster, but Devin Carney's game has grown much faster.
The Butler sophomore guard has developed into a go-to player for the Golden Tornado basketball team after being more of a role player a year ago.
"He's already taking a lot of pressure off me the way he's handling the ball," Butler senior point guard Ethan Morton said. "It's like we have a second point guard now.
"Devin is fun to play with because he looks to create, not just shoot."
Carney grew up in the North Allegheny School District. Two years ago, his father's job shifted toward Butler and his family moved here.
"His job consists of territories and with most of his work being done in the Butler area now, he decided to move," Carney said.
"It was pretty good timing for me, coming in and playing ball with this group."
Carney averaged 12.5 points per game as a varsity starter his freshman year, hitting 63 3-pointers as the Tornado reached the WPIAL Class 6A championship game.
Through nine games this season, Carney is averaging 21.3 points per game and has connected on 29 treys.
"Devin puts in so much time in the gym and it shows," Butler coach Matt Clement said. "Since the end of last season, straight through the summer, he was in the gym working on different phases of his game.
"He still knows when to shoot and we still want him to shoot, but his passing has really improved.
"He's always been able to drive to the basket. He's got an explosive first step. He dishes back out more than he used to," Clement added.
Carney said the passing part of his game is what he needs to improve most.
"I've gotten better at it, but I'm not totally there yet," he said. "Moving the ball is a big part of our game."
So is putting the ball in the basket. Even with Morton sidelined the past three games with a sprained ankle, the Tornado remain one of the highest scoring teams in the WPIAL.
Carney has been a big part in that.
He's scored in double figures in each of the first nine games this year. He's scored at least 21 points in six of those games and has failed to sink a trey in only one game.
Carney is also averaging three assists per game.
"He is so fast, such an athlete," Morton said. "Devin beats people down the floor. And with Luke (Patten) out, he's picked up a lot of the slack, put more on his shoulders.
"He plays with so much energy and he's such a hard worker."
While Morton is approaching 2,000 points in his high school career, Carney could approach 1,500 before his varsity career is over.
"Reaching 1,000 here would mean a lot to me," Carney admitted. "But winning means more. With the absence of Luke, we've all had to pick it up.
"When Ethan's not in there, I have to facilitate plays. Even when he's on the floor, I need to be able to take some of the load off him. Luke did a lot of that."
Clement recognizes where Carney may wind up on the Butler scoring charts.
"He could finish pretty high up there," the coach said. "When we think about the post-Morton years ... Devin is going to be a big part of that."