Clutch Clincher
Butler wraps up 1st section title since 1992 with comeback win over Pine-Richland
January 29, 2020 High School Basketball
<![if !vml]>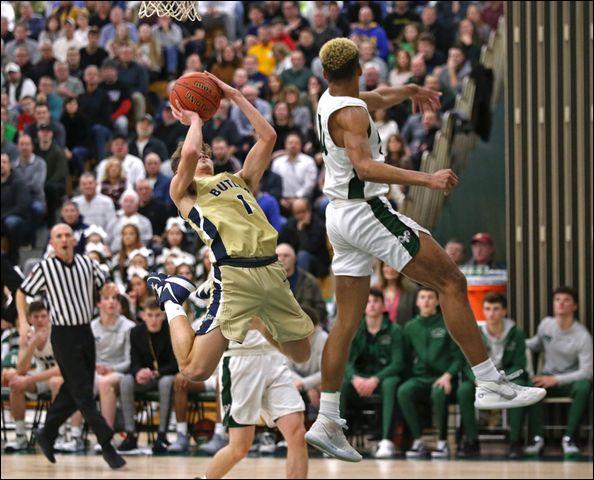 <![endif]>
Butler's Raine Gratzmiller leans back to avoid a blocked shot attempt from Pine Richland's Levi Wentz during the Golden Tornado's section-clinching 68-63 win.
SEB FOLTZ/BUTLER EAGLE
PINE TWP — Pine-Richland appeared to have straightened its ship.
Then Butler blew it up.
The host Rams turned a one-point deficit into a seven-point lead late in the third quarter, only to have Butler respond with an 11-0 run to take a two-point lead into the fourth.
The Golden Tornado never surrendered the advantage again, holding off Pine-Richland for a 68-63 win and clinching the Section 1-6A championship. It marked Butler's first section title since 1992.
"The kids were hungry tonight. We hit some big shots," Butler coach Matt Clement said.
The Tornado (14-4, 8-0) sank 13 3-pointers among their 24 field goals. Still, they had to hold off the Rams (12-6, 5-3) at the end.
A Joey Petcash trey pulled Pine-Richland within 62-60 with 2:37 to play. Devin Carney responded with a jumper for Butler, but a Kyle Polce trey trimmed the margin to 64-63 with 1:36 left.
A Mason Montag layup at the 1:18 mark extended the Tornado lead to 66-63. Butler regained possession and called a timeout with 33 seconds to play.
Polce stole the inbounds pass, however, and the Rams had a chance to tie. Polce misfired from 3-point range, Charlie Kreinbucher rebounded and Ethan Morton wound up at the foul line for the Tornado.
Morton drained both ends of the one-and-one with 5.6 seconds left to wrap up the victory.
"We all wanted to do this tonight," Morton said of the section title. "I wanted it for Coach (Clement), we all wanted to do it for him because of everything he's done for us and this community."
Butler trailed by as many as 10 (25-15) in the first half and never led in the first two quarters. The Tornado trailed 35-33 at intermission. The lead changed hands seven times in the third period.
A trey by Polce and two by Petcash built the Rams' 48-41 edge and had them in control. Then treys by Mattix Clement, Morton and Montag fueled the 11-0 run for Butler.
"Mason hit some huge shots in this game," Coach Clement said. "And I thought Charlie (Kreinbucher) was an unsung hero tonight. He really banged the boards hard."
Kreinbucher had 13 of Butler's 24 rebounds. Morton had 18 points and nine assists, Carnety 18 points, Montag 14 points and two steals.
"Huge ... absolutely huge," Montag said of qwinning the section title in his senior season. "We've been chasing this for a long time.
"To clinch it on this floor definitely adds to it. Pine has a great team. They always give us trouble."
<![if !vml]>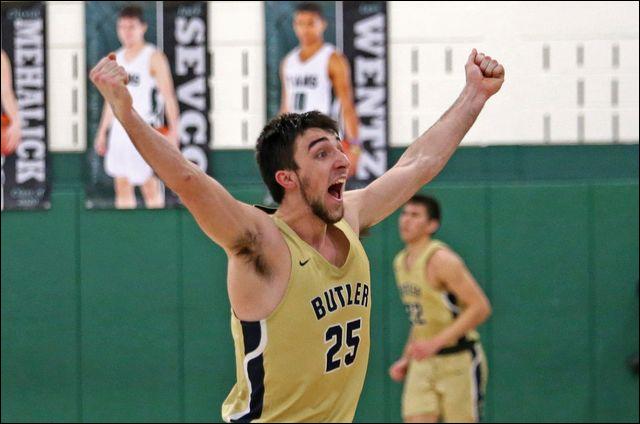 <![endif]>
Butler senior point guard Ethan Morton celebrates the Golden Tornado's section-clinching win over Pine-Richland Tuesday.
SEB FOLTZ/ BUTLER EAGLE
Pine-Richland had a three-game winning streak snapped. The Rams' last five games have been decided by five points or fewer.
"We didn't shoot well tonight," Rams coach Jeff Ackermann said. "We shot the ball much better at their place. We usually score a lot of points against them.
"I thought we outplayed them the first time we met. Tonight, they outplayed us. We controlled play in the first half of this game, but they controlled it in the second half."
Polce led Pine-Richland with 22 points, adding five rebounds, four steals and three assists. Petcash had 12 points, Logan Murray nine assists. But Murray sank just one of 10 shots from the floor.
"We desperately needed a third scorer tonight and didn't get one," Ackermann said.
Murray had 23 points in the Rams' overtime loss at Butler earlier this year. Pine-Richland had five double-digit scorers that night. Levi Wentz was one of them, but he just returned from injury Tuesday "and was not himself," Ackermann said.
Matt Clement was a junior on the last Tornado team to win a section crown.
"I was a junior that year, Mattix is a junior now," he said. "Chuck Kreinbucher was a sophomore then, Charlie is a sophomore now.
"Since Charlie was in second grade playing baskeball, Chuck and I have been talking about this moment."
Morton said Butler's difficult schedule this season had a lot to do with its comeback from an early 10-point deficit on the road.
"It definitely factors in," he said. "That and our younger players have another year's experience.
"This is the first step. We're not content. There's a lot more we want to accomplish."
Coach Clement agreed.
"Playing Canton McKinley, Penn Hills and teams like that definitely adds stress to coaching," he said. "But it all paid off tonight.
"We won this thing while missing our second-best player (Luke Patten) all year. That's overcoming adversity."
Patten is out all season with a knee injury.
"Ethan and these guys have een amazxing," Patten said. "I'm just happy to have been a part of all this."
BUTLER 68
Raine Gratzmiller 1-3 0-0 2, Devin Carney 5-14 5-5 18, Mattix Clement 3-9 0-0 9, Charlie Kreinbucher 2-4 0-0 4, Mason Montag 6-7 0-0 14, Ethan Morton 6-8 2-2 18, Madden Vlement 1-1 0-0 3. Totals: 24-46 7-7 68.
PINE-RICHLAND 63
Jack Sevco 2-3 0-0 4, Andrew Alexander 2-3 0-0 6, Logan Murray 1-10 0-0 3, Patrick Shanahan 3-5 0-2 6, Joey Petcash 4-7 1-2 12, Levi Wentz 3-6 0-0 6, Kyle Polce 10-19 0-0 22, Cam Kirkland 2-2 0-0 4. Totals: 27-55 1-4 63.
Butler 13 20 19 16 — 68
Pine-Richland19 16 15 13 —63
3-point goals: Carney 3, Mat.Clement 3, Montag 2, Morton 4, Mad.Clement; Alexander 2, Murray, Petcash 3, Polce 2
JV: Pine-Richland, 80-32 (B: Hayden Thonmpson 15; P-R: Joey Dudkowski 16, Andy Swartout 15, Connor Howard 13, Garett Krieger 12)