Golden Tornado tears through Mt. Lebanon in thrilling WPIAL win
February 29, 2020 High School Basketball

<![if !supportLineBreakNewLine]>
<![endif]>
<![if !vml]><![endif]>
Longtime Butler Golden Tornado coach Matt Clement holds high the teams first WPIAL trophy in 29 years. The team beat rival Mt. Lebanon 70-61 at the University of Pittsburgh's Petersen Event Center.
HAROLD AUGHTON/BUTLER EAGLE
<![if !vml]>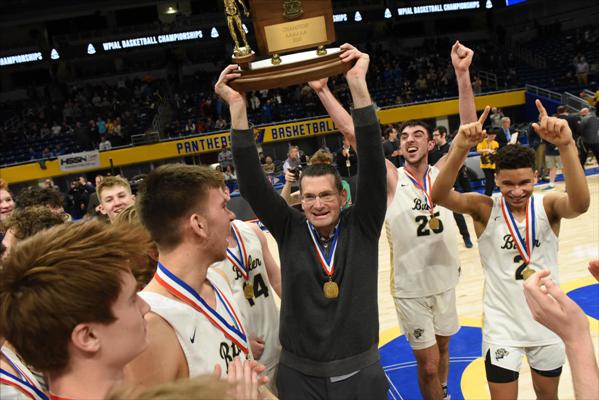 <![endif]>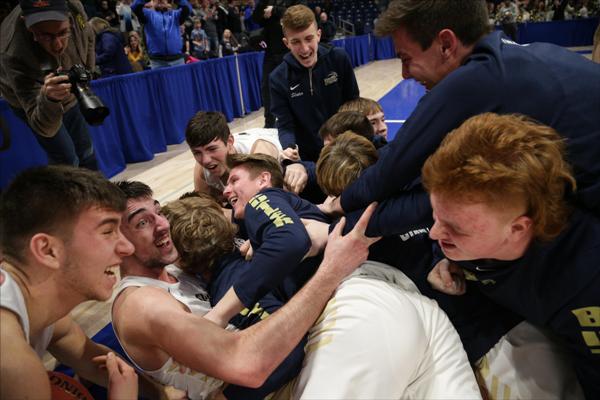 Teammates celebrated as the Butler Golden Tornado barreled its way to a 70-61 win over Mt. Lebanon for its first WPIAL championship in 29 years.
NATHAN BLACK/BUTLER EAGLE
'Our community deserves this' - Butler boys basketball team brings home its first WPIAL title in 29 years
By John Enrietto
Eagle Sports Editor
PITTSBURGH — Not much drama this time.
Just plenty of euphoria.
When Mattix Clement got loose behind Mt. Lebanon's full-court pressure, received the ball and laid it in with 10 seconds left, reality set in for Butler.
The Golden Tornado were WPIAL Class 6A boys basketball champions, courtesy of a 70-61 win over the Blue Devils Saturday night at the University of Pittsburgh's Petersen Events Center.
The title is the program's first WPIAL crown since 1991.
Butler will ride a 15-game winning streak into the state tournament next weekend.
But for now, it's about celebrating Saturday night's championship.
"I've dreamed of this ever since I got this job," Butler coach Matt Clement said. "Mattix was in kindergarten then. "For this to happen now, with my family being such a part of it and the way our community embraced this team ... I feel so blessed."
After winning its first two playoff games in double overtime and overtime, respectfully, Butler (20-4) never lost the lead once it got it Saturday night. Mattix Clement gave the Tornado that lead at 5-2 by hitting a trey barely two minutes into the game.
"We just never lost focus," sophomore guard Raine Gratzmiller said. "We knew what Mount Lebanon was capable of doing. "You never let up when you're playing a great team."
And Butler proved to be the greater team.
Sophomore guard Devin Carney scored 21 of his game-high 24 points in the first half as the Tornado took a 42-30 lead into halftime. He sank three treys and scored 13 points in the first quarter.
"Devin was just on fire. It was crazy what he was doing out there," senior point guard Ethan Morton said. "I was just trying to get him the ball. When our offense gets into rhythm
like that, it's special."
Morton's emotions were ablaze as the final horn sounded. He and his teammates raced into the Butler student section of the arena to share the moment with the student body.
Morton later took the WPIAL championship trophy into the stands as well.
Morton contributed 20 points, 10 rebounds and five assists to the win. He now has 2,162 points in his high school career.
The only number he cared about was being No. 1.
"Absolutely ... but not for me," Morton said. "This is for that guy right there (pointing to Coach Clement). The hard work he puts into this is unbelievable. When I first started to follow Butler basketball as a little kid, watching guys like Nate (Snodgrass) and Bobby (Swartwout) play, seeing that passion, I wanted to win a championship for that man, for this program."
Morton recalled his freshman year, when he and four seniors comprised the Tornado starting lineup. Butler lost the WPIAL title game to Pine-Richland that year.
"I wanted so badly to help those seniors get that title," Morton said, brushing away moisture from his eyes. "We didn't get it then. We got it tonight. This is for those guys. It's for every player I've played with in Butler and it's for our town.
"The support we've gotten all these years, I can't even describe. There are no words. I've been thinking about winning this title in bed at night, in the shower ... now it's happened. This is just the happiest feeling," he added.
Carney admitted he wanted the ball early, especially after sinking 3-pointers on consecutive possessions midway through the first quarter.
"Yeah, I was feeling it," he said. "And my teammates kept finding me. It took every effort from everybody to get this done."
Mattix Clement wound up with 15 points and five rebounds. Butler had a 27-26 edge on the boards and won despite having nine turnovers to Mount Lebanon's four.
The Blue Devils (18-7) had only four turnovers in last year's 62-57 WPIAL championship win over Butler as well.
"We knew we had to rebound with them to beat them," Mattix Clement said. "I had to get my share of those. We've been waiting for this moment — this game — for a long time. It was worth the wait."
Jake Hoffman led the Blue Devils with 21 points, including four treys.
Blaine Gartley added 12 points and seven assists. Joey King had 11 rebounds.
"Hoffman and Gartley have been first team all-section players for two or three years now for a reason," Coach Clement said. "They never quit coming."
Mt. Lebanon got within three at 47-44 on a King layup with 2:14 left in the third quarter. Butler closed the quarter with an 8-0 run at that point as Mattix Clement hit a trey, Gratzmiller a short jumper and Carney a trey.
The Blue Devils never threatened in the fourth quarter, getting only within seven with less than a minute to play.
"Our community deserves this," Coach Clement said. "I am so happy for Butler. This trophy is for those people. That's what this is all about."
MT. LEBANON 61
Evan Sentner 2-3 0-0 5, Blaine Gartley 5-12 0-0 12, Joey King 2-7 2-2 6, Jake Reike 3-12 2-2 9, Andy Sapp 3-4 0-0 8, Jake Hoffman 8-21 1-1 21.
Totals: 23-59 5-5 61.
BUTLER 70
Raine Gratzmiller 1-2 2-2 4, Devin Carney 7-15 6-7 24, Mattix Clement 6-12 0-0 15, Charlie Kreinbucher 1-1 0-0 2, Mason Montag 1-1 0-0 2, Ethan Morton 8-12 3-4 20, Madden Clerment 1-2 0-0 3.
Totals: 25-45 11-13 70.
Mt. Lebanon 14 16 14 17 — 61
Butler 23 19 13 15 — 70
3-point goals: Mount Lebanon 10 (Sentner, Gartley 2, Reinke, Sapp 2, Hoffman 4); Butler 9 (Carney 4, Mat. Clement 3, Morton, Mad. Clement)