Iron Jaw
Butler takes Seneca Valley's best punch in 80-66 section victory
January 15, 2020 High School Basketball

<![if !supportLineBreakNewLine]>
<![endif]>
<![if !vml]>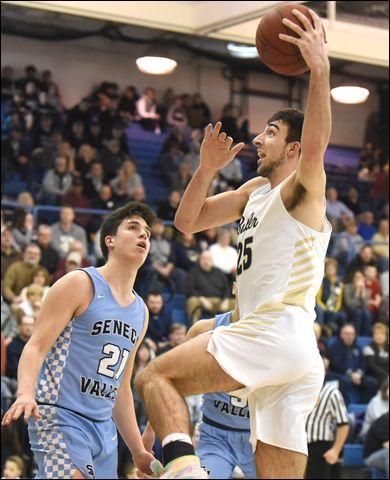 <![endif]>
Butler's Ethan Morton goes up for a dunk during the Golden Tornado's 80-66 win over Seneca Valle. Morton recorded a triple-double with 33 points, 15 rebounds and 10 assists.
SEB FOLTZ/BUTLER EAGLE
BUTLER TWP — Seneca Valley came back once.
The Raiders couldn't do it a second time in dropping an 80-66 Section 1-6A boys basketball decision at Butler.
The win was the fifth straight for the Golden Tornado (10-4, 5-0) while Seneca Valley (1-11, 0-5) has dropped six straight.
"We're taking everybody's best shot right now," Butler coach Matt Clement said. "That's the position we're in at this point."
Butler junior Mattix Clement sank a trey at the end of the first half to give the Tornado a 41-34 lead at the break. He drained another trey 25 seconds into the third quarter to expand the lead to 10 points.
But the Raiders responded with a 12-0 run, highlighted by treys from Cole Brooks and Connor Lyczek, to take a 46-44 lead with 4:38 left in the third quarter.
Lyczek scored seven of the 12 points during the spurt.
"These guys are still out there fighting, out there working," SV coach Kevin Trost said. "I told them that if we continue to work like that, good results are gonna come."
An Ethan Morton lay-up tied the game and his three-point play with 3:53 remaining in the quarter gave the Tornado the lead for good.
Butler steadily built the lead from there. A pair of Mason Montag free throws with 2:33 left in the contest expanded the margin to 73-60.
Morton had 33 points, 15 rebounds and 10 assists. He needs 56 points to reach 2,000 for his high school career.
"I'd be lying if I said that number didn't mean something to me," Morton said of 2,000. "Not many people have gotten there.
"We're 5-0 in section, though, and that's what counts right now. We're not used to being the team being chased. It's a bit of an adjustment that can be frustrating at times."
Pine-Richland lost to Central Catholic Tuesday night, giving Butler a two-game section lead. The Tornado have not won a section title since 1992.
While Clement lauded Seneca Valley's poise in coming back from a 10-point deficit, he also admitted the spurt "shows we still have a lot of work to do.
"We can't allow that to happen," the coach said.
Mattix Clement scored 18 points for Butler, sinking four treys. Devin Carney scored 12 points, Charlie Kreinbucher had five rebounds, Raine Gratzmiller collected six points, four rebounds, three assists and three steals.
"Raine is doing a lot of things for us," Coach Clement said.
"He's the closest guy we have to doing the things Luke (Patten) did on the floor," Morton said of Gratzmiller. "He and Mattix were solid tonight."
Butler sank 30 of 51 shots from the field, including eight treys. The Tornado hit 10 of 11 shots in the second quarter.
"They are a tough team to stop offensively," Trost said. "Ethan commands so much attention from a defense and if you overplay him, their shooters can get you.
"We hung in with Butler, but they're awfully good ... so hard to contain."
Mason Bush led the Raiders with 29 points and nine rebounds. Cole Brooks added 17 points — hitting five treys — and Lyczek contributed 11 points and six rebounds.
"Kevin Trost is one of the best coaches in this section," Clement said. "They run some great sets ... We'll probably start using a couple of their sets.
"They've had a lot of hard luck. But they're like every other team in our section, still scrapping and trying to get into the playoffs."
SENECA VALLEY 66
Cole Brooks 6-12 0-0 17, Luke Lawson 0-2 0-0 0, Gabe Lawson 2-3 0-2 5, Connor Lyczek 5-11 0-0 11, Brian Hart 2-5 0-2 4, Mason Bush 10-19 7-9 29. Totals: 25-52 7-13 66.
BUTLER 80
Raine Gratzmiller 2-3 1-1 6, Devin Carney 5-10 0-0 12, Mattix Clement 7-14 0-1 18, Charlie Kreinbucher 3-3 0-0 6, Mason Montag 1-3 3-3 5, Ethan Morton 12-17 8-10 33, Madden Clement 0-1 0-0 0 . Totals: 30-51 12-16 80.
Seneca Valley 19 15 19 13 — 66
Butler17 24 21 18 — 80
3-point goals: Brooks 5, G.Lawson, Lyczek, Bush 2; Gratzmiller, Carney 2, Mat.Clement 4, Morton
JV: Seneca Valley, 57-40 (SV: Jameson Grieco 19, Luke Lawson 11; B: CJ Singleton 8)