No Panic
Despite slow start, Tornado slay Tigers
December 21, 2019 High School Basketball

<![if !supportLineBreakNewLine]>
<![endif]>
<![if !vml]>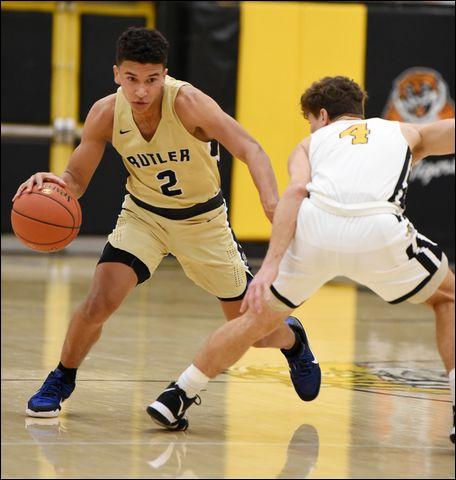 <![endif]>
Butler's Devin Carney makes a move on North Allegheny's Luke Colella Friday, December 20, 2019.
HAROLD AUGHTON/BUTLER EAGLE
WEXFORD — Seven minutes into the game, Butler was in trouble.
North Allegheny drained four treys and the Golden Tornado missed their first six shots as the host Tigers jumped out to a 17-5 lead in a mutual Section 1-6A boys basketball opener.
"They were hitting everything. We weren't making anything," Butler coach Matt Clement admitted.
But the Tornado (5-1, 1-0) closed the half from there with a 28-6 run and were never challenged in the second half in taking a 61-51 victory.
"Our kids weren't showing any signs of panic," Clement said of the early deficit. "I was panicking a little. I had to figure out what to do, find a defense that would work."
Butler came out to challenge the North Allegheny shooters and the Tigers' offense lost its edge.
"I thought that turned the game in our favor," Butler sophomore guard Devin Carney said. "We found a way to slow them down."
The Tigers (4-3, 0-1) were outscored 23-6 in the second period. Butler ended that quarter on an 18-1 run.
"Once we began getting some stops, we were getting some points in mid-transition and opening up the court more," Butler senior guard Ethan Morton said. "That got us going a little bit.
"North Allegheny plays tough defense. They're able to clog up the middle while still getting out on the shooters. They do a good job with that."
Despite trailing by only 10 at halftime, North Allegheny only got as close as seven once in the second half. A Grant Timmerson trey and Greg Habib jumper trimmed the gap to 37-30 with 4:24 left in the third quarter.
Carney responded with one of his five treys on the night, Morton completed a three-point play and Butler's lead was in double digits again.
The lead peaked at 59-45 on a Charlie Kreinbucher lay-up with 1:17 remaining.
"Their physicality turned the game in their favor," North Allegheny coach Keith Noftz said. "The officials allowed them to play that way.
"They were physical inside, outside, front-court, back-court, side-court, down the stairs."
Carney led the Tornado with 24 points, adding three assists. Morton had 21 points, 15 rebounds, eight assists and four steals. Mattix Clement had eight points and three assists.
Mason Montag and Kreinbucher combined for nine rebounds as Butler had a 34-26 edge on the boards.
"My biggest concern coning in here was controlling No. 30 (6-foot-4 forward Khalil Dinkins)," Coach Clement said. "He's the most athletic player in the section. H's a beast in there.
"Mason and Chuck went hard on the boards. I think Mason played his best game of the year. Charlie got in foul trouble and we had to play him down low. He did a great job in there."
Timmerson had 19 points and six rebounds for the Tigers. Justin Altmeyer had nine points and five assists. Dinkins got in early foul trouble and tallied six points and six rebounds.
"They (Butler) have the best player in Pennsylvania — certainly in Western Pennsylvania. He carries them," Noftz said. "He makes the other four guys with him better."
Carney agreed.
"Ethan was driving and dishing it off to us," Carney said. "When he does that, we're going to start hitting shots eventually."
Butler defeated North Allegheny for the eighth consecutive time. The Tornado's last loss to the Tigers was in December of 2015.
"I was unaware of tuat," Clement said of the streak. "I have the utmost respect for NA's program. The streak diesn't mean anything, but it does show where our program's at."
BUTLER 61
Raime Gratzmiller 0-2 0-0 0, Devin Carney 8-15 3-4 24, Mattix Clement 2-9 3-3 8, Charlie Kreinbucher 1-1 0-1 2, Mason Montag 2-2 2-2 6, Ethan Morton 8-16 3-4 21, Madden Clement 0-1 0-0 0, David Leslie 0-1 0-0 0. Totals: 21-47 11-14 61.
NORTH ALLEGHENY 51
Greg Habib 4-12 1-2 9,. Jack Christy 1-1 0-0 2, Luke Colella 2-4 2-3 6, Justin Altmeyer 3-10 0-0 9, Grant Timmerson 8-16 0-0 19, Nate Campbell 0-1 0-0 , Khalil Dinkins 2-2 2-5 6, Zach Andreykovich 0-5 0-0 0. Totals: 20-51 5-9 51.
Butler 10 23 12 16 — 61
N.Allegheny17 6 12 16 — 51
3-point goals: Carney 5, Mat.Cl;ement, Morton 2; Altmeyer 3, Timmerson 3
JV: North Allegheny, 46-32 (B: David Leslie 10, Madden Clement 8; NA: Greg Phillips 9, Robby James 8, Ethan Lake 8)