Not to Be Denied
Butler rallies again in 4th to down USC
March 12, 2020 High School Basketball

<![if !supportLineBreakNewLine]>
<![endif]>
<![if !vml]>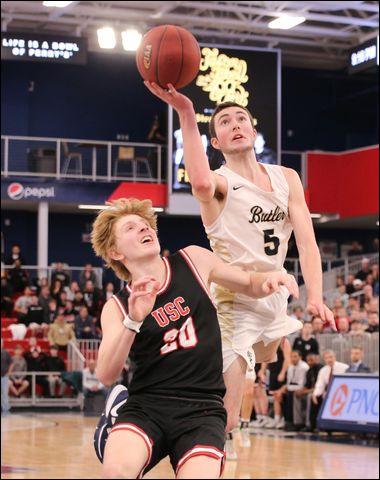 <![endif]>
Butler guard Mattix Clement goes up for a shot over Upper Saint Clair's Landon Rauch during the Golden Tornado's 77-73 PIAA Class 6A second-round playoff win Wednesday night at Robert Morris University. Clement scored a game-high 26 as Butler used a huge fourth-quarter rally to move on in the state playoffs.
SEB FOLTZ/BUTLER EAGLE
MOON TWP — Upper St. Clair coach Danny Holzer could only shake his head.
His half-court trap was working. His team had a 14-point lead in the first quarter, a 10-point lead going into the fourth.
Yet Butler found a way.
Again.
The Golden Tornado outscored the Panthers 26-12 in the final eight minutes and came away with a 77-73 PIAA Class 6A boys basketball playoff win Wednesday night at the UPMC Events Center on the campus of Robert Morris University.
Mattix Clement struck for 26 points, seven rebounds, four assists and three steals. Ethan Morton scored 16 of his 21 points in that fourth quarter. He added seven rebounds and five assists while playing on a sore ankle.
"Ethan wasn't as mobile as he usually is," Mattix Clement said. "They were coming after him all night. We knew we had to pick him up."
Clement scored 14 of his points in the first quarter, a period in which the Tornado (22-4) turned the ball over seven times, resulting in transition points the other way.
"Mattix held us in there early," Butler coach Matt Clement said. "I've never seen him play better."
USC (21-5) had a 24-10 lead with 2:55 left in the first quarter.
"Our plan was to trap Devin (Carney) and Ethan more than we did the last time," Holzer said, referring to their WPIAL semifinal matchup. "It was working. We knew we had to get off to a good start.
"Against Butler, you have to get off to a good start. They have such a dynamic offense and Ethan Morton is the best basketball player in Pennsylvania."
A Mattix Clement layup gave Butler a 51-50 lead with 3:56 left in the third quarter. It was the Tornado's first lead of the night.
But the Panthers responded with an 11-0 run to close the quarter and took a 61-51 edge into the fourth.
"They were shooting lights out against us," Coach Clement said. "Their pressure did hurt us, but it is hard to keep that up for four quarters. We had to hang in, keep fighting and hope fouls caught up to them."
Panther standout David Pantelis picked up his third foul early in the third quarter. Landon Rauch fouled out. USC wasn't gassed, but it was losing steam.
"We were out of sync in the fourth quarter," Holzer admitted. "We stopped hitting shots."
USC sank 13 treys on the night, but only two in the final eight minutes.
And Morton started driving to the hoop, scoring and getting to the foul line. He was 6 of 8 from the line in the fourth period, Carney 4 of 4.
"I wasn't sure what my ankle would allow me to do tonight," Morton said. "I wasn't very quick off it. But fourth quarter ... never mind the ankle. This was our season. It was time to go.
"I don't know where the heart and will on this team comes from, but it showed up again. This whole team was incredible tonight."
Carney had 12 points for Butler, Charlie Kreinbucher 11 points and 10 rebounds.
"They were paying so much attention to Devin and Ethan," Kreinbucher said. "I was open. I had to make plays. We all did. As a team, we had to dig in."
Butler won despite 21 turnovers. Ten of Butler's final 14 points came from the foul line.
Ethan Dahlem led USC with 18 points, six rebounds, five assists and four steals. Pantelis had 14 points. Josh Russell came off the bench to score 13.
Winner of 17 in a row, Butler will play McDowell, a 68-61 winner over Central York, in the state quarterfinals Saturday.
UPPER ST. CLAIR 73
Ethan Dahlem 8-19 0-0 18, David Pantelis 5-8 0-0 14, Jack Moore 1-1 1-1 3, Landon Rauch 3-5 1-2 8, Luke Gensler 2-5 0-2 4, Andrew Casey 2-10 0-0 6, Josh Russell 4-10 1-2 13, Jack Kingseed 3-4 1-1 7. Totals: 28-62 4-8 73.
BUTLER 77
Raine Gratzmiller 1-3 2-2 4, Devin Carney 3-11 4-4 12, Mattix Clement 8-15 5-5 26, Charlie Kreinbucher 3-5 5-5 11, Mason Montag 0-0 0-0 0, Ethan Morton 7-9 6-9 21, Madden Clement 1-3 0-0 3.. Totals: 23-45 22-25 77.
Upper St. Clair 32 12 17 12 — 73
Butler23 15 13 26 — 77
3-point goals: USC 13 (Dahlem 2, Pantelis 4, Rauch, Casey 2, Russell 4); Butler 9 (Carney 2, Mat. Clement 5, Morton, Mad. Clement)