Running Away Butler closes out Central Catholic, 65-54
February 1, 2020 High School Basketball

<![if !supportLineBreakNewLine]>
<![endif]>
<![if !vml]>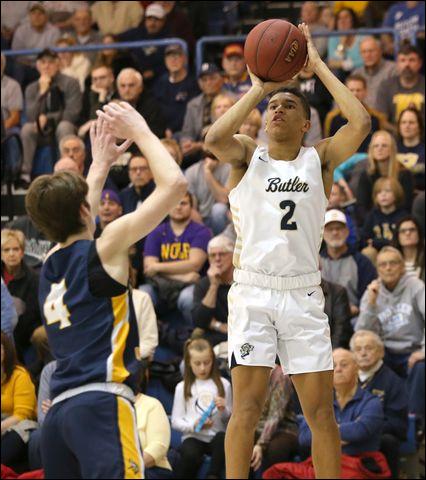 <![endif]>
Butler guard Devin Carney pulls up for a 3-pointer against Central Catholic's Collin O'Toole. The Tornado topped Central 65-54.
SEB FOLTZ/BUTLER EAGLE
BUTLER TWP — In a game of runs, Butler had the last one.
The Golden Tornado closed out Central Catholic with a 15-2 run to end their final home game of the season with a 65-54 Section 1-6A boys basketball victory.
"It was stressful coaching at Pine-Richland the other night and this game felt just as stressful," Butler coach Matt Clement said. "I really wanted these kids to get a win tonight."
Butler (15-4, 9-0) won its 10th straight and can wrap up a perfect section season with a win Tuesday at Seneca Valley.
Butler recognized its senior players and cheerleaders before the game.
The Golden Tornado fell behind 9-0 in the first four minutes as Clement started five seniors: point guard Ethan Morton and usual non-starters Dylan Fediaczko, Zach Slomers, Austin Rodgers and Dylan Piroch.
Regular starter Mason Montag and the injured Luke Patten are the team's other seniors.
"Those guys just played in bad luck to start this game," Clement said. "They did everything we wanted them to do. They had a few shots rim out.
"They played hard. This senior class was fantastic this year, the ones who played and the ones who saw little time. They all supported each other every game, every practice. The chemistry on this team could have been totally different if not for those guys."
Morton appreciated having a chance to start with four fellow seniors.
"I will never forget that," he said. "I've been playing basketball with those guys since third grade. We're all close friends. That was a blast."
The Tornado closed the half on a 17-2 run to take a 31-24 lead into the locker room. But Viking runs of 8-0 and 9-0 in the second half wiped out Butler leads twice.
A trey by Central's Dante DePante knotted the contest at 52 with 3:55 to play. The Tornado took care of business from there.
Charlie Kreinbucher sank a free throw, Devin Carney a layup, Mattix Clement a trey and Butler had a 58-52 lead. Morton hit four free throws to extend the margin to 62-52 with 42 seconds left to ice the win.
Clement reinserted his original starting five late. Morton was the last starter to leave the floor with 20 seconds to go, after Carney sank three free throws for Butler's final points.
"This was an emotional night for me," Morton said of his final home game. "I've never taken for granted the huge crowds we've gotten here every game. I could see it building since my freshman year.
"I know it's not like this everywhere. There's no other place I'd have rather grown up. Win in Butler and people will support you. The support I've received, our team received, from this community is something I'll take with me wherever I go. I am so grateful to everyone."
Carney had 24 points and five rebounds for the Tornado. Morton had 22 points, nine rebounds, eight assists and three steals. Mattix Clenent had nine points, Kreinbucher six rebounds.
Ben Sarson — who scored 42 on Butler earlier this season at Central — led the Vikings (12-8, 5-4) with 16 points and 15 rebounds. He did not score in the fourth quarter.
Central coach Brian Urso could not be reached for comment after the game as a brief scuffle occurred between the teams before they left the flloor.
Anderson Cynkar had 13 points for Central, Collin O'Toole 12 points and five rebounds.
"Every section game has been like this for us all year," Coach Clement said as he watched his players cut down the net after the game. "I'm just enjoying this moment.
"I figure we can dread the time when Ethan's gone or we can all just enjoy it. We've got three tough games left (in the regular season) and we're going to go hard until the end, whenever that is.
"I'll say this ... No matter how this ends, Ethan Morton has made the most of his high school basketball career." Clement added.
Central Catholic's bus arrived late to the game as it got caught behind a bad accident on Interstate 79. The junior varsity game was limited to five-minute quarters and an abbreviated halftime.
CENTRAL CATHOLIC 54
Collin O'Toole 4-11 0-0 12, Anderson Cynkar 6-8 0-0 13, Sam McCarthy 0-2 0-0 0, Ben Srson 8-19 0-1 16, Jack Charles 0-4 0-0 0, Dante DePante 3-7 0-0 8, Noah Jackson 2-4 0-0 5, David Dean 0-1 0-0 0. Totals: 23-56 1-2 54.
BUTLER 65
Zach Slomers 0-2 0-0 0, Raine Gratzmiller 0-0 0-0 0, Decvin Carney 8-13 6-8 24, Mattix Clement 2-6 3-3 9, Charlie Kreinbucher 2-3 1-2 5, Mason Montag 1-6 0-2 2, Ethan Morton 8-13 5-6 22, Madden Clement 1-1 0-0 3, Dylan Fediaczko 0-1 0-0 0, Austin Rodgers 0-0 0-0m0, Dylan Piroch 0-1 0-0 0. Totals: 22-45 15-21 65.
Central Catholic 13 11 14 16 — 54
Butler8 23 13 21 — 65
3-point goals: O'Toole 4, DePante 2, Jackson; Carney 2, Mat.Clement 2, Morton, Mad.Clement
JV: Central Catholic, 35-33 (CC: Ione Baker 6, Devin Barren 6; B: Hayden Thompson 7)