Thriller Time
Butler beats Pine-Richland in overtime in front of raucous home crowd
January 8, 2020 High School Basketball
<![if !supportLineBreakNewLine]>
<![endif]>
<![if !vml]>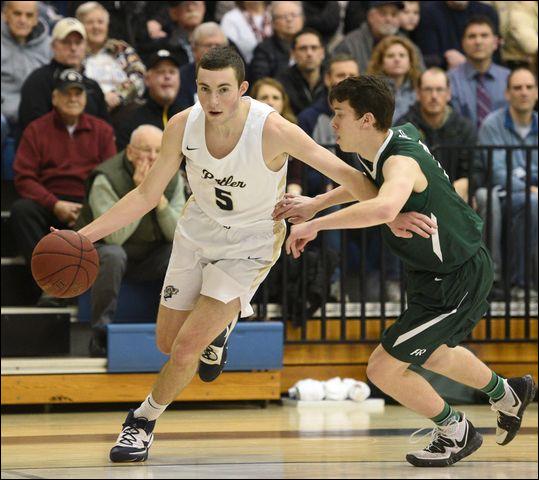 <![endif]>
Butler guard Mattix Clement drives past Pine-Richland's Andrew Alexander during the Golden Tornado's 88-84 overtime win Tuesday night.
ERICA DIETZ/SPECIAL TO THE EAGLE
BUTLER TWP — Ethan Morton sank just one of seven field goal attempts in the first half.
"When we were in the locker room (at halftime), I just had to calm myself down," Butler's senior point guard said.
Then he revved himself up.
Morton scored 22 points in the second half — 15 in the fourth quarter — and added six points from the foul line in overtime as the Golden Tornado outlasted Pine-Richland, 88-84, in a key Section 1-6A boys basketball game Tuesday night in a packed Butler gym.
"This atmosphere, this environment tonight ... This is why these kids play basketball," Butler coach Matt Clement said.
The Tornado (8-4, 3-0) had the only double-digit lead of the night at 37-27 with 3:42 left in the first half. The Rams (8-3, 2-1) — who had a seven-game winning streak snapped — closed the half with a 12-1 run to take a 39-38 lead at intermission.
It was nip and tuck from there.
The game was tied six times in the second half. The lead changed hands three times. Pine-Richland had chances to win at the end of regulation and overtime.
But Butler held on.
"You never want to give up 84 points, but we got stops when we needed stops," Morton said.
The Tornado trailed 73-69 with four minutes left in regulation. A Morton lay-up, two free throws and conventional three-point play gave Butler a 76-73 lead with 3:01 to play.
A Mattix Clement trey hiked the lead to 79-75 with 2:39 left. Lay-ups by Logan Murray and Patrick Shanahan knotted the game at 79 with 1:36 to go. Shanahan was fouled on his bucket, but missed the free throw.
Pine-Richland was able to hold for the last shot of regulation, but missed a lay-up. Clement secured the rebound as the buzzer sounded.
"We should have won this game at the end of regulation," Rams coach Jeff Ackermann said. "If we hit that lay-up, we've got it.
"We shot five free throws to their 27. That's a big discrepancy."
Pine-Richland had a 35-28 edge in field goals.
<![if !vml]>
<![endif]>
Pine Richland's Kyle Polce attempts to block a shot by Butler's Devin Carney during the basketball game at Butler High School on Tuesday, Jan. 7, 2020.
ERICA DIETZ/SPECIAL TO THE EAGLE
Devin Carney snapped the tie by hitting a trey with 1:58 left in OT. Morton tacked on two free throws with 1:21 left and Butler never trailed again.
"That was a big-time shot by Devin," Morton said. "I made a bad pass to him, he saved it, got it back and hit the shot."
Pine-Richland got within two points twice in the final minute and regained possession on a Butler turnover with 26 seconds to play in the extra session.
"Ethan is going to turn the ball over. He's human," Coach Clement said. "Levi (Wentz) guarded him well and he's quick and athletic enough to take the ball away.
"But Ethan really is like a coach on the floor. He knows how to read the play."
Pine-Richland got off three shots in an attempt to tie the game, but missed them all. Morton rebounded with 5.5 seconds to go, drained both free throws and the issue was finally decided.
"We had an open 10-footer in the lane and it didn't go down," Ackermann said. "He (Morton) is a great player ... He's going to Purdue."
Morton tallied 33 points, 17 rebounds and 10 assists. Carney had 24 points, Mattix Clement 18. Charlie Kreinbucher had eight points and six rebounds.
Butler managed to win despute committing 14 turnovers to Pine-Richland's five.
"Jeff mixes things up and you don't know what kind of defense you're gonna get, so we were prepared for everything," Coach Clement said.
Murray had 23 points and four assists for the Rams while Kyle Polce had 19 points and five assists, Shanahan 15 points and six rebounds, Wentz 12 points and six assists.
"It's fun playing those guys," Morton said. "We respect them so much. I remember every game we've played them since my freshman year.
"That shows what kind of teams we've had and what kind of games they've been. They made me take jumpers much of the night. But I'll ride with my guys all night. I trust them and they trust me." PINE-RICHLAND 84
Jack Sevco 1-2 0-0 3, Andrew Alexander 4-4 0-0 10, Logan Murray 9-16 0-1 23, Patrick Shanahan 7-12 1-2 15, Joey Petcash 1-10 0-0 2, Levi Wentz 5-9 0-0 12, Luke Shanahan 0-2 0-0 0, Kyle Polce 8-15 1-2 19, Cam Kirkland 0-1 0-0 0. Totals: 35-72 2-5 84 .
BUTLER 88
Raine Gratzmiller 0-0 0-0 0, Devin Carney 9-16 1-1 24, Mattix Clement 6-11 2-2 18, Charlie Kreinbucher 3-3 2-2 8, Mason Montag 1-1 0-0 2, Ethan Morton 8-16 17-18 33, Madden Clement 1-2 0-0 3. Totals: 28-49 22-27 88.
Pine-Richland 18 21 23 17 5 — 84
Butler22 16 21 20 9 — 88
3-point goals: Sevco, Alexander 2, Murray 5, Wentz 2, Polce 2; Carney 5, Mat.Clement 4, Mad.Clement
JV: Pine-Richland, 66-44 (P-R: Connor Howard 14, Andy Swartout 14; B: Hayden Thompson 10, David Leslie 9)