Tornado Eruption
Butler scored 10 points in 52 seconds, runs away from SV
February 5, 2020 High School Basketball

<![if !vml]>
<![endif]>
<![if !vml]>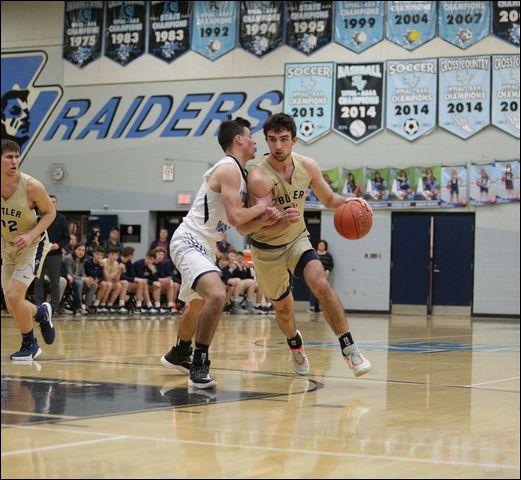 <![endif]>
Butler point guard Ethan Morton drives past Seneca Valley's Luke Lawson. Morton scored 24 points and had 13 assists as the Golden Tornado beat the Raiders 76-54 to finish the section season undefeated.
NATE BLACK/SPECIAL TO THE EAGLE
JACKSON TWP — Ten points in 52 seconds.
Butler erupted with a 10-0 run that quickly late in the first quarter to take the lead it never lost in a 76-54 Section 1-6A boys basketball win at Seneca Valley.
"That's the sort of thing this team is capable of," Golden Tornado coach Matt Clement said.
After the Raiders (3-16, 1-9) rallied from a 9-0 deficit to knot the game at 13, Butler answered quickly and often. Ethan Morton drove for a layup, found Mattix Clement for a trey, stole the ball and drove in for a dunk, then found Devin Carney for a trey.
Just like that, Butler led 23-13.
"I called a timeout and we closed that quarter on a 5-0 run," Seneca Valley coach Kevin Trost said. "We closed a couple of quarters well tonight."
Consecutive layups by Mason Bush ended the first half and pulled SV within 40-32 at intermission. But the Tornado scored the first eight points of the third period and built on a double-digit lead from there.
Six Butler players sank treys and the Tornado shot 54 percent from the field. They hit 16 of 27 shots in the second half.
"I was waiting for a game like this when everybody shot well," Clement said.
"Our offense just built momentum throughout the game," Morton said. "It was good to see that. This is the right time of year to start doing that."
Morton had 24 points, 13 assists, eight rebounds, three dunks, three blocked shots and two steals. Carney netted 24 points.
Mason Montag had 10 rebounds for Butler (16-4, 10-0), which won its 11 consecutive game and joined the 1989 Tornado squad as the only Butler boys basketball teams to complete a perfect section season.
"Things are so different now," Clement said of section play. "Seneca Valley, Pine-Richland, North Allegheny ... The population in those areas is so heavily concentrated now.
"Going unbeaten in this section is a very hard thing to do. And doing it after we lost Luke Patten in October ... I'm just so proud of these guys."
Carney recognized how Butler has gotten better as the season's gone on.
"It's just fun playing for a winning team," he said. "I'm proud to be a part of a team that went through the section undefeated.
"We all did a good job of just finding each other tonight. Six guys hit 3s. That was pretty cool."
Bush led Seneca Valley with 16 points, seven rebounds and three assists. Cole Brooks had 12 points, Connor Lyczek 10 points, seven rebounds and three assists.
<![if !vml]>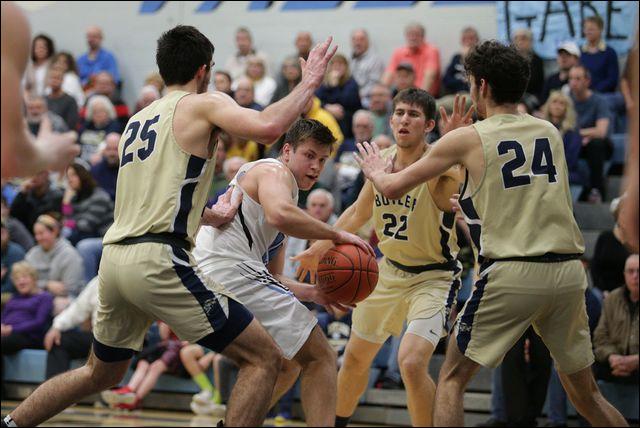 <![endif]>
Seneca Valley's Gabe Lawson is surrounded by Butler defenders during the Raiders' loss to the Golden Tornado.
NATE BLACK/SPECIAL TO THE EAGLE
"They are so hard to guard, especially when Carney gets going," Trost said of Butler. "Mattix Clement forces you to extend your defense because you can't leave him alone.
"It's like, you have to pick your poison trying to guard those guys. You only hope they have an off-night shooting just so you can stay in the game."
Coach Clement said he could hear Trost yelling for his defense to help defend Morton when he drove inside.
"Ethan made great decisions that way on when to take it and when to kick it back out," Clement said. "And our guys were hitting shots."
Seneca Valley honored seniors Bush, Gabe Lawson and Brian Hart before the game. Hart had his season curtailed by a knee injury.
"Three great kids," Trost said. "Mason will be a first team all-section player two years in a row. Between football and basketball, Gabe will leave here as one of the most decorated athletes this school has seen for a while.
"Brian battled injuries his whole career and always played hard. We didn't have the won-loss record we wanted, but the effort was always there."
BUTLER 76
Zach Slomers 0-0 0-0 0, Raine Gratzmiller 2-4 0-0 5, Devion Carney 9-20 3-3 24, Mattix Cement 3-7 0-0 8, Charlie Kreinbucher 3-4 0-0 6, Mason Montag 1-5 0-0 3, Ethan Morton 11-16 1-1 24, Madden Clement 1-3 0-0 3, Austin Rodgers 0-0 0-0 0, Dylan Fediaczko 1-1 0-0 2, Dylan Piroch 0-1 1-2 1. Totals: 31-60 5-6 76.
SENECA VALLEY 54
Ethan West 0-0 0-0 0, Cole Brooks 5-12 0-1 12, Luke Lawsin 4-6 0-0 8, Gabe Lawson 1-5 0-2 2, Ben Hicks 0-2 0-0 0, Connor Lyczek 4-11 2-2 10, Brian Olan 1-3 1-2 4, Mason Bush 7-20 1-3 16, Jameson Grieco 0-4 0-0 0, Beaux Lizewski 0-0 2-2 2. Totals: 22-63 6-12 54.
Butler 23 17 17 19 — 76
Seneca Valley18 14 11 11 — 54
3-point goals: Gratzmiller, Carney 3, Mat.Clement 2, Montag, Morton, Mad.Clement; Brooks 2, Bush, Olan
JV: Seneca Valley, 62-52 (B: Madden Clement 18, C.J. Singleton 13; SV: Connor Orops 12, Luke Lawson 12, Beaux Lizewski 11)