Wow!
Butler survives with stunning 2-OT 6A playoff win over Peters, 78-76
February 24, 2020 High School Basketball

<![if !supportLineBreakNewLine]>
<![endif]>
<![if !vml]>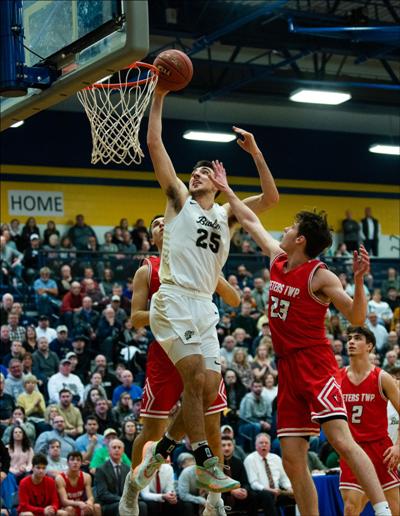 <![endif]>
Ethan Morton (25) prepares to dunk against a pair of Peters Township defenders during the Golden Tornado's 78-76 double-overtime WPIAL 6A quarterfinal basketball victory at Mt. Lebanon. Morton had 32 points and 18 rebounds.
STEVEN DALTON/SPECIAL TO THE EAGLE
MT. LEBANON — Ethan Morton didn't get the "and one."
But he gave Butler an extra four.
As in four minutes.
The Golden Tornado senior point guard rebounded a missed free throw and drove the length of the floor in the final 6.6 seconds of overtime, laying the ball in at the buzzer to force a second extra session in WPIAL Class 6A boys basketball quarterfinal against Peters Township at Mt. Lebanon High School.
Butler (18-4) survived from there, holding off the Indians 78-76 to advance to the semifinal round at 8 p.m. Wednesday against Upper St. Clair at Robert Morris University. The top-seeded Tornado trailed by five with less than three minutes remaining in regulation and by five with 25 seconds left in the first overtime.
"Honestly ... I don't know how we won this game," Morton said. "It took every ounce of everybody out there to get it done."
The Tornado have won 13 straight games.
"The way the game was going, this has to be the most unlikely win we've had since I've been coaching here," Butler coach Matt Clement said.
"I was worried about this game all week. I know how well-coached Peters Township is and I've said all along with the seeding that the No.'s 5, 6, 7, 8 and 9 seeds were going to be tough matchups for the top four."
The Indians (14-10) proved to be that and more.
The lead changed hands seven times on the day — though neither team ever led by double digits — and the score was tied five times.
Peters Township led 18-11 after one quarter. Butler outscored the Indians 20-7 in the second for a six-point halftime lead. Peters Township opened the third quarter with a 16-4 run to go up by six and took a seven-point lead into the fourth period.
"This game was back and forth, both teams making plays to bounce back ... It was crazy," Clement said.
Devin Carney completed a four-point play late in the first period to cut an eight-point Indian lead in half. Consecutive treys by Carney and Mattix Clement gave Butler its first lead at 21-20 midway through the second quarter.
A Carney steal and three-point play pulled the Tornado within 50-47 with 4:11 left in regulation.
"Devin's poise in this game was incredible. He kept us in it for a good while," Morton said.
Morton drained a trey to knot the game at 54 with 1:12 left in the fourth. Both teams had a chance to win it late, but Carney's short jumper missed with six seconds left and Sam Petrarca's floater rolled off the back of the rim for Peters just before the buzzer.
When Petrarca sank a pair of free throws with 25.4 seconds left in OT — giving the Indians a 65-60 lead — Butler appeared to be sunk.
"I thought we had them a few times," Peters coach Gary Goga said. "They just kept fighting."
Carney nailed a trey with 14 seconds left to cut the gap to 65-63. Colin Cote responded with two free throws for a four-point Peters lead with 13 seconds to go. Morton was fouled while tossing up a desperation 3-pointer and made all three free throws with 8.1 seconds left.
Cote was fouled again, making the first free throw for a 68-66 Indians lead with 6.6 seconds to go and prompting a Tornado timeout. When Cote returned to the line, he missed his second shot and Morton snared the rebound.
"I didn't know whether to try a three or drive in, but I saw an opening," Morton said. "There were guys on me ... I just threw that shot up. God was looking down on me on that one."
The buzzer sounded as the shot went in and Butler had new life.
"They may have fouled me (on the shot), but I can't complain," Morton said. "They gave me the three free throws on that other shot seconds earlier."
"Ethan didn't have his greatest game today, but he wasn't ready to go home, either," Clement said. "I saw the look in his eyes as he drove up the floor. He doesn't want to go to Purdue just yet.
"Was he fouled? Maybe ... They weren't gonna give us the 'and one' there and they shouldn't have, not in a spot like that. You have to let it play out."
Morton gave Butler the lead for good by hitting a layup for a 73-72 edge with 1:50 left in the second OT. Mason Montag then stole a pass and got the ball back to Morton, who was fouled.
Morton missed both free throws at the 1-minute mark, but the Tornado got the ball back and Montag drained two free throws for a three-point lead with 39 seconds left.
"Everybody misses shots sometimes," Montag said. "I knew I had to make those. I started thinking ,... I'm a senior and this might be my last game. Just didn't want that to happen."
Peters Township still didn't go away. Cote sank two free throws, but Morton found Charlie Kreinbucher alone down the court and hit him for an easy layup.
Butler stole the ball again and Raine Gratzmiller was fouled with 9.8 seconds left.
Gratzmiller had not scored in the game.
"Just make one of those free throws. I knew I had to make one and we had it," Gratzmiller said. "I kinda coaxed it in."
Gratzmiller's first free throw grazed the front of the rim and rolled in for a 78-74 lead.
Gavin Cote stuck back an offensive rebound and was fouled at the other end with 1.2 seconds left. His team trailing by two, Cote purposely slammed his free throw off the backboard. The Tornado gained possession and the game was over.
"Morton had 10 points or so (11) entering the fourth quarter," Goga said. "We were doing a good job on him. But he's a great player.
"Like everybody else, we tried to stop him. But nobody has."
Morton wound up with 32 points, 18 rebounds and seven assists. Carney had 22 points, five rebounds and four steals, Montag nine points and seven rebounds.
"Mason was the unsung hero of this game," Clement said. "He had that big steal and hit the free throws in overtime."
Montag and Mattix Clement eventually fouled out of the game.
Colin Cote led the Indians with 24 points. Petrarca had 21 points and 13 rebounds, Connor Duane 16 points and four assists.
"I've been coaching for 22 years and this is the best high school basketball game I've been a part of," Goga said.
"This is why we do this," Clement said. "It's for games like this ... moments like this."
PETERS TOWNSHIP 76
Connor Duane 5-9 2-2 16, Josh Casilli 0-0 1-2 1, Colin Cote 8-19 5-5 24, Logan Pfeuffer 0-1 0-0 0, Luke Fontaine 1-6 0-0 2, Sam Petrarca 6-14 9-12 21, Michael McDonnell 0-0 0-0 0, Gavin Cote 5-10 0-1 12. Totals: 25-59 17-22 76.
BUTLER 78
Raine Gratzmiller 0-4 1-2 1, Devin Carney 8-19 2-3 22, Mattix Clement 3-14 0-0 8, Charlie Kreinbucher 2-4 2-2 6, Mason Montag 1-1 7-9 9, Ethan Morton 11-25 9-14 32, Madden Clement 0-1 0-0 0. Totals: 25-68 21-30 78.
Peters Twp. 18 7 22 7 14 8 — 76
Butler11 20 9 141410 — 78
3-point goals: Duane 4, C.Cote 3, G.Cote 2; Mat.Clement 2, Carney 4, Morton