section win; Tornado girls fall short in tough loss
January 4, 2020 High School

<![if !supportLineBreakNewLine]>
<![endif]>
<![if !vml]>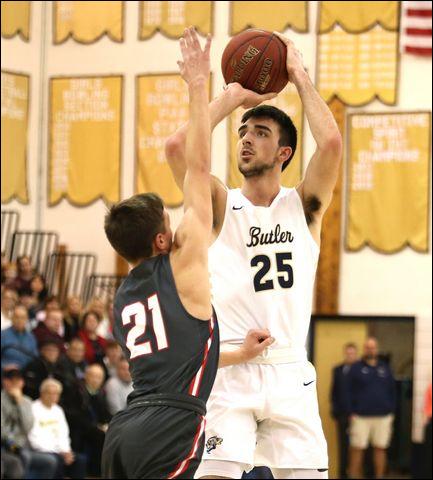 <![endif]>
Butler point guard Ethan Morton takes a shot over North Hills' Matt Seidl during the Golden Tornado's 61-50 home section win. Morton scored 22 points in his return to action after missing three games due to an ankle injury.
SEB FOLTZ/BUTLER EAGLE
BUTLER TWP — Butler needed a jump-start.
Charlie Kreinbucher provided it.
The Golden Tornado sophomore center scored all 10 of his points in the third quarte, helping his team overcome a sluggish first half en route to a 61-50 Section 1-6A boys basketball win over North Hills.
The game capped a varsity doubleheader in the Butler gym. North Hills' girls defeated Butler, 50-47, earlier.
The Tornado boys (6-4, 2-0) trailed 19-17 at halftime, hitting just seven of 24 shots from the floor. Butler switched to full-court pressure in the third period and turned the tide.
"Charlie energized us. He lit the fire," Butler point guard Ethan Morton said. "I didn't have much energy tonight. He really got us going."
The lead changed hands six times in the first half. Butler took the lead for good (30-28) on a Kreinbucher lay-up with 4:15 left in the third quarter.
Morton returned to the Butler lineup after missing three games with a sprained ankle. He tallied 22 points, eight rebounds, seven assists and three steals. Kreinbucher had 13 rebounds to go with his 10 points and Mattix Clement added 15 points on five treys.
Clement's final trey of the night gave Butler a 57-45 lead with 1:40 to play.
"We weren't scared at halftime, but we were nervous," Kreinbucher admitted. "We didn't expect to be trailing at halftime. They were lulling us to sleep.
"We had to put a stop to that three-game losing streak."
Coach Clement said he switched to the full-court pressure in the third quarter to quicken the pace of the game.
"We had to pick up the pace," he said. "We were able to get a couple of steals and buckets, hit some free throws.
"I was on major alert with North Hills coming in here. They stuck it to Central Catholic pretty good and we couldn't let them get out to a 10 or 12-point lead or they might have really slowed things down."
The Indians (4-5, 1-1) had three players in double figures. Matt Seidl had 13 points and three assists, Logan Marshalek 13 points, five rebounds and three assists. Alex Smith had 11 points and four steals.
"We didn'[t play a slowdown game, we're just very patient offensively," North Hills coach Buzz Gabos said. "We were taking a lot of shots. They weren't falling for us.
"We've been patient against every team we play. That's our style. Butler likes to play a faster pace than we do."
<![if !vml]>
<![endif]>
Butler's Jordan Kauffman tries to get around North Hills' Lexie Kotwica during the Golden Tornado's 50-47 section setback Friday night.
SEB FOLTZ/BUTLER EAGLE
Gabos said his team wasn't aggressive enough against Butler's pressure.
"I wish we would have attacked it more," he said. "That threw us off our game a bit. And they (Tornado) are long and athletic down low and that causes us problems."
Mattix Clement had six rebounds for the Tornado, which enjoyed a 32-23 advantage on the boards.
"Mattix wasn't hitting his shots for a couple of games and people start to worry," Coach Clement said. "It was good to see him have the game he had tonight.
"And Charlie's been a monster on the boards for the past six or seven games now."
Girls
North Hills 50, Butler 47 — Neither team ever held a double-digit lead and the lead changed hands six times.
It was a trey from an unexpected source that doomed the Tornado (5-4, 2-2).
Senior center Savannah Power drained a trey with 16.7 seconds left to give the Indians (4-5, 1-3) a 48-47 lead. She sank both ends of a one-and-one with 7.6 seconds to go for the final margin of victory.
"We knew she could hit from out there," Butler coach Mark Maier said. "I've seen her hit at least one trey in every game we saw on film."
North Hills' Abbey McElhaney sank six treys in the first three quarters — scoring a team-high 20 points — before being shut down in the fourth.
"Hailey Metzger did a good job of face-guarding her and taking her away. But she did her damage to us," Maier said.
Power finished with 14 points for North Hills, Lexie Kotwica 12 points, five rebounds and four assists.
"We dont have any player averaging in double figures," North Hills coach Jim Dudas said. "Abbey did a great job of working herself open for her shot.
"Savannah never shot from outside before because she said the coaches wouldn't let her. We changed that this year and she's responded."
Jordan Kauffman paced Butler with 18 points and five rebounds. She sank four treys in the first half. Makenna Maier had 11 points.
Alison Altman scored eight points and grabbed five rebouds as her and Metzger returned from injuries. Sarayne Forbes is in concussion protocol and missed the game.
The Tornado sank seven of 14 free throws.
"That's terrible," Maier said. "We have to improve there. When we sink more than 50 percent from the line, we usually win. That's a telling statistic."
Trailing by one after Power's trey, Buler threw away the inbounds pass.
"We scored one more bucket than they did," Dudas said. "Butler is well-coached. They are so hard ro defend the way they space the floor."
Boys
NORTH HILLS 50
Alex Smith 5-12 0-0 11, Logan Marshalek 5-16 2-2 13, Ethan Chmura 1-2 0-0 2, Matt Seidl 4-7 3-4 13, Dvin Burgess 2-5 2-2 6, Nate Belack 2-2 0-0 5. Totals: 19-44 7-8 50.
BUTLER 61
Raine Gratzmiller 0-3 0-0 0, Devin Carney 2-9 2-2 7, Mattix Clement 5-12 0-0 15, Charlie Kreinbucher 2-3 6-6 10, Mason Montag 3-5 0-0 7, Ethan Morton 7-15 6-6 22, Madden Clement 0-0 0-0 0, David Leslie 0-1 0-0 0. Totals: 19-48 14-15 61.
North Hills 9 10 17 14 — 50
Butler8 9 26 18 — 61
3-point goals: Smith, Masrshalek, Seidl 2, Belack; Carney, Clement 5, Morton 2, Montag
JV: Butler, 59-49 (B: CJ Singleton 10, NH: Ethan Chmura 15, Michael Topich 12)
Saturday: Butler vs. Wheeling Central, Wesbanco Arena, 10 a.m.