1 and Done?
Butler downs Latrobe, 82-72, before hiatus; confident season will resume next month
December 12, 2020 High School Basketball
<![if !vml]>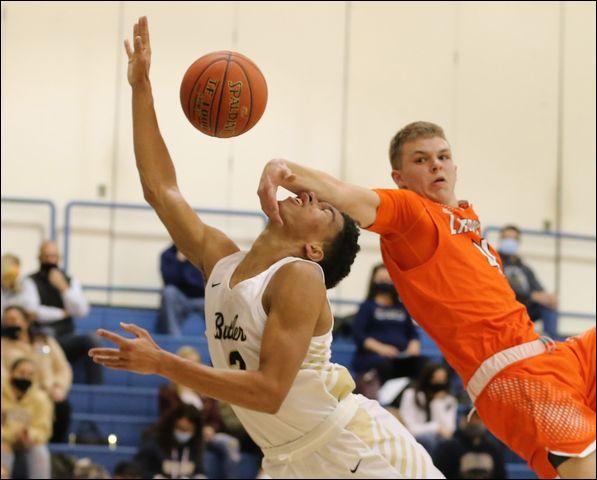 <![endif]>
Butler's Devin Carney draws a foul from Latrobe's Landon Butler during the Golden Tornado home opener Friday night. Butler topped Latrobe, 82-72, with Carney scoring 33.
SEB FOLTZ/BUTLER EAGLE
BUTLER TWP — One and done ... for now, at least.
And Butler made it count.
Devin Carney scored 33 points, Mattix Clement added 19 and Charlie Kreinbucher produced a double-double Friday night as the Golden Tornado held off Latrobe, 82-72, in a mutual boys basketball season opener in the Butler gym.
With Gov. Tom Wolf's shutdown of high school sports beginning this weekend, the second game of the season is against an unknown opponent sometime in early January — hopefully.
"We're confident we'll play again. We believe we're going to have a season," Butler coach Matt Clement said. "It's just all that uncertainty right now.
"This was an emotional game for me for a lot of reasons. One is the COVID and everything that goes with that. I've got a kid who is a senior on this team. And we had to go out and win a game without Ethan Morton.
"I miss our fans. I miss the Green Party (boisterous student section). This is the first time in six years (former assistant coach) Tanner Wahler wasn't on the bench with me. This night was just different," he added.
But it was a win.
Butler used a 10-0 run to turn a 29-24 lead into a 15-point bulge. Carney stuck back an offensive rebound, broke away for a lay-up off a steal and canned a jumper during the run.
A lay-up by David Leslie gave the Tornado a 73-52 lead with 6:14 remaining. Clement slowly started to remove his starters.
After a Latrobe run cut the margin to 73-61 with 3:11 to play, the regulars returned to the game. The Wildcats got within nine with 1:17 left, but got no closer.
"There was never any doubt from our end we were gonna play this game," Latrobe coach Brad Wetzel said. "You have a chance to go play one of the best teams in the WPIAL? I don't care when that time is, you take it."
<![if !vml]>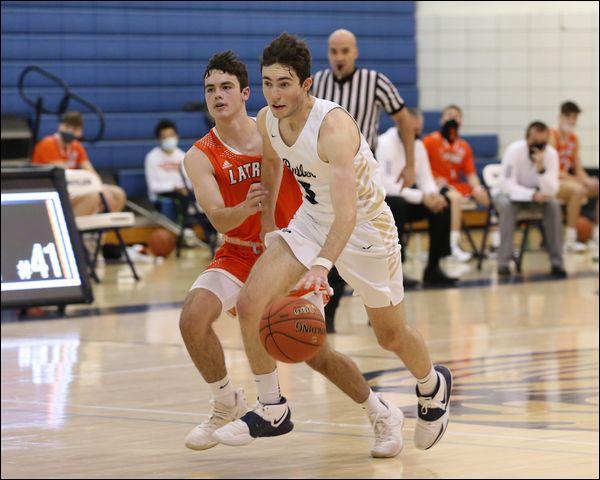 <![endif]>
Butler's Mattix Clement drives down the court against Latrobe in Friday's home opener. Butler topped Latrobe 82-72. Seb Foltz/Butler Eagle 12/11/20
SEB FOLTZ/BUTLER EAGLE
The Wildcats are coming off a 6-16 season, but had only two seniors on that team. They placed four players in double figures Friday.
"We fouled a little too much in our zone," Clement said. "We usually play man on defense, but this was the first time we've been on the floor without masks.
"We practiced in masks every day. I wanted to be careful not to get our guys winded."
Players did not wear masks while in the game Friday. Coaches and officials wore masks, as did players on the sidelines, seated in chairs while following social-distancing protocol.
"This game had a different feel without our Green Party here, without a packed house," Kreinbucher admitted. "I didn't care about my points.
"I just wanted us to win the game."
Carney had four assists and four rebounds to go with his 33 points. Mattix Clement drained five treys — three in the first quarter — and had three steals. Kreinbucher had 13 points and 10 rebounds.
Raine Gratzmiller started at point guard and had six assists and five boards.
"I want to do more than score. I want to set up my teammates, have Mattix and I set screens for each other, get everybody involved," Carney said. "I felt like we did that. This was fun tonight."
"The chemistry between Devin and Mattix is very underrated," Clement said. "They play very well together."
Landon Butler paced Latrobe with 20 points. Frank Newell added 18, Ryan Sickenberger 15 points and six rebounds, Drew Clair 10 points and four assists.
"Even though we won't play again for a while, we learned a lot about ourselves as a team tonight," Wetzel said.
Clement is happy the opening game is in the books.
"My biggest fear was coming out here, having us lay an egg and have to think about it for three weeks," he said. "Clearly, we have a lot more work to do. But I liked what I saw tonight."
LATROBE 72
Drew Clair 2-6 5-6 10, Landon Butler 8-13 3-4 20, Chase Sickenberger 2-7 0-2 5, Ryan Sickenberger 4-8 5-5 15, Frank Newell 8-22 0-2 19, Nick Rauco 1-1 0-0 2, Darius Davis 0-1 0-0 0, Michael Shoemaker 0-0 1-2 1. Totals: 25-58 14-21 72.
BUTLER 82
Raine Gratzmiller 2-4 2-2 6, Devin Carney 14-26 2-2 33, Mattix Clement 7-16 0-0 19, Charlie Kreinbucher 5-6 3-4 13, Madden Clement 0-3 0-0 0, David Leslie 2-4 2-2 7, Kaleb Proudfoot 2-2 0-0 4, Colin Patterson 0-3 0-0 0, Derek Butterworth 0-1 0-0 0, Brayden Koegler 0-1 0-0 0. Totals: 32-66 9-10 82.
Latrobe 18 13 17 24 — 72
Butler27 16 23 16 — 82
3-point goals: Clair, Butler, C.Sickenberger, R.Sickenberger 2, Newell 3; Carney 3, Mat.Clement 5, Leslie
JV: Bytler, 71-61 (L: Ben Hamaty 13, B: CJ Singleton 25, Hayden Thompson 15