'D' to the rescue
Defense sparks Butler run in 20-point win
<![if !vml]>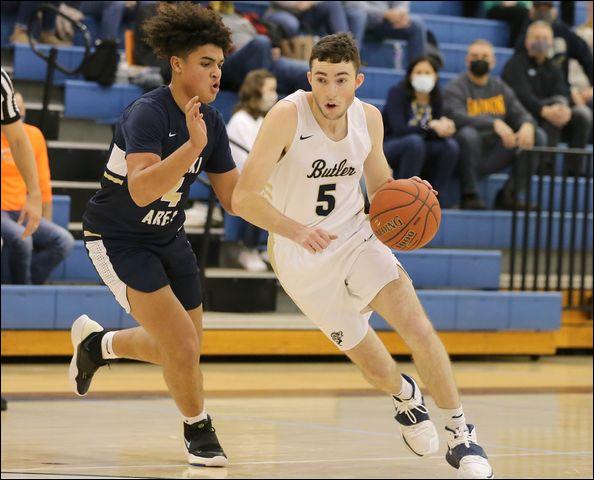 <![endif]>
Butler's Mattix Clement drives past Kiski's Logan Johnson during the Golden Tornado's 78-58 win at home Friday night. Clement scored 20 points in the victory.
SEB FOLTZ/BUTLER EAGLE
BUTLER TWP — Defense lit the fuse and Butler exploded.
Twice.
The Golden Tornado turned a rash of Kiski Area turnovers into a 20-8 spurt in the second quarter, then topped that with a 17-0 run over a three-minute span in the third quarter en route to a 78-58 boys basketball win over the Cavaliers Friday night.
The game was Kiski's season opener. Butler played for the first time in four weeks.
"It was good to play and get a win," Butler coach Matt Clement said.
The way Butler got the win was rather unique.
"We knew we couldn't let them turn us over ... and that's exactly what they did," Kiski coach Will Saunders said. "Turn the ball over against that team and you're giving up three points, not two.
"They've got shooters all over the place."
The game was tied at 12 after the first quarter. The Cavaliers turned the ball over nine times in the second quarter, fueling that 20-8 spurt.
After Kiski began the third quarter with a 13-1 run to knot the game at 40, Butler forced another rash of turnovers, sparking the 17-0 run that decided the game.
"The top part of our zone started all of that," junior guard Raine Gratzmiller said of the Tornado defense. "It just filtered on down from there.
"Those guys at the top of our zone totally disrupted what (Kiski) was trying to do."
Mattix and Madden Clement, along with Mac Schnur, triggered that defense. But everyone else chipped in.
"I love our chemistry right now," Coach Clement said. "From 1 to 25, everyone is out there doing their thing."
A Colin Patterson layup gave the Tornado (2-0) a 42-40 the lead. Charlie Kreinbucher and Mattix Clement followed with layups, both in transition. Mattix Clement and Devin Carney added treys during the 17-0 run.
"We came out strong to tie the game and, just like that, we were down 18. That was amazing," Saunders said.
"We didn't want to let Carney and (Mattix) Clement beat us. We looked up at halftime and they had 25 of their 39 points. It's tough to contain those guys."
Carney and Clement scored 20 points each, both hitting four treys. Kreinbucher had nine points and 10 rebounds, Gratzmiller eight points and seven assists.
"Raine is a gritty player," Coach Clement said. "He does a lot of things for us. And Colin Patterson is an under-rated passer. He was out there making plays."
James Pearson scored 18 points for Kiski. Logan Johnson came off the bench to score 18, hitting five treys. LeBryn Snmith had seven assists.
The Cavaliers were 9-13 last year and have only one senior on their roster.
"This was a good test for us. We wanted this," Saunders said. "We played well in spurts. And we won't face a team in our section that can shoot the ball like Butler can.
"They are really good. They really move the ball. And when we tied them up, they were completely poised. That is a well-seasoned team.
Kiski's 23 turnovers helped Butler tally 65 shots on the night.
"Our guys are hungry ... hungry because they missed out on the state tournament last year and had this taken away from them for three weeks this year," Clement said.
Butler opens Section 1-6A play Tuesday night at North Hills.
KISKI AREA 58
James Pearson 8-12 2-5 18, LeBryn Smith 2-7 1-3 5, Calvin Heinle 5-10 1-2 11, Frank DiNinno 1-1 0-0 2, Jason Flemm 2-2 0-0 4, Logan Johnson 6-11 1-2 18, Dylan Hitcherson 0-2 0-0 0, Isaiah Gonzalez 0-1 0-0 0, Brandon Lawhorn-Moore 0-1 0-0 0, Aiden Wilwohl 0-0 0-0 0. Totals: 24-46 5-11 58.
BUTLER 78
Raine Gratzmiller 1-5 6-6 8, Devin Carney 7-15 2-2 20, Mattix Clement 8-17 0-0 20, Charlie Kereinbucher 4-9 1-5 9, Madden Clement 2-3 0-0 6, David Leslie 3-5 1-2 8, Kaleb Proudfoot 1-4 0-0 2, Colin Patterson 1-3 0-0 2, Jordan Stutz 1-1 0-0 3. Totals: 28-65 10-15 78.
Kiski Area 12 15 15 16 — 58
Butler12 27 18 21 — 78
3-point goals: Johnson 5; Carney 4, Mat.Clement 4, Mad.Clement 2, Leslie, Stutz
JV: Butler, 66-47 (K: Isaiah Gonzalez 17, Nathan Vokes 9; B: CJ Singleton 13, Mac Schnur 8, Colin Casteel 8)