Game Changer
Clement steal, trey help Butler rally for 59-46 win
March 3, 2021 High School Basketball
<![if !vml]>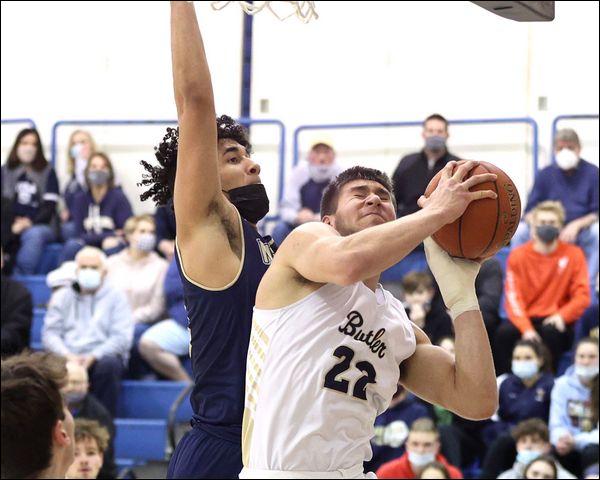 <![endif]>
Butler's Charlie Kreinbucher goes up for a shot and takes a foul from Norwin's Jayden Walker in Butler's 59-46 WPIAL Class 6A boys basketball playoff win.
SEB FOLTZ/BUTLER EAGLE
WPIAL 6A Playoffs
BUTLER TWP — Butler needed a game-changer.
Madden Clement provided it.
Forced into a half-court game by Norwin in their first-round WPIAL Class 6A boys basketball playoff game, the Golden Tornado found themselves trailing by six at halftime and by one entering the fourth quarter.
"Our goal was to keep them in the low 50's," Norwin coach John Stone said. "The score of 26-20 at halftime, I couldn't have scripted it any better."
Butler entered the game averaging 74.9 points per game, most in WPIAL 6A.
But a Madden Clement steal on the defensive end and 3-pointer at the opposite end during the same sequence sparked the Tornado to a 24-point fourth quarter and a 59-46 victory.
Butler travels to No. 4 seed Penn-Trafford — a 63-50 winner over North Hills — for a quarterfinal game Friday night.
"That was a huge play," Butler coach Matt Clement said of Madden's steal and trey. "It definitely sparked us."
Butler (11-8) used a 7-0 run to begin the third quarter and quickly wipe out its halftime deficit. Devin Carney hit a layup and 3-pointer to book-end a Charlie Kreinbucher layup.
But the Knights (7-14) weren't going away.
Michael Fleming scored eight of Norwin's 10 points in the third period as the visitors took a 36-35 lead into the fourth.
Mattix Clement had a steal and layup to give the Tornado a 37-36 lead seconds into the final frame. Norwin was running its half-court offense — which it did most of the night — when Madden Clement stepped in front of a pass, deflecting the ball and falling on his backside while securing it.
"I thought I was landing out of bounds," Madden said. "When play wasn't stopped, I was able to dish the ball back to Mattix and keep the play going."
Mattix returned the favvor in the offensive end, finding his younger brother wide open for a trey and a four-point lead with 6:32 to play.
It was his only field goal of the night.
"But it was well-timed," Coach Clement said.
"Dad tells the whole team ... when you're open, shoot it," Madden said.
Butler opened up a 12-point lead at 50-38 with 2:22 left, then hit eight of nine free throws in the final 1:15 to put the game away.
"They have a well-coached team and it's hard to beat them on this floor," Stone said of Butler. "I thought I was prepared for everything tonight, but I wasn't prepared to lose my senior shooting guard.
"They were giving us the wings, but losing one of my best shooters and having to play some younger kids who probably weren't ready for this ... I wasn't expecting that."
Norwin senior guard Josh Williams sprained an ankle in the first half and could not return for the final two quarters.
Carney led the Tornado with 23 points and three assists. Raine Gratzmiller added 12 points, four rebounds and three assists. Seven of Gratzmiller's points came in the fourth quarter.
Mattix Clement had 10 points, seven rebounds and three assists.
Butler had only six rebounds in the first half. They were out-boarded 25-18 for the game, but rebounded on even terms in the second half.
"Madden and Mattix both grabbed some big rebounds, so did Devin and Charlie," Coach Clement said. "We had to pick it up on the boards and those guys got some huge rebounds."
Fleming led Norwin with 19 points, including five treys, and three assists. Tanner Krevokuch had 11 points and nine rebounds.
Butler won for the sixth time in seven games.
"Penn-Trafford has a good team with big, strong kids," Coach Clement said. "It's going to be a tough game, but they're all tough at this point."
NORWIN 46
Adam Bilinsky 2-5 0-2 4, Nick Fleming 2-7 0-2 4, Josh Williams 1-3 0-0 3, Jayden Walker 1-1 0-0 2, Tanner Krevokuch 2-5 7-7 11, Michael Fleming 7-12 0-0 19, Justin Weaver 1-2 0-0 3, Ty Stecko 0-0 0-0 0, Ryan Edwards 0-2 0-0 0, Connor McCutcheon 0-1 0-0 0. Totals: 16-38 7-11 46.
BUTLER 59
Raine Gratzmiller 3-6 5-5 12, Devin Carney 7-12 5-6 23, Mattix Clement 4-10 0-0 10, Colin Patterson 1-1 0-0 2, Charlie Kreinbucher 2-2 1-3 5, Madden Clement 1-3 1-2 4, David Leslie 1-2 0-0 3. Totals: 19-36 12-17 59.
Norwin 10 16 10 10 — 46
Butler12 8 15 24 — 59
3-point goals: Williams, Fleming 5, Weaver; Gratzmiller, Carney 4, Mat.Clement 2, Mad.Clement, Leslie