Perfect timing
Butler senior Leslie making the most of his Golden Tornado basketball career
February 20, 2021 High School Basketball
<![if !vml]>
<![endif]>
<![if !vml]>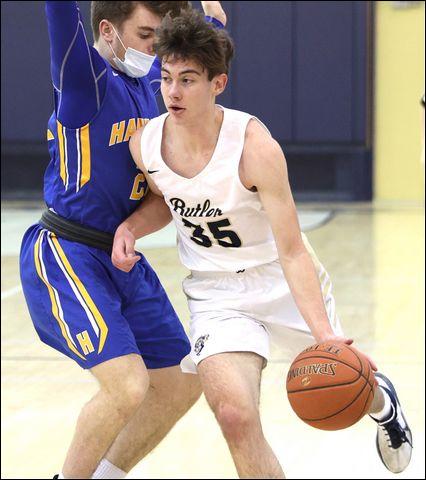 <![endif]>
Butler senior David Leslie drives down the court against Hamptonm during Senior Night in the Golden Tornado gym. Leslie scored a career-high 22 points that night, sinking six treys.
SEB FOLTZ/BUTLER EAGLE
BUTLER TWP — When it comes to timing, David Leslie has been pretty good.
The 6-foot-2 senior guard returned to the Butler High School boys basketball program last year. He saw limited minutes that season, but was on board for the ride to the WPIAL Class 6A championship.
"That dog-piling on each other on the court after we won that championship ... I'll remember that moment for the rest of my life," Leslie said.
Tuesday night won't be far behind.
That was Senior Night at Butler. Leslie entered that game averaging 6.7 points per game as a starting guard. He was shooting 50% from the field overall and 47% from 3-point range on the season.
He dramatically improved all of those numbers, striking for a career-high 22 points, sinking eight of 10 shots from the floor — including six treys — in the Golden Tornado's 82-73 overtime win over Hampton.
"I've been coming to Butler basketball games for years," Leslie said. "I've sat in the stands and watched seniors do their thing on Senior Night all the time.
"I had no idea I'd have a game like this. It's so special to me. My teammates got me the ball for open shots ... just one of those nights."
Three days earlier, Leslie picked up two early fouls at North Hills and wound up scoreless on the day, not even getting off a field goal attempt.
"Things just didn't go his way that night," Butler coach Matt Clement said. "It was through no fault of his own. Foul trouble can happen to anybody.
"To see David bounce back with a game like this was fun to watch."
Basketball has never been Leslie's first choice. He played hockey for the Butler Valley Dawgs as a youth before switching over to basketball in third grade.
"I was a winger. I loved hockey. I still go skating down at PPG when I get the chance," Leslie said. "But once I tried basketball, I really liked it."
He played youth basketball in the Butler system, but did not play his freshman or sophomore year. Leslie has always played baseball, primarily as a catcher.
He played his basketball in a church league for two years, where he averaged more than 20 points per game.
"I didn't think I was good enough (to play high school basketball)," Leslie admitted. "That church league gave me confidence, I guess."
Clement remembers Leslie calling him and "asking if he was allowed to come back out for the team, if he was welcome.
"Of course he was welcome," Clement added. "He's a great kid."
Leslie entered his senior season unsure of how much playing time he would get, let alone whether he would start.
"I took nothing for granted," he said. "If I was gonna start, I knew I had to earn it. I was happy to have to earn it."
A 4.2 student academically, Leslie is headed to Grove City College in the fall to major in engineering. He will be a pitcher on the Wolverines' baseball team as well.
He plans to do more pitching for Butler's baseball team this spring.
Now Leslie is thinking about playing basketball at Grove City as well.
"It's a possibility," he said. "I feel like I can do both sports. I've just recently started considering it.
"I'm not sure I want to stop playing basketball just yet."
Clement gives him a ringing endorsement in terms of playing college basketball.
"I know David could play there," the coach said of Grove City. "That kid can shoot the basketball. That would help anybody."