Running Away
Late spurt gives Butler a wild win over SV
February 3, 2021 High School
<![if !supportLineBreakNewLine]>
<![endif]>
<![if !vml]>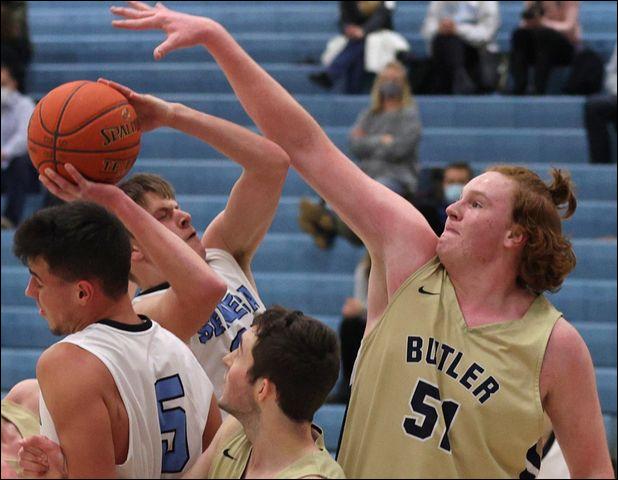 <![endif]>
Butler's Kaleb Proudfoot goes up to block a shot attempt by Seneca Valley's Caiden Oros Tuesday night. Proudfoot had seven points and 10 rebounds off the bench to help the Golden Tornado to the 92-83 road win over the Raiders.
SEB FOLTZ/BUTLER EAGLE
JACKSON TWP — The first half saw six lead changes.
When Seneca Valley's Cole Brooks sank a trey with 4:30 remaining, the game was even at 68 — the eighth deadlock of the contest.
Butler took over from there, using a 17-6 run over the next three minutes to put away a 92-83 Section 1-6A boys basketball victory on the Raiders' floor Tuesday night.
"Total team effort," Butler coach Matt Clement said. "So many people contributed."
In stark contrast to Friday night — when Devin Carney and Mattix Clement scored all but seven of Butler's points against North Hills — the Golden Tornado received 39 points from players other than Carney and Mattix Clement on this night.
"Their role players really stepped up for them," Seneca Valley coach Kevin Trost said. "But we have to do a better job of defending. That starts with me.
"We like to play fast. That makes us better offensively and defensively. Tonight, it didn't work out."
A short jumper by Carney gave Butler (5-5, 1-4) the lead for good at 70-68 with 4:20 left.
A David Leslie trey and a pair of free throws by Colin Patterson helped polish off the run that gave the Tornado an 85-74 edge with 1:26 remaining.
Leslie scored a career-high 19 points for Butler and did not miss a shot. He sank five treys in as many tries and all four of his free throws.
"David hit some big shots for us," Coach Clement said. "They were doubling up on Devin and that left other guys open. David took advantage."
Leslie described the game as "the best night of my life.
"It felt good to pitch in and help us get a win," Leslie added. "We really needed this."
Butler had dropped four of its last five entering the game.
Carney paced the Tornado with 39 points.
"We began the game trying to trap Carney to slow him down if we could," Trost said. "When their other guys started hitting shots, we stopped trapping ... then Devin killed us.
"Pick your poison, I guess."
Mattix Clement had 14 points, 10 rebounds and three steals for the Tornado. Kaleb Proudfoot came off the bench to score seven points and grab 10 boards.
"Kaleb is only beginning to tap into how good a player he can be," Clement said.
The 6-foot-9 Proudfoot had started the last three games with center Charlie Kreinbucher sidelined with a thumb injury. Patterson started Friday night, however, before being forced to the bench with two early fouls.
"Coach told me he was starting Colin because Seneca Valley was starting five guards and he wanted a quicker lineup," Proudfoot said. "The way this game was going, when I got in there, I had to do my part."
The Raiders (5-7, 3-4) had three players score more than 20 points. Brooks led the way with 24. Connor Lyczek contributed 21 points, nine rebounds and three assists, Connor Oros 21 points.
"That's a very good team we beat tonight," Clement said. "It's so hard to slow them down. We worked hard for this win."
BUTLER 92
Devin Carney 13-28 12-14 39, Logan Koegler 0-1 0-0 0, Mattix Clement 6-17 0-2 14, Jordan Stutz 0-0 0-0 0, Derejk Butterworth 1-1 2-2 5, Colin Patterson 1-1 0-1 2, CJ Singleton 0-0 0-0 0, Madden Clement 2-6 0-0 6, David Leslie 5-5 4-4 19, Kaleb Proudfoot 3-6 1-2 7. Totals: 31-65 19-24 92.
SENECA VALLEY 83
Connor Lyczek 9-16 3-3 21, Cole Brooks 7-12 5-7 24, Luke Lawson 2-7 2-2 7, Ben Hicks 0-1 0-0 0, Jameson Grieco 1-3 0-0 3, Brian olan 0-1 0-0 0, Aiden Lyczek 3-5 1-2 7, Caiden Oros 0-10 0-0 0, Connor Oros 8-10 0-0 21. Totals: 30-65 11-18 83.
Butler 19 26 18 29 — 92
Seneca Valley22 19 21 21 — 83
3-point goals: Carney, Mat.Clement 2, Butterworth, Mad.Clement 2, Leslie 5; Brooks 5, Lawson , Grieco, Co.Oros 5
JV: Seneca Valley, 58-39 (B: Colin Casteel 13, Jameson Grieco