Show stoppers
Carney nets career-high 47 points, Clement hits 1,000 in Butler OT win
February 22, 2021 High School Basketball
<![if !vml]>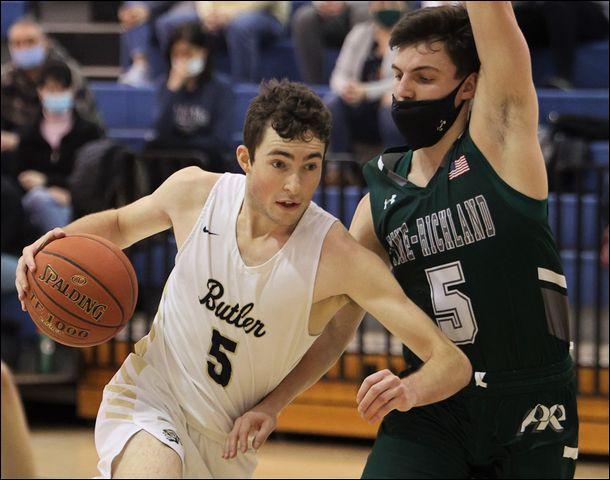 <![endif]>
Butler's Mattix Clement drives to the hoop against Pine Richland's Joey Petcash Saturday afternoon. Clement became the 11th Butler player to reach 1,000 career points in the Golden Tornado's overtime victory.
SEB FOLTZ/BUTLER EAGLE
BUTLER TWP — Mattix Clement reached a milestone.
Devin Carney stole the show.
And Butler's boys basketball team scored an epic 74-71 Section 1-6A boys basketball overtime victory over Pine-Richland in the Golden Tornado gym.
The Tornado (9-7, 4-6) won their fourth straight game and snapped Pine-Richland's four-game winning streak. The Rams (9-5, 6-4) defeated North Allegheny by 26 points Friday night.
Carney scored a career-high 47 points, making numerous heroic shots late in the game. He was 14-of-14 from the foul line. The game marked Carney's third 40-plus point performance in two weeks.
"Teams have to choose how they want to defend us," Butler coach Matt Clement said. "Pine was coming way out on our 3-popint shooters.
"That left Devin with a lot of one-and-one and he scored 47 points."
Butler managed only five treys Saturday, well below the team's average in that department.
Mattix Clement netted 16 points for Butler, reaching the 1,000-point plateau when he hit a jumper just inside the 3-point arc with 4:54 left in the first half. He became the 11th player in Butler history to score 1,000 points.
Butler called a timeout immediately after Clement made the shot, which pulled the Tornado within 28-20 at the time.
"I didn't know what was going on," Mattix said. "I had no idea I was near 1,000. I've never kept track of how many points I've had.
"I was worried about winning this game. We were losing."
Butler trailed by as many as 10 in the first half. The Tornado never took the lead until a Carney layup gave Butler a 51-50 edge 30 seconds into the fourth period.
The lead changed hands four times in the fourth frame. The Rams had a 63-58 advantage with less than two minutes to play, but Carney hit a jumper, then a trey — the latter with 1:03 remaining — to knot the game.
Butler had a chance to win the game in regulation, but Carney's 12-footer missed just before the buzzer.
"I've never been on a (shooting) stretch like this before in my life," Carney sad of his recent high-point totals. "This was a big game for us. As it went into overtime, I could feel the adrenalin push."
A Carney jumper and two Raine Gratzmiller free throws gave Butler a four-point lead in overtime. Pine-Richland responded, using a pair of Joey Dudkowski layups for a 69-68 lead with 1:19 left in the extra session.
Butler went on a 6-0 run to put the game away. Carney hit a short jumper, then four free throws, the latter pair coming with 7.3 seconds left.
Pine-Richland had 16 turnovers in the game to Butler's eight.
"Too many mistakes," Rams coach Bob Petcash said. "The type of mistakes we made today is how you lose games.
"Playing the night before had nothing to do with this game. You have to meet challenges from day to day in life, whether it's on the court, in a classroom, an office, wherever. That's the lesson we have to take from this."
Carney got off to a slow start, sinking just two of his first 12 shots from the floor. He recovered and made 13 of his final 18.
"Devin was getting a little frustrated and they (Rams) were trying to do some things against him," Coach Clement said. "They were effective with that early, but Devin was able to adjust and overcome.
"Mattix hit a couple of buckets early to help us stay close. A lot of guys contributed to this win in different ways."
Carney, leading the WPIAL at 32 points per game, had three steals to go with his 47 points. Clement now has 1,006 points in his career.
Gratzmiller had eight points, Charlie Kreinbucher six rebounds, Madden Clement four rebounds, three steals and three assists.
Joey Petcash led Pine-Richland with 23 points — sinking five treys — while adding four rebounds and four assists. Dudkowski had 15 points, six rebounds and three assists, Andrew Alexander 12 points, four rebounds and three assists.
Luke Shanahan had 11 rebounds before fouling out in overtime.
"We were hoping we could get them in foul trouble and we did," Coach Clement said. "Balance can be deadly at any level of basketball and Pine definitely has balance. They have a great team."
PINE-RICHLAND 71
Eli Jochem 2-3 0-1 4, Andrew Alexander 4-11 2-2 12, Joey Petcash 8-13 2-3 23, Luke Shanahan 0-4 0-0 0, Dylan Serafini 4-4 0-0 8, Jameson O'Toole 3-9 1-2 9, Joey Dudkowski 5-10 4-6 15. Totals: 26-54 9-14 71.
BUTLER 74
Raine Gratzmiller 3-3 2-2 8, Devin Carney 15-31 14-14 47, Mattix Clement 6-11 2-2 16, Colin Paterson 0-1 0-2 0, Charlie Kreinbucher 0-1 1-3 1, Madden Clement 0-3 0-0 0, David Leslie 0-0 2-2 2, Kaleb Proudfoot 0-2 0-0 0. Totals: 24-52 21-25 74.
Pine-Richland 20 11 19 13 8— 71
Butler14 13 2214 11 — 74
3-point goals: Alexander 2, Petcash 5, O'Toole 2, Dudkowski; Carney 3, Mat.Clement 2
JV: Pine-Richland, 77-60 (P-R: Owen Luellen 22, Andy Swartout 20, Jameson O'Toole 16; B: Lance Slater 18, Mac Schnur 12)